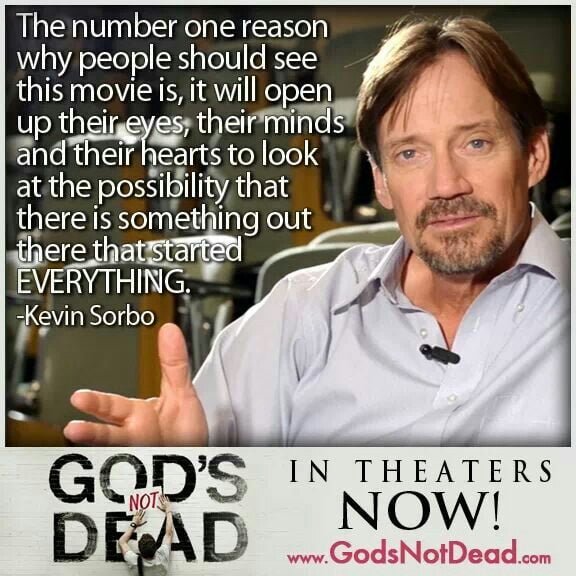 In recent years, several movies marketed to Evangelicals have featured erotic scenes of Evangelical revivalism ravishing atheism. Movies such as God is Not Dead are built around the notion that the Christian gospel has the power to brings atheists to their knees. Never mind the fact that these Evangelical fantasies are about as real as the scenes found in countless porn movies. While I can point to countless Evangelicals who are now atheists, rare are atheists who become Christians. When people tell me that they were atheists before they embraced the wonderful, matchless grace of Jesus, I question them as to what they really believed. Most often these former atheists were not atheists at all. At best, they were anti-theists or indifferent to religion. These atheists-turned-Christians wrongly assume that not believing in the Christian God means the unbelievers are atheists. This simply is not the case.
Most atheists I know can give numerous reasons for why they are atheists (or agnostics). Most of the atheists-turned-Christians I have met couldn't explain atheism if their life depended on it. Ask them what atheist writers they have read and they will likely give you a blank stare. What often happens is that Evangelical pastors and evangelistic zealots convince these new Christians that they were once atheists. What better testimony is there than that of an atheist who realized the Evangelical deity was the true and living God. Outside of being a Satan worshiper, a mob kingpin, or Pablo Escobar's right hand man, there is no greater Christian testimony than to have once been an atheist.
Most atheists are naturalists and materialists. Most atheists put a lot of stock in the sciences. It is hard for me to imagine someone abandoning science and a naturalistic view of the world in exchange for a religious system built upon an anti-science, anti-reason foundation. I am sure, on rare occasions, it happens, but I do not personally know of one person who was once a card-carrying atheist and who is now a Bible-believing Evangelical Christian.
Actor Kevin Sorbo is working on a film about "an atheist who, upon experiencing a near-death experience, converts to Christianity." Titled Let There be Light, the movie will feature Sorbo as the world's greatest atheist. Think Christopher Hitchens, Sam Harris, Daniel Dennett, Richard Dawkins, or Steven Hawking. Or move way down the list to C movie atheists such as myself or other one-time Evangelical preachers. Try to fathom what possibly could happen for one of us to have a come-to-Jesus moment where we reject reason, skepticism, rationalism, atheism, agnosticism, humanism, and science and in their place embrace the mind-numbing, anti-intellectual, irrational, and anti-science beliefs of Evangelicals. Sorry Kevin Sorbo. This might be some sort of Christian porn fantasy, but in real life it is highly unlikely that a well-known atheist would reject atheism in favor of Evangelicalism.
Of course, this won't stop Sorbo and others like him from making movies such as God is Not Dead, God is Not Dead 2, and Let There be Light. You see, these movies are not made for atheists or to be used as an Evangelistic tool to reach the godless for Jesus. These type of movies are campaign propaganda meant to stir the hearts of believers, leading them to believe that ANYTHING is possible — even the salvation of Richard Dawkins.
Yesterday, Mother Teresa was granted sainthood. This monumental event led Benjamin Wiker, an Associate Professor of Political Science at Franciscan University of Steubenville to say that Catholics  should now pray to Saint Teresa of Calcutta, asking her to heal Steven Hawking of Amyotrophic Lateral Sclerosis (ALS) and convert him to Christianity Wiker writes: