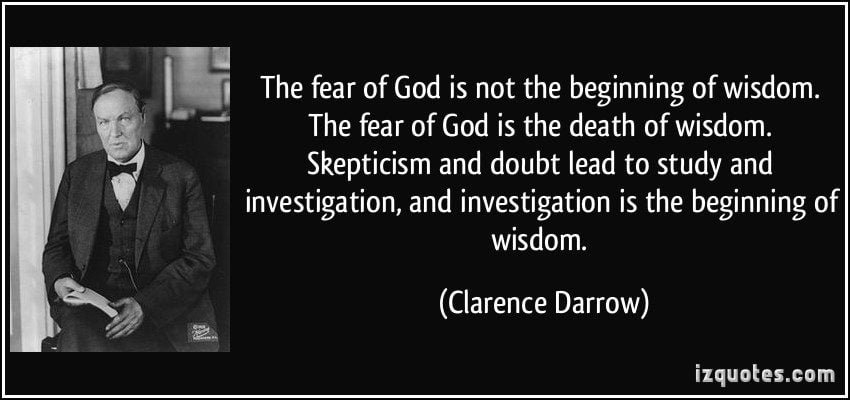 There is, perhaps, no more striking example of the credulity of man than the widespread belief in immortality. This idea includes not only the belief that death is not the end of what we call life, but that personal identity involving memory persists beyond the grave. So determined is the ordinary individual to hold fast to this belief that, as a rule, he refuses to read or to think upon the subject lest it cast doubt upon his cherished dream. Of those who may chance to look at this contribution, many will do so with the determination not to be convinced, and will refuse even to consider the manifold reasons that might weaken their faith. I know that this is true, for I know the reluctance with which I long approach the subject in my firm determination not to give up my hope. Thus the myth will stand in the way of a sensible adjustment to facts.
Even many of those who claim to believe in immortality still tell themselves and others that neither side of the question is susceptible of proof. Just what can these hopeful ones believe that the word "proof" involves? The evidence against the persistence of personal consciousness is as strong as the evidence of gravitation, and much more obvious. It is as convincing and unassailable as the proof of the destruction of wood or coal by fire. If it is not certain that death ends personal identity and memory, then almost nothing that man accepts as true is susceptible of proof.
The beliefs of the race and as individuals are relics of the past. Without careful examination no one can begin to understand how many of man's cherished opinions have no foundation in fact. The common experience of all men should teach them how easy it is to believe, what they wish to accept. Experienced psychologists know perfectly well that if they desire to convince a man of some idea, they must first make him want to believe it. There are so many hopes, so many strong yearnings and desires attached to the doctrine of immortality that it is practically impossible to create in any mind the wish to be mortal. Still, in spite of strong desires, millions of people are filled with doubts and fears that will not down. After all, is it not better to look to the question squarely in the face and find out whether we are harboring a delusion?
It is customary to speak of a "belief in immortality." First, then let us see what is meant by the word "belief." If I take a train in Chicago at noon, bound for New York, I believe I will reach that city the next morning. I believe it because I have been to New York, I have read about the city, I have known many other people who have been there, and their stories are not inconsistent with any known facts in my own experience. I have even examined the timetables and I know just how I will go and how long the trip will take. In other words when I board the train for New York, I believe I will reach that city because I have reason to believe it.
If, instead, I want to see Timbuktu or some other point on the globe where I have never been, or of which I had only heard, I still know something about geography, and if I did not I could find out about the place I wish to visit. Through the encyclopedia and other means of information, I could get a fair idea of the location and character of the country or city, the kind of people who live there and almost anything I wish to know, including the means of transportation and the time it would take to go and return. I already am satisfied that the earth is round, I know about it size. I know the extent of its land and water. I know the names of its countries; I know perfectly well that there are many places on its surface that I have never seen. I can easily satisfy myself as to whether there is any such place and how to get there, and what I shall do when I arrive.
But if I am told that next week I shall start on a trip to Goofville; that I shall not take my body with me; that I shall stay for all eternity: can I find a single fact connected with my journey — the way I shall go, the time of the journey, the country I shall reach, its location in space, the way I shall live there — or anything that would lead to irrational belief that I shall really make the trip? Have I ever known anyone who has made the journey and returned? If I am really to believe, I must try to get some information about all these important facts.
But people hesitate to ask questions about life after death. They do not for they know that only silence comes out of the eternal darkness of endless space. If people really believed in a beautiful, happy, glorious land waiting to receive them when they died; if they believed that their friends would be waiting to meet them; if they believed that all pain-and-suffering would be left behind: why should they live through weeks, months, and even years of pain and torture while I cancer eats its way through vital parts of the body? Why should one fight off death? Because he does not believe in any real sense; he only hopes. Everyone knows that there is no real evidence of any such state of bliss; so we are told not to search for proof. We are to accept through faith alone. But every thinking person knows that faith can only come through belief. Belief implies a condition of mind that accepts a certain idea. This condition can be brought about only by evidence. True, the evidence may be simply the unsupported statement of your grandmother, it may be wholly insufficient for reasoning men; but, good or bad, it must be enough for the believer or he could not believe.
Upon what evidence, then, are we asked to believe in immortality? There is no evidence. One is told to rely on faith, and no doubt this serves the purpose so long as one can believe blindly whatever he is told. But if there is no evidence upon which to build a positive belief in immortality, let us examine the other side of the question. Perhaps evidence can be found to support a positive conviction that immortality is a delusion.
….
All men recognize the hopelessness of finding any evidence that the individual will persist beyond the grave. As a last resort, we are told that it is better that the doctrine be believed even if it is not true. We are assured that without this faith, life is only desolation and despair. However that may be, it remains that many of the conclusions of logic are not pleasant to contemplate; so long as men think and feel, at least some of them will use their faculties as best they can. For if we are to believe things that are not true, who is to write our creed? Is it safe to leave it to any man or organization to pick out the errors that we must accept? The whole history of the world has answered this question in a way that cannot be mistaken.
And after all, is the belief in immortality necessary or even desirable for man? Millions of men and women have no such faith; they go on with their daily tasks and feel joy and sorrow without the lure of immortal life. The things that really affect the happiness of the individual are the matters of daily living. They are the companionship of friends, the games and contemplations. They are misunderstandings and cruel judgments, false friends and debts, poverty and disease. They are our joys in our living companions and our sorrows over those who die. Whatever our faith, we mainly live in the present — in the here and now. Those who hold the view that man is mortal are never troubled by metaphysical problems. At the end of the day's labor we are glad to lose our consciousness and sleep; and intellectually, at least, we look forward to the long rest from the stresses and storms that are always incidental to existence.
When we fully understand the brevity of life, it's fleeting joys and unavoidable pains; when we accept the facts that all men and women are approaching an inevitable doom: the consciousness of it should make us more kindly and considerate of each other. This feeling should make men and women use their best efforts to help their fellow travelers on the road, to make the path brighter and easier as we journey on. It should bring us a closer kinship, a better understanding, and a deeper sympathy for the wayfarers who must live a common life and die a common death.
Clarence Darrow, Why I Am an Agnostic and Other Essays, The Myth of the Soul
You can purchase Why I Am an Agnostic and Other Essays here.