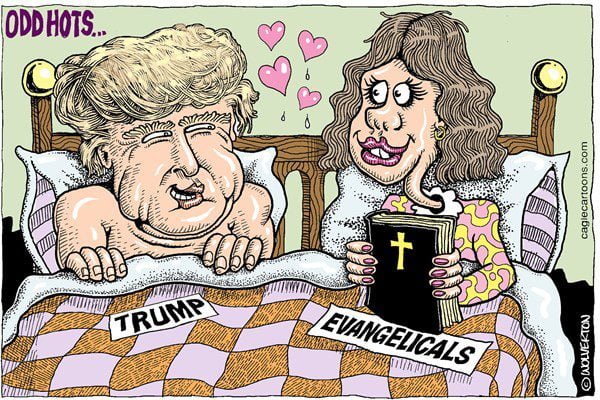 The current perspective of many conservatives in relinquishing their vote to Donald Trump is that he is the "lesser of two evils." I propose that this description totally misses the mark since there is a difference between our fleshly disposition to do evil (Rom. 7:22-23) and a conscious decision to rebel against God (1 Sam. 12:14-15). One is the result of a carnal nature that struggles to do what is right versus a deliberate decision to disobey God's laws.
There is no question that Trump's words and actions have aroused doubts and concerns among many conservatives who place a high value on someone's personal conduct. If one bases a person's integrity entirely upon their demeanor in public, Hillary could easily win that contest with her polished comments and skilled rhetoric. Yet, is this what we are looking at in order to discern the true spirit and intent behind these candidates?
….
Given the record of Hillary's political and financial pandering with anti-American alliances, her consistent denial of proven wrongs, her utter rejection of scriptural values of life and covenant marriage and her future plans for limiting religious freedom, it should be fairly evident that she has deliberately set herself against God's ways. Trump, on the other hand, demonstrates a consistent pursuit of doing what is right even though his fleshly nature gets the best of him. Though in the early stages of this political journey, Trump is gathering around him godly counselors who hold to traditional values. He has created a platform that upholds biblical ideals. Regardless of his fleshly verbal outbursts, his actions exhibit a clear determination to do what is right by God in leading the nation.
Trump is not "evil" as much as carnal. Hillary is not only carnal, but is backed, knowingly or unknowingly, by a demonic force set out to destroy our nation's sovereignty and our religious freedoms. The only way to stop this momentum is for the Republican candidate to defeat her—even if he is flawed. God can work with a sinner (think Saul of Tarsus) but will utterly reject anyone who opposes Him (Ps. 2:10-12). Unless the Republican candidate, Donald Trump, defeats Hillary Clinton in this election, the demonic nature of the political process will unfold with lightning speed and with disastrous results. Not only will the issues at stake become very personal for every citizen, but demonically driven.
….
This is not rocket science. One of these candidates will win and their agenda for this nation's future will move forward. Even though we are citizens of an eternal kingdom and we do not look to man for our answers or salvation, the reality is that God is the one who established government for our benefit and good. A coming supernatural move of God will certainly empower and embolden us, but we have the choice whether we do so under a demonically-controlled system, or a system that is at least trying to do things God's way
— Wanda Alger, Charisma News, This Election is About the Carnal vs. Demonic, October 6, 2016