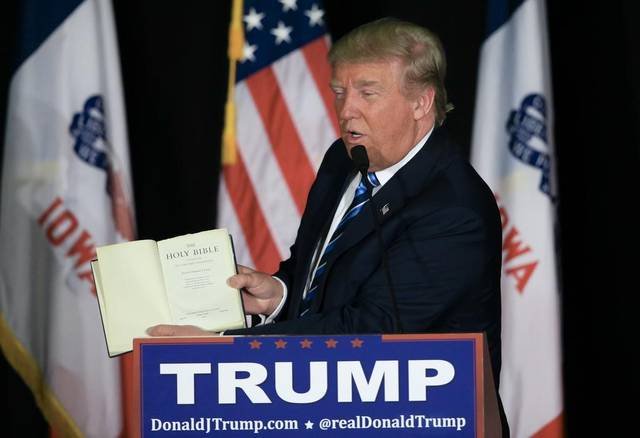 Shortly after Donald Trump was named the winner of the 2016 presidential election, scores of Evangelicals came to this site looking for Jeremiah Johnson's prophecy about Trump, one that stated that he would become president. Johnson "prophetically" farted and now Evangelicals are stopping by to let me know how sweet it smells. Sadly, it is impossible to reason with people who believe God speaks through prophets, telling us what will happen in the future. It does not matter to them that these prophets are wrong most of the time and, according to the Bible, should be stoned to death. Looking for confirmation of their political, social, and religious beliefs, Evangelicals scour the internet searching for God sightings.
These are the same people who believe that, thanks to their prayers, the Christian God interceded in the presidential election, making sure that the racist, xenophobic, misogynistic, pussy-grabbing orange-skinned Trump was elected. What evidence do they have for this? None. Much as in the case when Evangelicals pray over lost keys and God leads them to the exact place they left their keys, there is no evidence answered prayers were instrumental in the election. White Evangelicals voted and this is one of the reasons, come January, that the New York Clampetts will take up residence in the White House.
If God answered Evangelical prayers for a Trump presidency, what does this say about the master Puppeteer? It says that the Evangelical God thinks that the behaviors and policies espoused by Christian Donald Trump and his traveling troop of imbeciles are copacetic. This means that the Evangelical God is fine with demeaning and sexually assaulting women, deporting millions of hardworking undocumented workers, torturing prisoners, and raining death upon the heads of helpless civilians who live in countries that "baby" Christian Trump deems to be anti-American.
If it is God who put Donald Trump in the White House, then surely it is fair to hold God accountable for the deeds of HIS presidential choice. If Evangelicals want me to believe that there is a God in the heavenlies whom they have on speed dial, then I am going to hold that same God accountable for what happens on Donald Trump's watch.