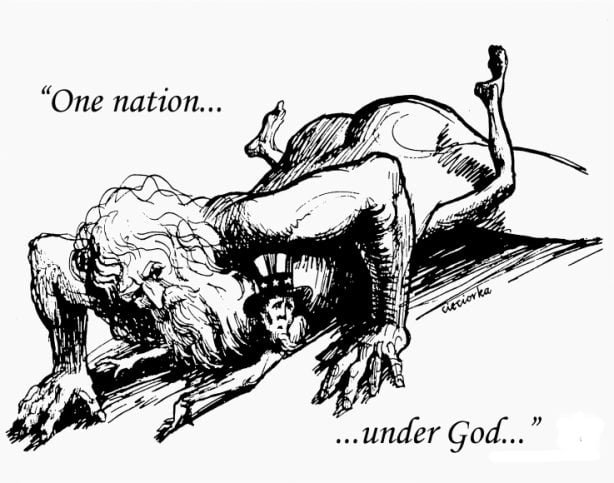 The terrorist attacks on 9/11 deeply wounded the psyche of Christian nationalists. Thinking that the United States had favored nation status with God, these white, middle-class, Republican, Evangelical Christians thought that our country was invincible. The Christian nation myth is so deeply embedded in our culture that it is almost impossible to get Evangelicals to see and understand the facts of the matter — that the United States is a schoolyard bully that uses violence and extortion to advance its globalist agenda. No, no, no, the United States is a Christian nation, says Evangelicals. We are a good, kind, and loving people who want what's best for the world. Best being, of course, Christianity and capitalism. From its earliest days, United States has used violence to conquer all those who oppose her. One need only to look to the Middle East to see that the United States still thinks that bombs and bullets are the best way to settle any conflict. Even more troubling is the fact that millions of Americans plan on voting for a man who not only embraces the use of violence but wants to expand its use, going so far as to suggest that the United States needs to drop nuclear bombs on its enemies
These violence-loving Christians — thinking that the United States is some sort of global dispenser of God's justice — are increasingly incensed over what they perceive to be a lack of fealty to their version of the Christian God. Ignoring the fact that the United States is a secular state, flag-waving Evangelicals demand that their God and their religion be given preferential treatment. Any pushback from atheists, humanists, secularists, or Christians who support the separation of church and state is viewed as persecution. Pretty soon the Christmas season will be upon us, and social media, along with Faux News, will be filled with stories about the "war on Christmas." Businesses that don't have their employees say Merry Christmas to their customers are viewed as anti-Christian. The same story is played out over and over throughout the year as Evangelicals whine, scream, and complain about the supposed secularist takeover of America. Again, facts don't matter. Christians feel threatened by the restoration of the proper place of the separation of church and state in our government institutions, and instead of realizing that Christianity actually benefits from this, Evangelicals attempt to force God on people through public displays of Christian power. One such display is the singing of God Bless America at sporting events.
Last Friday, I attended the Wayne Trace-Tinora high school football game. A few minutes before game time, Wayne Trace's marching band came on the field to play what I thought would be the Star-Spangled Banner. Imagine my surprise when they played, not the national anthem, but God Bless America. Fans on both sides of the field stood, removed their hats, and placed their hands over the hearts as the band played America's new national anthem. I, for one, did not stand, nor did I take my hat off or put my hand over my heart. I find such displays of Christian nationalism to be offensive and I refuse to give my tacit support to anything that promotes the America-is-a-Christian-Nation myth.
After the playing of God Bless America, the band played the Star-Spangled Banner. At that moment, I stood, removed my hat, placed my hand over my heart, and quietly mouthed the words to the national anthem. While I'm not a big fan of singing the national anthem at sporting events, I recognize doing so is an attempt to express the common patriotic bond Americans have with one another. Personally, I wish they'd stop singing the national anthem, especially since in recent years its singing has often been used to advance militarism and display American military prowess. How else can we explain the use of military personnel to unfurl the flag or the Air Force jet flyovers as the anthem is being sung?
Several years ago, I attended a Sunday service at a Lutheran Church outside of Newark Ohio. As part of its worship service — I kid you not — the pastor led the congregation in singing the national anthem and reciting the Pledge of Allegiance. I thought, at the time, how ironic to see this in a Lutheran Church. Seventy-five years ago, such displays of Christian nationalism were common in Hitler's Germany. Both the Lutheran and Catholic churches played a significant part in Adolf Hitler's rise to power. It is not beyond the pale of human imagination to see the same thing happening in the United States if Donald Trump is elected president. Like Hitler, Trump is not a Christian, but he is smart enough to see that Christian nationalism can be used to advance his political agenda. Evangelicals in particular have been manipulated and used by the Republican Party for the past 40 years. And once again, in 2016, they are being used to advance a pernicious agenda that could lead to World War III. And what will these God-fearing, flag-waving Christians do when war comes to the shores of the United States? Why, they will wave their flags, sing God Bless America, and with great pride pledge their allegiance to America's Christian God.