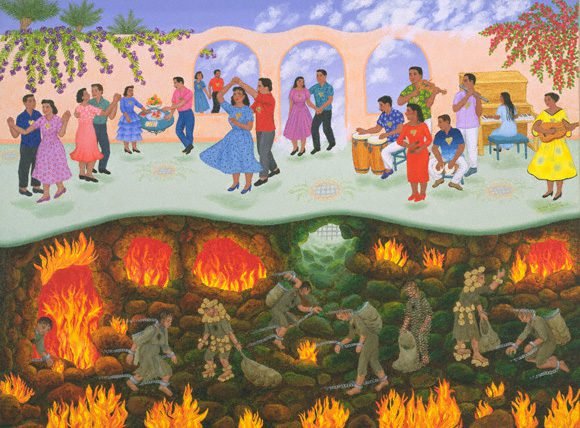 Warning! Lots of snark ahead! You've been warned!
Several years ago, I posted an excerpt from the Spiritual Minefield website. My post was titled Christians Say the Darnedest Things: How to Shield Yourself From Porn and Sexual Excitement. The author of the excerpt, Alex Ruiz, decided to respond to my posting of the excerpt by writing a post titled, Why Do Atheists Seem To Have The Urge To Always Attack God's Word? Here's what he had to say:
Today I got pingback from an atheist who takes pleasure in maligning believers in Jesus Christ. Here is a quick bio of Bruce which he put public.

Copy and paste from his site

Bruce Gerencser, 59

Bruce pastored Evangelical churches for 25 years in Ohio, Texas, and Michigan. Bruce left the ministry in 2005 and in 2008 he left Christianity. Bruce is now a humanist and an atheist.

The question that enters my mind is why do atheists hate Jesus so much as to go out of their way to attack Him and try to desperately prove that He is false? I think that the answer is because deep down in their spirit/heart they know that the Word of God is true and judgment will come to them but they want to feel better about their sin and rejection of Christ so by trying to disprove Christianity, they are trying to convince themselves, listen closely, "they are trying" to convince themselves of their own lie which Satan has whispered into their ears so that they can't get saved. When a person is not in any perceivable danger, they won't call for help and Satan is successful at convincing these atheists that they are not in danger.

The evidence that God exists is so overwhelming that the only way to go against pure evidence is by reprogramming their thoughts to completely bypass logic and reason.

Bruce Gerencser is a sad case of what an apostate is and the reality is that those who are not grounded in the faith will get hit hard by the devil who's [sic] eyes are constantly on the believers. Saying that, I believe according to 1 John 2:19 that Bruce was never saved but was close and those without the Holy Spirit cannot stand against the pounding of the wind and waves of the enemy according to Matthew 7:26-27 which says, "26 And every one who hears these sayings of Mine and does not do them will be likened to a foolish man who built his house on the sand. 27 And the rain descended, the floods came, and the winds blew and beat on that house. And it fell. And its fall was great."

Why have I mentioned this atheist by name? It is because I want all Christians to bring Bruce Gerencser's name before the Lord for his salvation because the hell that's waiting for him and all those who believe Satan's lie is truly and unfathomably horrific.
Where oh where do I begin?
First, I don't hate Jesus. Hating the DEAD Jesus would be a colossal waste of time. What I do hate is the Fundamentalist ideology advanced by this author and others of his ilk. (Please see Why I Hate Jesus) Do I hate individual Evangelicals for doing so? I'm tempted to do so, but I am not the type of person who hates people. I focus my hatred on beliefs, not believers. To use the Evangelical mantra: hate the sin, not the sinner, I hate the belief, not the believer.
Second, I don't hate the Word of God — the Bible. I do, however, hate what is done using Biblical justification. The author appeals to the Bible to justify his judgments of my past and present life. Doing so allows him to escape responsibility for his behavior. I'm just quoting what G-O-D says! Don't like it, take it up with Him! I would take it up with the Big Kahuna, but he is nowhere to be found. Last I heard, he was on vacation. Since God is AWOL, all I am left with is Evangelicals quoting verses from a book that is very much of human origin. The only reason I bother with such people is that they believe that the Bible is some sort of supernatural book given to them by a supernatural God and that its words must be explicitly obeyed. Again, look at what's happening in Washington D.C. with the Supreme Court and Congress. In fox-in-the-hen-house fashion, the theocrats have breached the fence and now the future of our democracy is being threatened. The only way I know to combat such ignorance is to wage war against the notion that the Bible is in any way a divinely written book; that its words are in any way applicable to today. As long as Evangelicals continue to demand fealty to their God and the Bible, they can expect me and other outspoken atheists to marginalize, denigrate, and intellectually destroy the Bible. Until Evangelicals are freed from Bible Brain Rot®, atheists, agnostics, humanists, and progressive Christians must continue to lay an ax to the foundation of Fundamentalist Christianity.
Third, the clueless author shows he has little understanding of atheists — how they think and view the world. We don't deep down believe or not believe anything. Can someone tell me where the hell is "deep down"? I've spent all day digging and I still can't find it. Atheists do not see any compelling evidence to warrant a belief in the existence of the Evangelical God. Suggesting that the Bible provides such evidence is laughable. (As well, suggesting that the natural world provides such overwhelming evidence that atheists are forced to deliberately ignore it is ludicrous.) Even Evangelicals don't believe in the Bible God. Whenever I confront Evangelicals with the Bible God — actually a plurality of Bible Gods — they either try to distance themselves from said God or say that I am "misinterpreting" the Bible — misinterpreting, of course, meaning, having an interpretation different from theirs.
Fourth, the notion of "sin" is a religious construct. As an atheist, I don't believe people are sinners, depraved, evil, or wicked. All of us have the power to do good or bad things. When I do something that hurts someone, I do my best to make things right. No need to pray to a fictitious God and ask for his forgiveness. The only person I need to talk to is the person I have harmed. The humanist system of forgiveness and restitution is much easier and more straightforward. No commands against porn or looking at women and admiring their beauty. No obsession over sex, fornication, or masturbation. Humans are sexual beings. Atheists and other non-Evangelicals are free to embrace their sexuality without fearing a voyeuristic God will judge them for loving the wrong person or using the wrong orifice for sex. Here's hoping that the author of the post on Spiritual Minefield will one day embrace his sexuality and lustfully enjoy the pleasures that are at his disposal. Until then, let me remind him that what consenting adults do behind closed doors is none of his business. If Evangelicals want to practice "Biblical" sex, by all means do so. But, please let the rest of us masturbate and copulate in peace.
Fifth, I fear what the Republican Party might do far more than I do a nonexistent God. God has neither talked to me or laid a finger on me in almost sixty-five years. I have zero fear of him. I do, however, fear what people who believe God talks to them might do. I do fear that the Trumpist horde might usher in World War III. I fear what real flesh and blood people might do, not mythical Gods, be they Jesus, Allah, Jehovah, or any of the other Gods of human creation.
Sixth, atheists bypass logic and reason? Really? I have no words for this one. The author believes the earth is 6,026 years old; that God created the universe in six literal 24 hour days; that Adam and Eve are the father and mother of the human race; that God destroyed the world with a flood 4,000 years ago, killing every person save Noah and his family; that a Holy Ghost impregnated a virgin who gave birth to a baby who, as an adult, walked on water, healed the deaf, blind, and sick, walked through walls, made himself invisible, resurrected from the dead, and ascended into "heaven." Anyone who believes this kind of nonsense is the one lacking logic and reason.
Seventh, I am quite happy to be an apostate, a worker of Satan, a deceiver of immature Christians. By all means, keep praying for me. Every unanswered prayer is a reminder that the heavens are devoid of Gods and that what really matters is how we make life on this planet better for all. Part of making life better is the driving of a stake through the heart of religious Fundamentalism. Fundamentalism — in all its forms — remains the biggest threat to human and planetary existence. The ascension of Trumpism and Qanon are poignant reminders that people of reason, science, and progress must continue to push back against those who desire to chain us to the Bible and its God. It's the twenty-first century. It's high time we remand God to the dustbin of human history; the depository of countless other failed mythical Gods and their "divine" texts. Until this happens, the Internet will be littered with ignorant posts about sex and every other human behavior deemed sinful by Fundamentalist Christians.
Now, get out there and do some sinning!
Bruce Gerencser, 66, lives in rural Northwest Ohio with his wife of 45 years. He and his wife have six grown children and thirteen grandchildren. Bruce pastored Evangelical churches for twenty-five years in Ohio, Texas, and Michigan. Bruce left the ministry in 2005, and in 2008 he left Christianity. Bruce is now a humanist and an atheist.
Connect with me on social media:
Your comments are welcome and appreciated. All first-time comments are moderated. Please read the commenting rules before commenting.
You can email Bruce via the Contact Form.