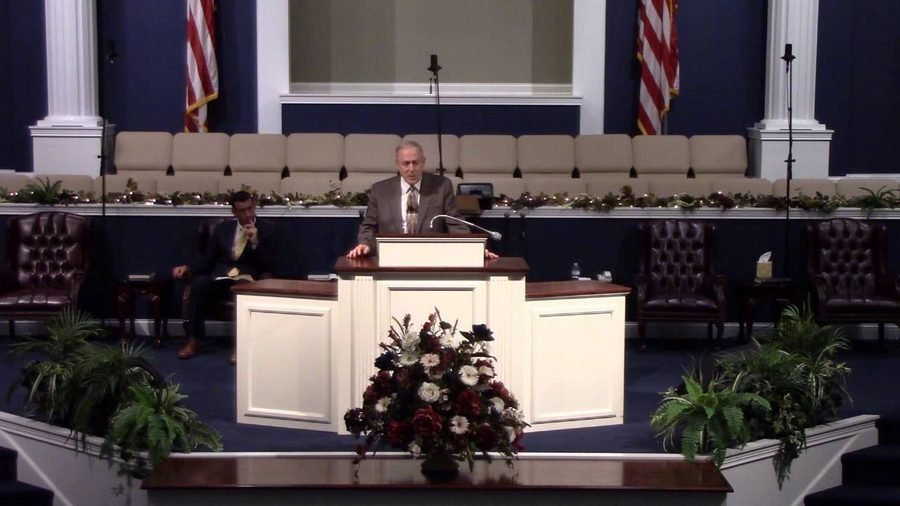 Please read previous posts on this scandal: Black Collar Crime: Woman Claims Evangelical Pastor Mike Holloway Knew She Had Been Sexually Abused and Did Nothing and Black Collar Crime: Evangelical Pastor Mike Holloway Denies He Knew Anything About Woman's Sex Abuse Claim, Black Collar Crime: Another Victim Comes Forward in Temple Baptist Church of Kokomo Sex Abuse Scandal, Black Collar Crime: The Temple Baptist Church of Kokomo Sex Abuse Scandal Continues. and Black Collar Crime: Alleged Victim Count Up to Ten in Temple Baptist Church of Kokomo Sexual Abuse Scandal
Today, The Kokomo Perspective released another episode in their ongoing coverage of the Temple Baptist Church sex scandal. Devin Zimmerman writes:
The brother of Dawn Price, Daniel Croddy, came forward last week, claiming that Temple Baptist Church and his father used him in what appears to be an attempt to smear his sister.

Earlier this year, Price made news after she went public with claims that her father, Don Croddy, molested her and multiple other young girls in the early '90s and late '80s while he attended Temple Baptist Church. The church, led by Pastor Mike Holloway, got tangled in the story because Price alleged that Holloway was made aware of her molestation at the hands of her father in 1991 but allowed Don to stay at the church and never contacted the authorities.

Now, Price's brother claims the church's leadership had him sign three affidavits denying his sister's claims in trade for bringing him to Kokomo and helping him out of homelessness. Months later, still homeless and unable to get the church to return his calls, Croddy said the majority of the claims in the affidavits aren't true.

"I've been homeless for like two-and-half years, and when all this sh** went down a couple months ago they promised me they would take me to Kokomo, set me up, and get me a job," said Croddy. "Once they got what they needed from me, they just kind of dumped me. To tell you the truth, all I wanted to do was not be on the street. So I signed those damn affidavits."

In total, Croddy said he was asked by Temple Baptist Church leadership to sign three affidavits. One stated he had never been physically abused as a child by his father, as his sister has claimed he was. The second, according to Croddy, stated that he "never saw anything with Dawn." The final affidavit centered on an attempt by Price to extort money from her father around the late 1990s.

Croddy said that the first two affidavits, even though he signed them, aren't true.

"To tell you the truth, all I was looking to do was not be homeless," said Croddy.

The third, however, he said is true. Croddy claimed that he happened to visit his former Kokomo home just after a letter, sent by Price and her then-husband Andy Thornton, arrived at the home of Don. The letter, according to Croddy, requested thousands of dollars in exchange for Price not telling the authorities about her allegations of molestation.

Price acknowledged that she sent such a letter around 2000.

"I was going through a rough time. I was having horrific nightmares," said Price. "My husband, Andy, we were both young. We didn't know how to help me. It was to the point where he was like, 'We need to cut off all communication because you having anything to do with them is making you (suicidal).' I was almost suicidal at that point. He decided to write a letter, which I signed. I couldn't tell you what was in the letter at this point. He doesn't even remember writing the letter.

"We wrote a letter saying, 'If you give us this amount of money, we are going to make what you did public.' We sent it, and that was the end of it. We didn't pursue anything and completely forgot about it. My parents, on the other hand, I asked them about it a couple years ago. They were just like, 'We understand where you guys were coming from. You were upset and hurt; your husband was trying to protect you.' And we threw out the letter."

Months after Croddy signed the affidavits at the behest of Temple Baptist Church, he said he's upset because the church and Don haven't acted on what they promised him in exchange for his signature.

The Kokomo Perspective obtained a recording of a phone call between Croddy, Holloway, and Temple Baptist Church Associate Pastor Jim Willoughby that occurred prior to the signing of the affidavits. The recording backs a number of Croddy's claims.

….

The pair went on to discuss various claims against Price, and Willoughby asked Croddy to elaborate on an earlier conversation where he said he had not been abused as a child. Croddy affirmed this claim, but he since recanted this statement and said that he was physically abused as a child.

"Don Croddy was a f****** monster," said Croddy. "I mean, I knew something was going on (with Price), but it was really hard to see it, you know? He kept me scared. There was no safe place as a child for me … When I was 10 he stopped using a paddle and started using farm implements wherever he could hit me. There were times I wasn't allowed in school until the bruises went away."

Later in the recording, Holloway entered the room and began speaking with Croddy.

After introducing himself as "preacher," Holloway asked how Croddy was doing and said, "Hey, you have really helped us a lot, Danny. I owe you big time."

Holloway continued and asked if Croddy needed anything and asked, "Can I help you get back on your feet? Can I do something to help?"

The following exchange occurs between the pair:

….
You can read the rest of the article here.
Temple Baptist Church Abuse Survivors Facebook Page