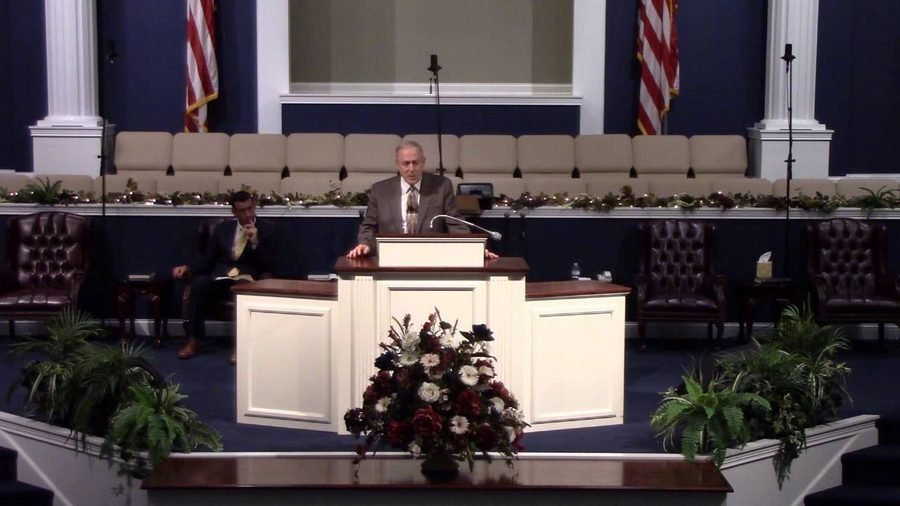 Please read previous posts on this scandal: Black Collar Crime: Woman Claims Evangelical Pastor Mike Holloway Knew She Had Been Sexually Abused and Did Nothing and Black Collar Crime: Evangelical Pastor Mike Holloway Denies He Knew Anything About Woman's Sex Abuse Claim, Black Collar Crime: Another Victim Comes Forward in Temple Baptist Church of Kokomo Sex Abuse Scandal, Black Collar Crime: The Temple Baptist Church of Kokomo Sex Abuse Scandal Continues, Black Collar Crime: Alleged Victim Count Up to Ten in Temple Baptist Church of Kokomo Sexual Abuse Scandal, and Black Collar Crime: The Cover-up Continues at Temple Baptist Church in Kokomo, Indiana.
Today, The Kokomo Perspective released another episode in their ongoing coverage of the Temple Baptist Church sex scandal. Devin Zimmerman writes:
A lawsuit filed by a local woman claims she was sexually abused by a member of Temple Baptist Church and that she was placed under the care of this individual by the church's pastor even after his tendencies were made known to the church leadership.

The Howard County resident, going as Jane Doe, leveled a civil suit against Temple Baptist Church, Pastor Mike Holloway, and Donald Croddy and his wife, Elfriede, seeking damages for alleged child abuse she endured at the age of 5.

Doe claims Holloway, as the pastor of Temple Baptist Church, suggested she stay with Croddy on the weekends in the early '90s, during which time she allegedly was sexually assaulted by Croddy. The plaintiff in the case claims the living situation was suggested even after the pastor knew about Croddy sexually abusing his own daughter.

he suit hit Howard County Superior Court 2 last week, and in it the suit cites Croddy's alleged abuse of his adoptive daughter, named D.P. in the suit, as a catalyst for the claim.

According to the suit, Croddy began molesting his daughter in or around 1977. Then, in 1989, the Indiana Department of Public Welfare investigated a molestation accusation concerning Croddy, during which time he was investigated and he "admitted to the allegations and stated that he had fondled his daughter approximately 10 years ago, but nothing has occurred since." Even though the abuse was substantiated, criminal charges weren't brought against Croddy.

Then in 1991, ahead of her wedding, D.P. told her fiancée of her abuse, which resulted in a confrontation between the fiancée and Croddy. The suit claims that "at the invitation of Holloway, D.P., her fiancée and Croddy met to discuss the issue and Holloway was advised by D.P. of the molestation by Croddy, which Croddy admitted to."

In her suit, Doe claims to have begun attending Temple Baptist Church via its bus ministry, where church agents drove a bus throughout the community to pick up children and adults to transport them to the church. The suit claims "children were often enticed to get on the bus with candy."

While attending Temple Baptist Church, Doe claims to have been coerced into attending the church's school, Temple Christian School, and also participating in as many church and school events as possible. But due to Doe's circumstances, attendance was difficult.

Because of this difficulty, the suit claims that in 1992 Holloway and Croddy visited with Doe and her family, at which time Holloway suggested the young girl begin to spend weekends at Croddy's home so she could attend more church and school events.

It's during this period Doe claims to have been sexually abused by Croddy.

….

As part of the suit, Doe claims Temple Baptist Church is "vicariously liable … for any and all negligence that may be attributable to the Defendant, Mike Holloway." Croddy's wife, Elfriede, also is named in the suit, where it claims she had "knowledge of Donald Croddy's pedophilia and failed to take actions to protect" Doe.

In response to the suit, Temple Baptist Church's leadership issued the following statement:

"We believe it is inappropriate for either party to comment specifically on pending litigation. However, Temple Baptist Church plans a vigorous defense of these misguided claims. As always, we remain committed to our faith and the Bible-based principles that guide us every day. As such, we sympathize with all those involved and continue to pray that the truth will prevail."
You can read the rest of the article here.
Temple Baptist Church Abuse Survivors Facebook Page