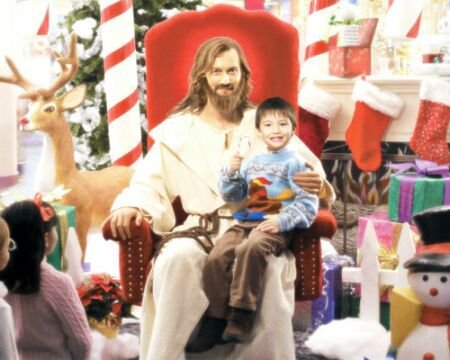 My wife, oldest daughter, and I, along with several of our children and grandchildren, recently attended the Christmas Light Drive-Thru at the Defiance County Fairgrounds in Hicksville, Ohio. Attended by thousands of people from Northwest Ohio, Northeast Indiana, and Southern Michigan, the drive-thru is a mishmash of lighted secular and Christian displays. Thousands of dollars and man-hours go into putting on the largest Christmas light display in the area. Volunteers at the entrance held donation buckets for attendees to donate. Not knowing what awaited me beyond the entrance, I threw in a $5 bill.
While the trappings of secular Christmas were everywhere we looked, it became very clear to us that Jesus, along with Christian nationalism, were the true stars of the show. At both the entrance and exit, there were lighted American flag displays. Later in drive-thru, we passed a lighted memorial to the Twin Towers in New York (yeah, it struck me as bizarrely strange too). We later drove by a display that said that God gave the us two things: the cross Jesus died upon and the flag of the United States of America. This display, in particular, was a perfect example of how fused Christianity and right-wing political beliefs lie in the minds rural Midwesterners.
More than a few displays touted Christian clichés: Jesus is the Reason for the Season, Keep Christ in Christmas, to name two. My favorite display was one of a shirtless Santa lounging on a beach. After being assaulted by a barrage of Christian Christmas messages, Santa Bruce and Polly were ready for a trip to the beach too, along with a steady stream of alcoholic beverages.
There was nothing in the Christmas Light Drive-Thru that surprised me. I know rural Northwest Ohio quite well. It is, after all, the land of my birth and where I have spent most of my adult life. This is the land of conservative Christianity, right-wing politics, and Christian nationalism. Recent local outrage over Defiance College football players refusing to stand for the National Anthem revealed that Jesus and the GOP — God's Only Party — are very much alive and well. Of the numerous letters written to the Defiance Crescent-News about the kneeling players, only three letter writers, including yours truly, supported their actions. The Christmas Light Drive-Thru, then, serves as a reminder of who rules the roost in rural Ohio — Jesus and right-wing politics. I am surprised that the Drive-Thru didn't have a display of three wise men standing before a crèche while saluting an American flag flapping in the breeze over the white baby Jesus' manger.
The people behind the Christmas Drive-Thru are decent, good people who simply in their actions reflect the tribal beliefs of most denizens of rural Northwest Ohio. I don't find fault with the Christmas displays, except for the fact that there were no displays touting the Winter Solstice, Hanukkah, or Kwanzaa. I suspect the area's whiteness and lack of religious diversity has a lot to do with why these "other" holiday themes were not represented. (And if any of the people behind the Christian Light Drive-Thru stumble upon this post, I would love to provide and pay for a Winter Solstice display next year.)
The Drive-Thru cost us $5 and an hour of our time. While it is not likely we will make a return visit, I certainly understand its appeal — a bright shining display touting the beliefs most locals hold dear. I know we are generations away from, if ever, locals seeing and understanding that both the Jesus and Santa on display at the Christmas Light Drive-Thru are myths. As long as the Jesus myth prevails, so will displays touting the rightness of rural, white, conservative Christianity.
About Bruce Gerencser
Bruce Gerencser, 60, lives in rural Northwest Ohio with his wife of 39 years. He and his wife have six grown children and eleven grandchildren. Bruce pastored Evangelical churches for twenty-five years in Ohio, Texas, and Michigan. Bruce left the ministry in 2005, and in 2008 he left Christianity. Bruce is now a humanist and an atheist. For more information about Bruce, please read the About page.
Bruce is a local photography business owner, operating Defiance County Photo out of his home. If you live in Northwest Ohio and would like to hire Bruce, please email him.
Thank you for reading this post. Please share your thoughts in the comment section. If you are a first-time commenter, please read the commenting policy before wowing readers with your words. All first-time comments are moderated. If you would like to contact Bruce directly, please use the contact form to do so.
Donations are always appreciated. Donations on a monthly basis can be made through Patreon. One-time donations can be made through PayPal.