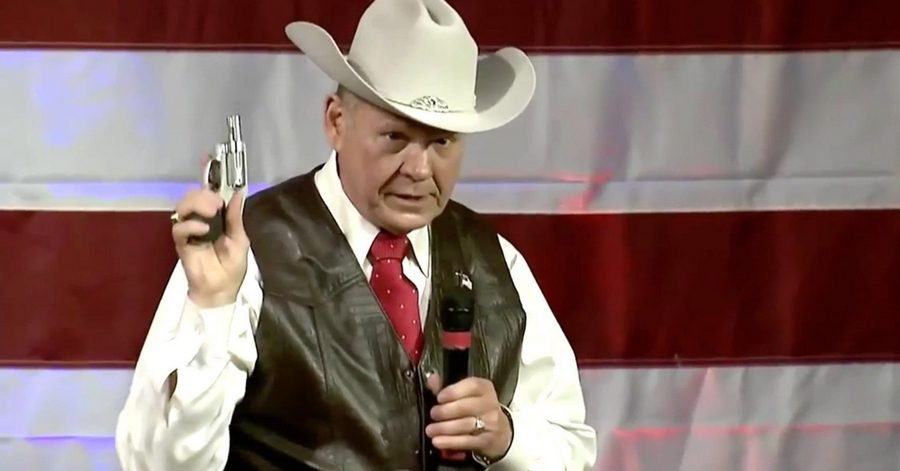 Comedian and late-night  TV host Jimmy Kimmel has mentioned Alabama senate candidate and Evangelical Christian Roy Moore several times on his program, Jimmy Kimmel Live!  Yesterday, Moore decided to "fight" back by tweeting on Twitter:
If you want to mock our Christian values, come down here to Alabama and do it man to man. #ALSen
Kimmel responded:
Sounds great Roy – let me know when you get some Christian values and I'll be there!
Moore replied:
Despite D.C. and Hollywood Elites' bigotry towards southerners, Jimmy, we'll save you a seat on the front pew.
Kimmel, showing why it is never a good idea to get into a fight with a comedian, replied:
OK Roy, but I'm leaving my daughters at home! P.S. – wear that cute little leather vest.
During Thursday night's monologue, Kimmel said:
I accept the invitation. I'm going to come down with a team of high school cheerleaders. … And when the girls and I show up, if you can somehow manage to keep little Roy in your cowboy pants, you and I will sit down in the food court and have a chat about Christian values.

There is no one I would rather fight. I will put my Christian values aside to fight you. I'll wear a Girl Scout uniform, so you have something to look at. Whoever wins the fight, we'll donate the money from tickets we sell to whatever charity we want. I'll donate mine to the women who claim you molested them.
Smack! Checkmate!
If you have not seen the Anthony J. "Tony" Barbieri (AKA Jake Byrd) video of Roy Moore's recent rally at Magnolia Springs Baptist Church in Theodore, Alabama, please check it out below. It provides a serious, yet funny look into the minds of Moore supporters. It also shows how homophobic and bigoted Moore really is.