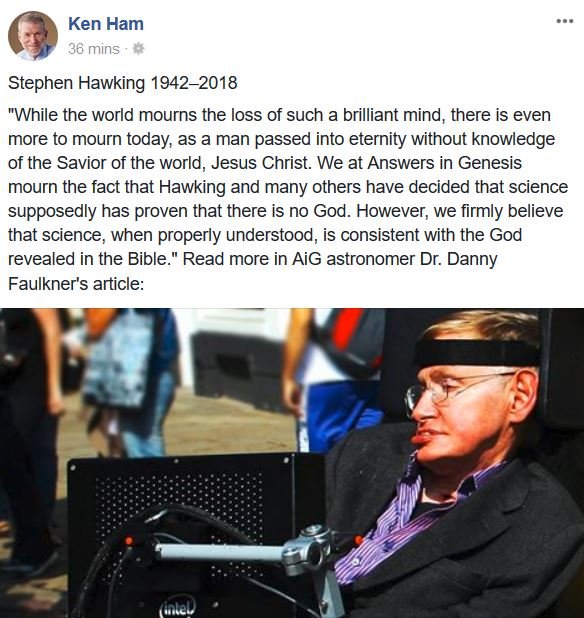 Warning snark and cursing ahead. You have been warned! Now ignore this warning and read away.
Today, renowned physicist and outspoken atheist Stephen Hawking died at the age of seventy-six. According to Fundamentalist Ken Ham, Stephen Hawking is now in Hell.  While Ham doesn't explicitly say this, his passive-aggressive statement, "a man passed into eternity without knowledge of the Savior of the world, Jesus Christ," makes it clear that Ham believes Hawking is now being tortured by God in the eternal flames of Hades. Ham mouthpiece Danny Faulkner says pretty much the same thing:
While the world mourns the loss of such a brilliant mind, there is even more to mourn today, as a man passed into eternity without knowledge of the Savior of the world, Jesus Christ (although we don't know what he was thinking concerning his mortality and afterlife in the final days of his life). We at Answers in Genesis mourn the fact that Hawking and many others have decided that science supposedly has proven that there is no God. However, we firmly believe that science, when properly understood, is consistent with the God revealed in the Bible.
Ken Ham's lackeys also believe that Hawking is now bunking with Christopher Hitchens (Please read Christopher Hitchens is in Hell) in Satan's Trump Hotel®. Here's what some of them had to say: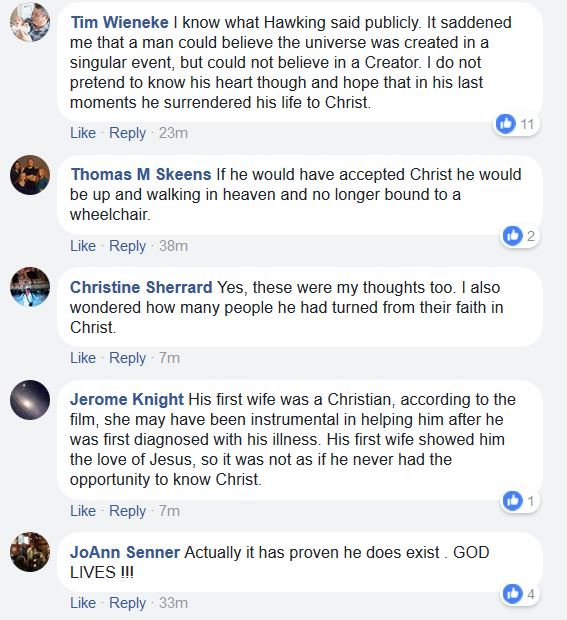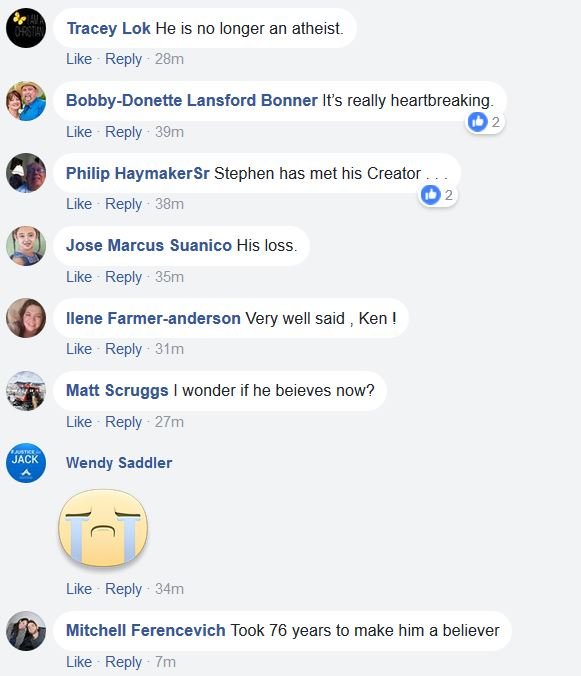 Don't buy for a moment the idea that maybe Hawking on his deathbed reached out and called on Jesus to save him. Evangelicals who say this feel guilty over saying someone is in Hell. They don't want to be viewed as the judgmental assholes they are. There's nothing in Hawking's behavior or words that remotely suggests that Hawking had a change of heart about the existence of any God, let alone the God worshiped by Ham, Faulkner, and a cast of millions.
For readers who may not be familiar with Hawking's view of life, death, knowledge, and God, let me give you a few of his quotes:
"I have lived with the prospect of an early death for the last 49 years. I'm not afraid of death, but I'm in no hurry to die. I have so much I want to do first."

"I regard the brain as a computer which will stop working when its components fail. There is no heaven or afterlife for broken down computers; that is a fairy story for people afraid of the dark."

"Spontaneous creation is the reason there is something rather than nothing, why the universe exists, why we exist. It is not necessary to invoke God to light the blue touch paper and set the universe going."

"God is the name people give to the reason we are here. But I think that reason is the laws of physics rather than someone with whom one can have a personal relationship. An impersonal God."

"The greatest enemy of knowledge is not ignorance, it is the illusion of knowledge."

"We are just an advanced breed of monkeys on a minor planet of a very average star. But we can understand the universe. That makes us something very special."

"Before we understand science, it is natural to believe that God created the universe. But now science offers a more convincing explanation. What I meant by 'we would know the mind of God' is, we would know everything that God would know, if there were a God, which there isn't. I'm an atheist."
Hawking may have been an atheist, but that doesn't mean he had no sense of wonder about the universe:
"Remember to look up at the stars and not down at your feet. Try to make sense of what you see and wonder about what makes the universe exist. Be curious. And however difficult life may seem, there is always something you can do and succeed at."
Hawking was struck with ALS at the age of twenty-five, yet he thought it important to have a sense of humor. My favorite Hawking comedy bit comes from a discussion between him and "Last Week Tonight" host John Oliver:
John Oliver: "You've stated that there could be an infinite number of parallel universes. Does that mean there's a universe out there where I am smarter than you?"

Hawking: "Yes. And also a universe where you're funny."
Evangelicals will revel in the death of another enemy of God. We who value knowledge and science will lament the loss of one of the greatest minds of our generation. Hawking was not without fault — no human is, including Jesus. His fifty year battle with amyotrophic lateral sclerosis (ALS) was an inspiration to those of us who struggle with chronic illnesses, and his vocal atheism was a source of encouragement to those who continue to push back against those who wish to pull us back into the Dark Ages.
Evangelicals will continue to remind people that Hawking died without repenting of  his sins, and is now Hell. Many will take the tack of Texas lawmaker Briscoe Cain: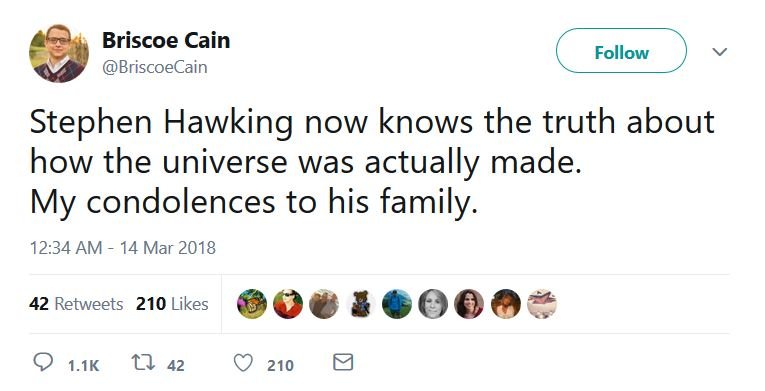 Unlike Ham who will face no outrage about his comment because he deletes all such comments from his Facebook page, Cain faced the wrath of people outraged over his comment. (Read the comments below his tweet.) Evidently, it got too hot in Cain's kitchen. Several hours after his "I'm an Asshole for Jesus" tweet, Cain issued a clarification:
Losing a loved one is never easy and I am sympathetic for his family's loss. My prayers are with them. Stephen Hawking was brilliant, many even called him one of the greatest public intellectuals of the last century, but the fact remains that God exists. My tweet was to show the gravity of the Gospel and what happens when we pass, namely, that we all will one day meet our Creator face to face. Though Hawking has long been a vocal atheist who advocated against and openly mocked God, I hope nothing but the best for his family and pray that he came to know faith before he passed.
In other words, I'm not a heartless prick. I have sympathy for Hawking's family. I even said a ceiling prayer for them. But, let me be clear, the Evangelical God is the one true God, and since Hawking did not acknowledge Jehovah's existence, he is now being stretched on Jesus' torture rack, screaming please, please, please I now believe. Took late, buddy. You made your bed, not lie in it. Ain't Jesus wonderful!
You ran your race well, Mr. Hawking, now rest in peace. You will be missed, but your work and books live on. Thank you.
Postscript
I came across the following information after the original post was filed with my editor.
The oh-so-fine Fundamentalist Calvinists at Pulpit & Pen let it be known that Hawking is in Hell:
When Hawking passed away this morning, he discovered that he was not an advanced breed of monkey. He (re)discovered that his body had contained a soul, and that it was in a place of torment awaiting the final judgment of one who made him. There is no more question, for Hawking. There is no more doubt.

The good news is that Hawking, who suffered from ALS, will one day be raised from the dead in a body that cannot die. The bad news is that his body, reunited with his consciousness, will be cast into the Lake of Fire, the Outer Darkness, and a place where the vast void of the Black Holes he studied will pale in comparison to the dark chasm of his new home in the eternal abyss. And that body will not be paralyzed; it will feel every square inch of the pain to which it will be subjected. It is appointed a man once to die, and then the judgment. And the One judging Hawking now will not be of a peer-reviewed panel or congratulatory science-junkies opining on the cogs and wheels that God put into place when He made creation. It will be the One who has been appointed the judge of the quick and the dead.
Coach Dave Daubenmire gleefully rejoiced over Hawking's demise. (The video will start at the twenty-one minute mark.)
Ben, the Baptist went into great detail to describe what Hawking is now experiencing. I detected a smile at one point in his diatribe.
And finally, here's a screenshot of a discussion thread from the Fighting Fundamental Forums — an Independent Fundamentalist Baptist (IFB) group: