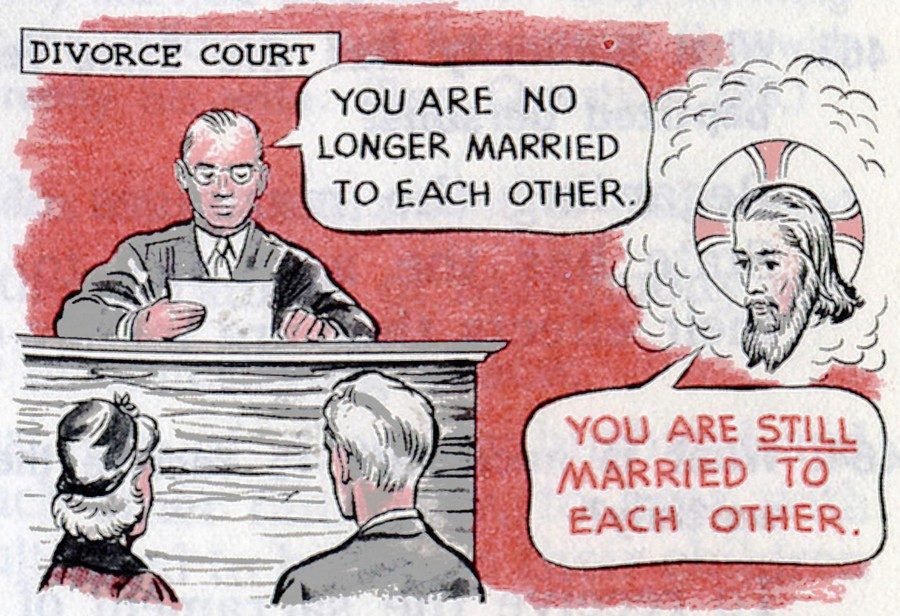 Guest post by Ian
Growing up in Fundamentalist churches, I knew that divorce was a wicked thing, and could never be forgotten or erased — unlike something such as murder. The reason was because divorce was a state in which one was continually living. Murder was a one-time act. Adultery could have an end. Even a child out of wedlock was the error of a few minutes. Once those acts were over, it was done, forgiven, time to move on. Divorce was something that couldn't be undone, and it was never over.
Enter the poor kid whose dad had been divorced. Twice. That was me.
Sermon after sermon, I heard pastors preach against divorce. I heard how divorce kept you from pastoring a church; how divorce marked you as a second-class Christian; how God couldn't fully use you because of this permanent stain on your life. I cringed when this subject would come up. My dad, who was a faithful Christian, would swallow that shit and agree with it. It must have hurt him horribly, but he accepted this as Biblical truth. It didn't matter why he had been divorced, he just had. End of story.
I went to a Christian school for several years that helped reinforce this shame. My biological mother lived in the same city, and I would visit her every other weekend. When people would ask what I did on the weekends I visited her, I would say I went to a friend's house. I couldn't face the shame of having divorced parents.
When I got kicked out of the Christian school and attended a public school, I still had that shame. My biological mom wanted to take me on a school-sponsored ski trip, so she filled out the paperwork so I could go. When school officials saw her address, they told me I was in the wrong school zone. Instead of telling them the truth, I made up a BS story about how she worked in a different city, and that's why she had the post office box listed as her address.
I don't blame my dad for his divorces. They happened, and there's nothing that can change that. Whatever the reasons for the divorces — right or wrong — I was collateral damage. In the 70s and 80s, Evangelical churches were so much different from what they are today on the matter of divorce. They still clung to the belief that divorce caused irreparable harm and that divorcees were second-class citizens. It wasn't fair, nor was it right.
Those "loving" churches made a little boy feel shame over his dad's past actions, and shame for having two moms; shame over something I didn't do or have any control over. Is it any wonder that I left Christianity behind?