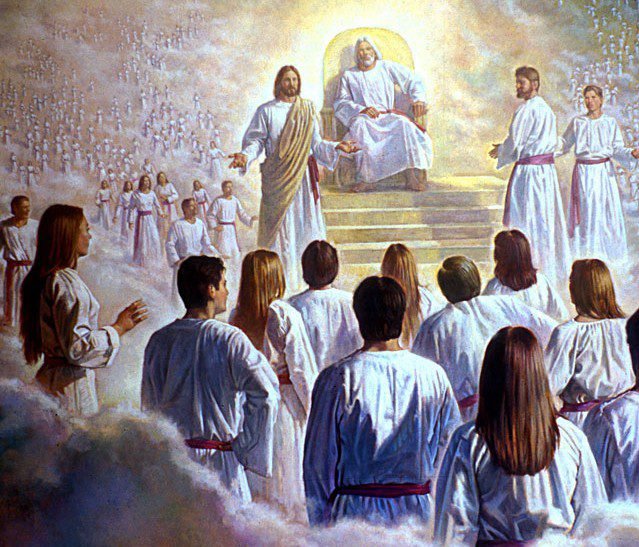 A Guest Post by ObstacleChick
Great White Throne Pictures presents: "This Is Your Life, ObstacleChick"
Presented in Technicolor
Starring:
ObstacleChick
Co-Starring:
ObstacleChick's Mom
ObstacleChick's Grandparents
ObstacleChick's Extended Family
ObstacleChick's Friends
ObstacleChick's Dog
Special Guests:
ObstacleChick's Schoolteachers and Administrators
ObstacleChick's Sunday School Teachers
ObstacleChick's Pastor, Youth Pastor, and Music Minister
The Pious Girls from Church & School
Limited Engagement Showing ONLY at Great White Throne Cinema   
When I was an adolescent and teen attending a Southern Baptist Church and Evangelical Christian school, my friends and I were taught as much fundamentalist evangelical doctrine as possible. Those who grew up in evangelical fundamentalist Christianity know that the number one priority of Christian parents is to make sure their children are saved; the sooner the better. Every teaching is geared toward indoctrinating children and making sure they know that they are sinners in need of salvation through Jesus' death, burial, and resurrection. There is no more important message that Christian parents, pastors, Sunday school teachers, Christian schoolteachers, and Christian staff can spread than this one. All children need to know that if they do not repent of their sins and accept Jesus as Lord and Savior, they will spend eternity tormented in hell in the afterlife. And because you could be hit by a bus in the next few minutes, you'd better do it NOW. After death, there will be no do-overs. There will be no further opportunities. There will be no appeals granted. Nada. Zilch. End of the road.
As we teens grew older, our youth pastor made sure to impart to us as much information as possible about salvation, eschatology, and the afterlife to us so we would understand the urgency of making the right decision regarding salvation. He also made sure we understood that certain behaviors were unacceptable for young Christians growing in Christ and presenting a witness to the "world." As the majority of students in the youth group attended public school, we heard less harping on "sins" of rock music, movies, magazines, etc., than those of us who attended Christian school heard, but it was clear that participating in many of these activities could hurt our "witness" to our peers, and they did harp on premarital sex and alcohol as mega-evils. At the Christian school, they didn't hold back any punches preaching against the evils of rock music, the evils of dancing, the evils of alcohol, the evils of premarital sex, the evils of attending the roller-skating rink, the evils of movies, etc. There wasn't really much left that wasn't evil except for Classical music, the Beach Boys, Christian movies and books, church, and Christian school activities. (Yet two girls at my high school were still expelled for getting pregnant, and three boys were expelled for attending a party where alcohol was served.)
The eschatology is fuzzy to me now, with concepts of the rapture, pre-millennialism, post-millennialism, the mark of the beast, the anti-Christ, and so forth, but I did understand that at some point after death everyone would have to go to the Great White Throne Judgment where our fate would be determined. Would it be eternity in heaven, or would it be eternity in hell? (Cue music: DA DA DAAAAA!)
My teenage understanding of the Great White Throne Judgment was that that there would be God on a throne, Jesus on a throne, and somehow the Holy Spirit would be there too, though I wasn't sure if we'd be able to see him as he was a spirit and whether a spirit could sit on a throne. Maybe we would get special afterlife vision that would allow us to see spirits. There would be angels and seraphim and cherubim and all people who had ever lived would be there, waiting to be judged, waiting to hear their fate.
At the Great White Throne Judgment, the way it was explained to us, each person's life would be shown for all to see, and then the judgment would be handed out. As an avid reader, I was well-versed in visualizing scenes, and for the Great White Throne Judgment I envisioned a scene in which everything was white, the Trinity (were? was?) located on thrones on a raised platform, and masses of people stretched out before them. There was a very large movie screen near the Trinity, and when each person's name was called that person would step forward so their life movie could be played on the movie screen. The Trinity would then render (their? his?) verdict, and the person would be escorted by seraphim, cherubim, or maybe St. Peter (I wasn't clear on who the escorts were) to the proper exit to their eternal designation.
As we teens envisioned this Great White Throne Judgment, we were exhorted by youth ministry staff to make sure our movie was G-rated so we wouldn't stand up there embarrassed before the masses of humanity. Who wants their sweet Grandma to see them participating in evils such as (gasp) dancing, or drinking alcohol, or — dare we even mention it — premarital sex? Surely not!  Not only did we need to keep our actions G-rated, we must also keep our thoughts G-rated as somehow those would be shown on the Great White Throne Movie Screen.
As the whole sequence of events was still confusing to me, I believed somehow that when people died, they could see what was happening on earth. When my great-grandmother Granny died when I was twelve years old, I was upset for several reasons. First, I really liked hanging out with Granny. She lived down the street, and she was my nice great-grandmother, not mean like Grandma F who lived with us. Granny would make biscuits and ham for me, and we enjoyed cleaning and rearranging her numerous knick-knacks while she told stories. Second, the only time I ever saw my grandfather cry was when he came home to tell us his mother died. That tore me up, and I cried too. Third, because I thought Granny could then see me that she would be able to see me taking a shower and doing other embarrassing things. In addition to grieving for the loss of Granny, I was upset for a long time just knowing that Granny was watching me all the time.
Not understanding the whole timeline of when the Great White Throne Judgment was, I thought maybe there was some sort of neutral after-death holding place where Granny and everyone else could see what people on earth were doing. My mom said when you died you went to sleep and woke up in heaven, but I knew there was a Great White Throne Judgment in there somewhere. And there had to be some sort of holding place because thousands of years might pass before the END TIMES. Another issue was how long would this whole Great White Judgment Movie Festival take? I mean, I knew eternity had no limits, and that a day is as a thousand years and a thousand years are as a day, but what were the logistics of this Great White Throne Judgment Movie Festival? It must take thousands of years, or days in deity terms. My mom said God wasn't bound by time, so it didn't matter, but I still couldn't comprehend.
But what I did comprehend was how much I DREADED the Great White Throne Judgment. I was fearful of dying. I was afraid I would die and wake up in the Great White Throne Cinema with billions of other people, waiting in agony for my movie to be played and for everyone I knew to see all the naughty, mean, jealous, lustful thoughts I harbored. The Pious Girls at school and church would learn what I REALLY thought of them. My teachers would know that I sat in the back of class and talked and passed notes and then would be on the phone at night with my friends explaining what they'd all missed in class while I was bored and entertaining us all. My grandparents and mom would know that I had listened to rock music and watched MTV at my aunt & uncle's house. It was going to be bad.
I dreaded death. The greatest relief of my existence would be if the Trinity told me I was destined for eternity in heaven. But getting through the movie viewing . . . I dreaded it beyond everything. Maybe I would get lucky and be last and everyone would have been sent to their fate, but I knew chances were slim to none.
What a damaging thing to teach impressionable youth, to manipulate their fear of hell and judgment to impress upon them the need to believe the right thing and to stay away from certain activities.
As an agnostic atheist, I don't believe in any of that anymore. It took a long time to get over my fear of hell though. That was the last thing to leave me when I deconverted — even though I didn't believe in god anymore, I was still afraid of hell. I had to literally reason with myself about my unrealistic fear of hell.  But now, I no longer fear death. Do I want to die today? No, because there are still things I want to do in life. But I don't fear the Great White Throne Movie experience.