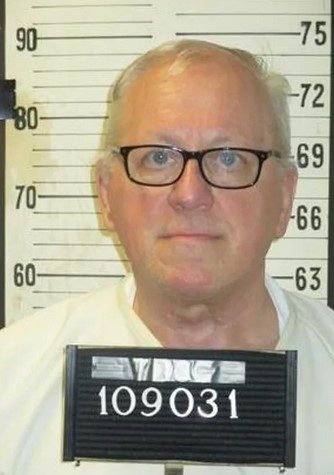 In 1984, Donnie Johnson brutally murdered his wife by stuffing a 30-gallon trash bag down her throat until she suffocated. The Commerical Appeal reported last week:
More than a year and a half before her death, Connie Johnson had purchased a life insurance policy with Donnie Johnson as primary beneficiary, according to legal documents. After Connie Johnson's death, both Donnie Johnson and a sister made claims for $50,000.

In 1984, Donnie Johnson was working at Force Camping Center in Memphis. Connie Johnson had worked there too until about 18 months before her death, according to a newspaper article, when she decided to stop because her daughter was entering school.

It was there that Donnie Johnson killed his wife, suffocating her by shoving a plastic bag down her throat. A Shelby County medical examiner said during the trial that she had cuts and bruises on her head, that she bled internally and had fought back.

"There was testimony that she would have been conscious during the terrifying ordeal and that from one to four minutes would have elapsed before she expired," wrote Tennessee Supreme Court Justice William Harbison in an opinion affirming the judgement of the trial court. "The homicide was inhuman and brutal to an almost indescribable degree."
Johnson was convicted and sentenced to death. He is scheduled for execution this Thursday.
Thirty years ago, Jimmy Pitt started a Seventh-day Adventist Bible study at Riverbend Maximum Security Institution. Johnson was one of his converts (1985). Johnson later became a Seventh-day Adventist minister, and currently leads Bible studies at the prison and ministers to other inmates who are on death row.
Now that Johnson's date for meeting the Grim Reaper is approaching, several Christian zealots have been working hard to keep the convicted murderer alive. Why? He is a new man in Christ Jesus. That's right. J-e-s-u-s, the man, myth, and legend, who purportedly washes all sins away through his blood. Never mind the fact that the Bible says several times that murderers shall NOT inherit the kingdom of God. Mustn't let the inspired, inerrant, infallible Word of God get in the way of a feel-good story; a story of redemption.
Furman F. Fordham II, pastor of Riverside Chapel Seventh-day Church in Nashville, Tennessee, told the Tennessean:
He [convicted murderer Donnie Johnson] has been leading and serving in such a way that what he's doing in there is the exact kind of ministry that we would definitely ordain someone for out here.

I was accustomed to being at different churches where you'd have a prison ministry, but I had never seen one of the prisoners leading it. We were his assistants.
The wife of the late Jimmy Pitt said of Johnson:
Don is one of those people that is not ashamed of the gospel of Jesus Christ, and he will share that with any and everybody that gives him an opportunity.

I used to be fairly set on if you did the crime, you pay the price. I really would love for him to get clemency of some sort because there's always forgiveness.
Pastor Fordham believes Johnson should be spared due to his decades-long religious transformation:
Transformation is real. This is a new gentlemen. He just is. And I think that there should be room for that caveat to be considered and I think that is why in our state constitution the governor can press pause.
Should jailhouse conversion be grounds for sentence commutation, clemency, or parole?  Would a Muslim, atheist, humanist, witch, or pagan inmate be afforded the same opportunities? How many death row inmates have Pastor Fordham and his merry band of Christians advocated for in the past? Or is their advocacy predicated on Johnson being on their team?
I am a pacifist. On principle, I oppose the death penalty, period. That said, when Governors and parole boards are considering sentence commutation, clemency, or parole, there should be a strict separation of church and state. Religious conversion is quite easy to fake. What's the empirical standard by which to judge whether someone is "really" a born-again, saved-by-the-blood Christian? Can their good works ever ameliorate the brutality of their crimes?
I support the commutation of Donnie Johnson's sentence, but not because he is a super-duper, oh-so-awesome Christian. He could be a Muslim terrorist for all I care, or a Baptist. I oppose state-sanctioned murder, be it in prison kill houses or on the battlefields in the Middle East. That the followers of Jesus can't come to such a conclusion is, in my opinion, astounding and in direct contradiction to what the Bible teaches on the matter.
Johnson's son, Jason, sees his devoutly religious father in different light, saying: "He's an evil human being. He can talk Christianity and all that. "That is all my father is. That's all he's ever been, is a con man."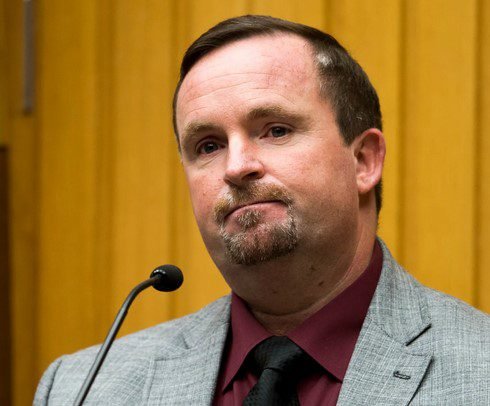 Sometimes, judges let convicted criminals off easy because of their supposed love for JESUS before they committed their crimes. Take David Richards Jr, pastor of My Father's House Church of God in Lenoir City, Tennessee. Richards was convicted of repeatedly raping his 14-year-old daughter. Prosecutors argued the severity and heinous nature of the crimes deserved a minimum of seventy-two years in prison, but the judge thought otherwise and gave Richards a 12-year prison sentence. Judge Steven Sword defended his light sentence by extolling all the good things Richards did in the community, including starting a Bible study while in jail awaiting trial. Again, would a "good" atheist, Muslim, humanist, or pagan receive similar treatment?
Sword gave Richards this sentence, even after hearing him refuse to take responsibility for his crimes. Instead, Johnson blamed his daughter:
I stand before you convicted of crimes I did not commit. I simply believe the system just erred in this case. I'm not sure why I'm here. . . but I assume it's for His [the Christian God's] purpose.
David Richards took the stand in his own defense, painting his accuser as a defiant teenager who first made her allegations of sexual abuse amid his attempts to impose strict rules for his children.
Forensics found Richards' semen on the victim's bed frame, leaving little doubt that he was guilty. Jurors agreed, convicting Richards on nine felony counts, including rape, incest and sexual battery by an authority figure.
David Thompson, Richards' fellow pastor at My Father's House, doesn't believe he's guilty:
I find it impossible for me to believe he's guilty of this. His business needs him. His family needs him. Our church needs him.
In fact, over thirty fellow church members packed the courthouse to show their love and resolute support Richards.
How do we explain their continued support of Richards even after hearing testimony that put Richards' penis in the vicinity of the victim's bed? Some reports have suggested that Richards' daughter was "rebellious," and this necessarily proves she is lying or trying to get even with her father. However, the knowledge that My Father's House is a Fundamentalist Christian congregation should cause anyone buying this argument to ponder for a moment the fact that "rebellion" in such congregations is defined very differently from the way in which the unwashed, uncircumcised Philistines of the world define it. As former inmates at Baptist group homes such as New Bethany or Roloff Homes can attest, rebellion was defined as any act of disobedience, including skipping church, not reading the Bible or praying, going to movies, smoking, drinking beer, having sex, or listening to rock music. I suspect that the victim's "rebellion" is far different from the behaviors that land teens in criminal detention centers. Whatever it might have been, it must be viewed through the lens of his or her religious background. And even then, her supposed bad behavior should play no part in discussions about her father's crimes. That some of Richards' fellow Christians are bringing the victim's ill-behavior up suggests that they are straining at a gnat and swallowing a camel in hopes of finding justification for their unwillingness to believe their pastor could be a rapist. Can anyone say cognitive dissonance?
The victim, Amber Richards, had this to say about her father:
I wanted to throw my body away. Not a day goes by that I don't, in some way, think of what he did to me. . . I firmly believe if given the opportunity, he would victimize another young girl.
Too bad thirty-plus members of My Father's House and their pastor David Thompson didn't hear a word Amber Richards had to say.
About Bruce Gerencser
Bruce Gerencser, 62, lives in rural Northwest Ohio with his wife of 41 years. He and his wife have six grown children and twelve grandchildren. Bruce pastored Evangelical churches for twenty-five years in Ohio, Texas, and Michigan. Bruce left the ministry in 2005, and in 2008 he left Christianity. Bruce is now a humanist and an atheist. For more information about Bruce, please read the About page.
Thank you for reading this post. Please share your thoughts in the comment section. If you are a first-time commenter, please read the commenting policy before wowing readers with your words. All first-time comments are moderated. If you would like to contact Bruce directly, please use the contact form to do so.
Donations are always appreciated. Donations on a monthly basis can be made through Patreon. One-time donations can be made through PayPal.