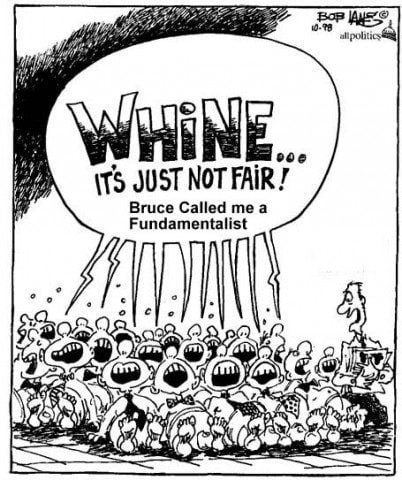 I am of the opinion that Evangelical Christianity is, overall, psychologically, socially, educationally, and politically harmful. This has become increasingly clear now that Evangelical beliefs are front and center in debates over global warming, same-sex marriage, LGBTQ civil rights, abortion, immigration, and a host of other issues. If Evangelicalism were all about personal salvation and piety, I would have no need to write this post, but since many Evangelicals are Heaven-bent on establishing the Kingdom of their God on earth and forcing the moral and immoral teachings of the Bible on all of us, it is imperative that atheists, agnostics, humanists, and other non-Evangelicals find effective ways to combat Evangelical influence, dominance, and control.
Far too many atheists think that the best way to reach Evangelicals is to argue with them, post anti-Christian memes, or engage in monkey-esqe shit-throwing contests on social media. While these types of activities might make atheists feel good or elicit laughs, they do nothing when it comes to turning back the Evangelical horde. The primary reason this is so is that Evangelicals are conditioned to believe that attacks and harassment from unbelievers are persecution. Evangelicals are taught to view such persecution as the normal part of living a godly life in a wicked, sin-filled world. 2 Timothy 3:12 says: Yea, and all that will live godly in Christ Jesus shall suffer persecution. Remember this the next time you feel inclined to put an Evangelical in his place. You are just feeding his persecution complex when you do. While it might make you feel good in the moment to gut a creationist on social media, ask yourself, what is it that I have accomplished by doing so? If the goal is societal transformation, then rational freethinkers and secularists must find effective ways to evangelize Evangelicals.
The purpose of this blog is to help people who have doubts about Christianity or who have already left Christianity. My goal has NEVER been to evangelize Evangelical zealots or apologists. I see myself as a facilitator, helping people on this journey we call life. If I can help someone move away from Fundamentalist thinking (Please see Are Evangelicals Fundamentalists? ) then I have done my job, even if that person ultimately doesn't become an atheist. I feel no compulsion, as Evangelicals do, to make atheists of all nations. That said, it would be dishonest of me to not admit that I desire to see bloom an atheistic, humanistic, secularistic world; one devoid of religious superstition. The question then, for me, is how best to evangelize questioning, doubting Evangelicals. And believe me, Evangelicalism is a huge mission field, one with millions and millions of people who have serious questions and doubts about their beliefs and practices. The percentage of Americans who are atheists, agnostics, or indifferent towards organized religions (nones) continues to grow. Younger Americans, in particular, have had enough of Evangelicalism and its incessant moralizing and culture war. Recent revelations about sexual abuse in the Southern Baptist Convention and Independent Fundamentalist Baptist (IFB) church movement have caused countless young and old Evangelicals to leave their churches. Spilling onto the internet, these doubting, questioning, disaffected Christians are looking for help and answers. I want this blog to be one place where such people can find help.
Evangelical zealots and apologists find my writing offensive. Their minds are closed off to any view but their own. That's why I don't spend time engaging diehard Evangelicals. Doing so is a colossal waste of time. Such people arrogantly believe that they are absolutely right. Armed with supernatural truth — the Bible — given to them by a supernatural God, Evangelical zealots believe it is their duty to take the word of the inspired, inerrant, infallible Bible to the ends of the earth. Years ago, I told my counselor that I didn't understand why Evangelical zealots didn't accept my story at face value. I naively thought that if I just told my story they would understand where I was coming from. My counselor chuckled and replied, "Bruce, you assume they give a shit about what you think. They don't!" Needless to say, my naiveté was forever shattered. And it is for this reason, I don't argue with Evangelical zealots. Per the comment rules, such people are given one opportunity to say whatever it is they want to say. After that, it is time for them to move on. It's people with doubts and questions that interest me, not people who are taking daily intravenous injections of Fundamentalist Kool-Aid.
I have found that the most effective way to evangelize Evangelicals is for me to simply tell my story. I was part of the Christian church for fifty years, and spent twenty-five of those years pastoring Evangelical churches in Ohio, Texas, and Michigan. I pastored churches affiliated with the IFB church movement, Southern Baptist Convention, Sovereign Grace Baptists, Christian Union, along with a nondenominational church. I trained for the ministry in the 1970s at Midwestern Baptist College in Pontiac, Michigan — an IFB institution. I attended countless preacher's meetings and conferences, and after I left the ministry in 2005, my wife and I visited over 100 churches. (Please see But Our Church is DIFFERENT!) My life experiences have given me a story to tell, and it is that story that resonates with doubting, questioning Evangelicals. I am humbled that that thousands of people read this blog each day, most of whom will never leave a comment. I know of numerous other non-Evangelical writers who have taken a similar tack, and they, too, attract a large number of readers. If my email is any indication, the story-telling approach is working.
If you are a former Evangelical and you want to help people who have doubts and questions, I encourage you to tell your story. Either start a blog or write a guest post. Your story matters. Thousands of people lurk in the shadows of this blog. Telling your story just might be the thing that helps them to finally see the bankruptcy of Evangelicalism. If you need help setting up a blog or would like to write a guest post, please send me an email via the contact page. I am here to help.
Another way to effectively reach Evangelicals is to get them to read books that challenge their core beliefs. Personally, I try not to get into doctrinal debates with Evangelicals, choosing instead to attack the foundation upon which their house stands: the inspiration, inerrancy, and infallibility of the Protestant Christian Bible. Successfully destroy the foundation, and down comes the house. Take debating creationists. It's almost impossible to deliver them from their delusions, from the notion that the universe is 6,023 years old. Why? Biblical inspiration and inerrancy demand that they accept Genesis 1-3 as "science," and reject anything that doesn't conform to the creationist worldview. Ken Ham, Answers in Genesis, Creation Museum, and the Ark Encounter — a colossal monument to Evangelical ignorance — all testify to what happens when one embraces inerrancy (and literalism). Challenge their beliefs about the Bible, interjecting questions and doubts, and it then becomes easier to rebuff their creationist beliefs. Once this is accomplished, other beliefs can then be successfully challenged.
I have found that Dr. Bart Ehrman's books are often effective in disabusing Evangelicals of their beliefs about the nature of the Bible. Once an Evangelical doubts that the Bible is inspired and inerrant, the church door is open and he has taken his first step towards freedom.
Books by Bart Ehrman
The Triumph of Christianity: How a Forbidden Religion Swept the World
Misquoting Jesus: The Story Behind Who Changed the Bible and Why
How Jesus Became God : the Exaltation of a Jewish Preacher from Galilee
Jesus Before the Gospels: How the Earliest Christians Remembered, Changed, and Invented Their Stories of the Savior
Jesus, Interrupted: Revealing the Hidden Contradictions in the Bible (And Why We Don't Know About Them)
Did Jesus Exist?: The Historical Argument for Jesus of Nazareth
Forged: Writing in the Name of God–Why the Bible's Authors Are Not Who We Think They Are
God's Problem: How the Bible Fails to Answer Our Most Important Question — Why We Suffer
Let me leave you with one more way we can evangelize Evangelicals. As Evangelicals, we were taught the importance of our "testimony" before the world. Think of all the nasty, arrogant, hateful Evangelical zealots who have visited this blog and commented over the years. Have their words not testified to the worthlessness of that which they preach? Their words speak volumes, do they not? The same can be said of the preachers who are featured in the Black Collar Crime series. What's the takeaway here? That how we live is far more important than what we say. If we fail to practice what we preach, our words are worthless. Atheists, who typically follow the humanist ideal, need to understand that Evangelical doubters and questioners are watching how we live our lives. They want to see if atheism/humanism has made any difference in our lives. They want to see what it is that moves us, gives us purpose and meaning, and helps us get through the day. If we truly want to evangelize Evangelicals, then our lives must testify that there is a better way; that love, kindness, happiness, and fulfillment can be had without kowtowing to a mythical deity; that freedom rests not in religious dogma, but in rational, skeptical living.
About Bruce Gerencser
Bruce Gerencser, 62, lives in rural Northwest Ohio with his wife of 41 years. He and his wife have six grown children and twelve grandchildren. Bruce pastored Evangelical churches for twenty-five years in Ohio, Texas, and Michigan. Bruce left the ministry in 2005, and in 2008 he left Christianity. Bruce is now a humanist and an atheist. For more information about Bruce, please read the About page.
Thank you for reading this post. Please share your thoughts in the comment section. If you are a first-time commenter, please read the commenting policy before wowing readers with your words. All first-time comments are moderated. If you would like to contact Bruce directly, please use the contact form to do so.
Donations are always appreciated. Donations on a monthly basis can be made through Patreon. One-time donations can be made through PayPal.