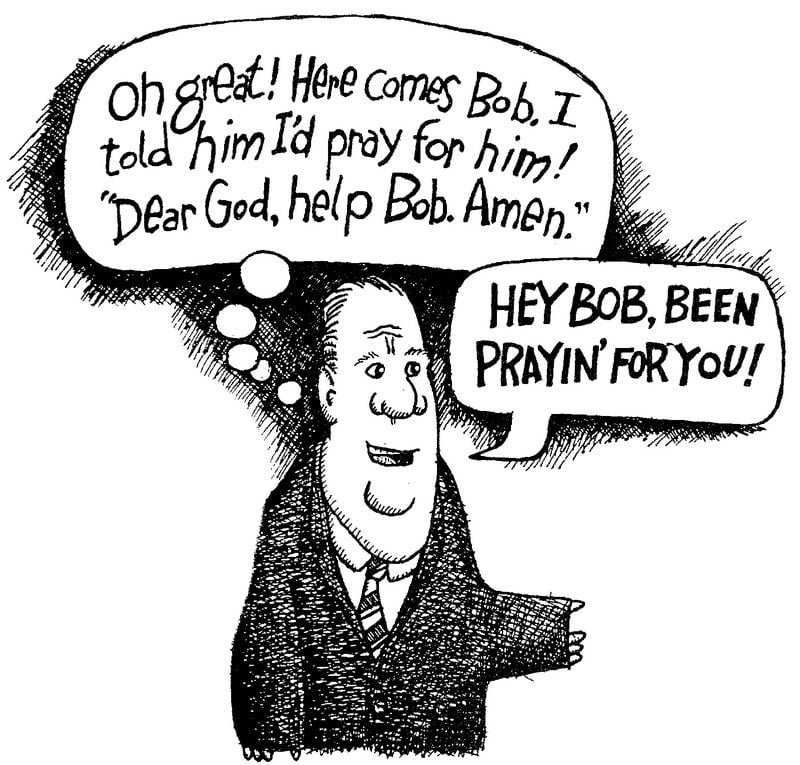 A guest post by ObstacleChick
There are a lot of people from my Evangelical past with whom I am connected on social media. A few of them never post anything at all that is religious. It is clear that some folks left Evangelicalism for a more progressive, inclusive Christianity. But there are quite a few who are still deeply rooted in Evangelical churches and beliefs. The majority of those who are still deeply rooted in Evangelicalism are also politically conservative. Not only are some of these folks posting about hell, but they are also supporting gun ownership, anti-immigration sentiment, and anti-abortion stances. Sometimes when I can't take it anymore, I unfollow people.
All the Christians that I know believe in the power of prayer. They are convinced that their deity wants to hear from them and wants to help them with their issues, provided of course that the person praying is "right with God" and that whatever the person is asking is within God's will. I don't know any Christians who would state with certainty that they are "right with God" or that they know conclusively what is God's will, but they certainly do throw their prayers out there in case all the right circumstances converge to produce the desired outcome. It's a little like playing the lottery, except with the lottery someone will actually receive a payout at some point.
As someone who no longer believes in deities or the power of prayer, it is interesting to me to see what Christians post on social media when they are seeking a desired outcome to a situation. Some will post a cryptic notice to their "prayer warrior" friends that there is a situation requiring prayer. Inevitably, dozens of people will respond "praying," while some include heart or praying hands emoticons. Others will post a specific event for which they would like their friends to pray, typically something to do with illness or financial/employment situation. The posts regarding cancer or terminal illness are the most heartbreaking for me to read, as the person posting often will state that they are putting their loved one's well-being (or their own well-being as the case may be) in the hands of their deity. All of them do seek the best medical care that they can find or afford, so at least they are aware that physical treatments are necessary to treat disease. However, they ask for prayers for "getting an appointment soon," "getting treatment right away," "seeing the best doctor," and so forth. Picking up the phone and talking with someone who can actually make that happen for you might be a better option than talking to an invisible deity and asking all your friends to talk to an invisible deity.
I feel for those who are reaching out for prayers. They are afraid, concerned, sometimes grasping with their last hope that their deity will show favor and perform a miracle to rectify the situation. Yet I just cannot bring myself to say that I am "praying." I have not prayed in many years, even before I acknowledged that I was an atheist and no longer believed in any deities. I believe that if I say I am praying that it is a lie even though it is an expected response that might make the person feel better.
What prompted this post is seeing a series of posts from Evangelical Christians over the past few months regarding illness and death. A friend's mother died after deciding to discontinue chemotherapy as her cancer had progressed too far. Another friend's father died after years of cancer and remission; he was a pastor, which goes to show that the Evangelical deity does not favor his mouthpieces when it comes to cancer. Yet another person posted that her husband was experiencing unexplained blindness for which doctors, after several months of tests, have not found the root cause. My sister-in-law's year-old grand-niece suffered a seizure, and doctors could find nothing long-term wrong with her. Another friend just posted yesterday that his wife was diagnosed with breast cancer and is starting radiation therapy today. And the most heartbreaking of all is a friend whose husband had surgery for a glioblastoma, was sent to Duke Medical Center to be evaluated for an experimental program, and the day before the appointment, was rushed to Duke where doctors performed emergency brain surgery to alleviate swelling where a new faster-growing glioblastoma has taken root. It took several days for the family to secure transport back home to Georgia so he could begin radiation treatment.
All of these people asked for prayers, and they received hundreds of responses such as "praying" or "praying for you," or longer versions that include some sort of Bible verse and "praying," or a long-winded monologue "lifting you up in the name of our Lord and Healer Jesus Christ." Very few people actually offered something useful in return.
What I did notice was that hardly anyone who posted responded to those who commented "praying," but everyone responded to my comments which usually involved saying that I hoped their medical team could find out what was wrong or made some other comment that had nothing to do with Jesus or prayer. My comments gave them the opportunity to express their thankfulness for their medical teams and to explain what had been accomplished so far. My goal when commenting was to show empathy, and I suppose that was also a goal of those who responded that they were "praying." The difference is that I know and accept that there is very little actionable that I can accomplish to help these people with their issues while those who pray think they are doing something important and useful by appealing to their supposedly omnipotent, omnibenevolent deity. If the person does show improvement or recovery, the deity is thanked and held responsible for the "great things he has done." Sometimes the medical team is thanked, but they are typically an afterthought in the process. And if the outcome is not favorable, then it is attributed to "God's will, praise His name, glory hallelujah."
In closing, I would like to mention the way a nonreligious friend is posting on social media about her husband's bout with a brain tumor. They were on vacation in Italy when he collapsed. Hospital tests showed he had a brain tumor that required immediate surgery. When he returned to the US, he started radiation and physical therapy. All of her posts have been pictures of her husband with his medical team, with physical therapists, with friends and family who have visited, with many thanks for these professionals, family, and friends who are working with him. Not once did she mention a deity or ask for prayers.
If you are nonreligious, how do you deal with people asking you to pray for them regarding an issue? Do you tell them you are praying, or do you do as I do and mention how you are thinking of them and hope they have good resources? I would be interested to hear other ways that might convey empathy.