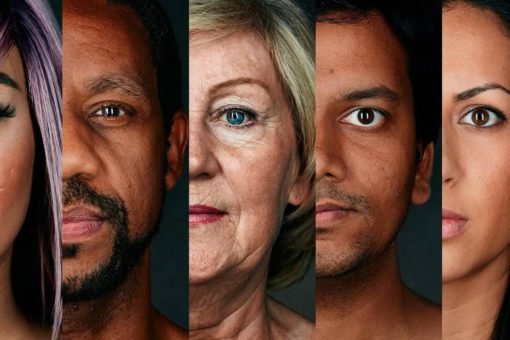 Guest post by Grammar Gramma
Recently, a woman who styled herself Terra Blanche left a comment on Bruce's post entitled "The Curse of Cain: Why Blacks Have Dark Skin." She stated:
And what if these so-called 'racists' had a point? You were right in objecting to their conditioned views but what if they were right about Negroes 'not having souls'? Anyone can put on a do-gooder act.

Most crime in the US is within Colored communities. Are they the sons of Cain; cursed this way?
A long-time reader of Bruce's blog posts, I was incensed by the implications of her comment, and thought I would write a reply.
Terra, let's suppose just for a moment that you are right, that most crime in the U.S. is within black communities. I'm not granting that you are correct, but I'm supposing it for the purpose of this response.
Do you suppose it might be because of their childhood exposure to violence? That they saw their fathers hanged and their mothers raped? That they saw police violence used against their parents and brothers and sisters and thought there was no other way?
Do you suppose that it might be because they suffered (and continue to suffer) discrimination by law enforcement and the judicial system? You are naïve indeed if you believe that police haven't targeted blacks for centuries for casual stop-and-frisk when they were doing nothing wrong, for the planting of drugs, guns and other "evidence" on blacks to cover up white crime, and for a plethora of other misdeeds against blacks. You are equally naïve if you believe that the killing of unarmed black men by police hasn't taken place since forever. It is only now, when the citizenry has easy access to video cameras, that we are beginning to see this insidious, outright legalized murder of some of our citizenry. If you believe that discrimination in the judicial system is a thing of the past, then please consider the Supreme Court decision decided on June 21, 2019, that found that the prosecutor over the course of four trials used numerous dishonest methods to keep African-Americans off the jury at the trial of a black man. Flowers v. Mississippi, No. 17–9572.
Do you suppose that systematic discrimination in employment might be a factor in a higher crime rate among blacks? Do you suppose that government-sanctioned discrimination in housing and other economic deprivation might be a factor in a higher crime rate among blacks? Have you ever heard of redlining, whereby blacks were prevented from buying houses in certain neighborhoods? A great many U.S. citizens accumulate wealth in the form of real estate, making monthly mortgage payments that build up personal wealth. They then pass this wealth on to their children, making the lives of said children just a little bit easier. Redlining prevented blacks from buying real estate in wealthier communities, where the real estate values rose the quickest, thereby enriching the owners – but not black ones!
Do you suppose that family disorganization might be a factor in a higher crime rate among blacks? Perhaps black people are discriminated against in employment – not a far stretch of the imagination. Perhaps the scarcity of employed black men increases the prevalence of families headed by females in black communities, and this, in turn, results in family disruption that significantly increases black murder and robbery rates.
Do you suppose that the inability to post bail by many blacks might lead to a higher crime rate among blacks? When a black man is in jail, his family loses a source of income. Do you not suppose that the children of these black men might see crime as the only way to bring some source of income into the household?
You stated that Anyone can put on a do-gooder act, suggesting that Blacks might not have souls, but that they are acting as if they do. Tell me, Terra Blanche, how does one with no soul put on an act that might lead others to believe he has a soul? How do people with souls act? And how do people without souls act? And how do you tell the difference?
I am aghast that anyone today does not understand that, if any human has a "soul," then all humans do, whether they are black or white or pink or purple or some other color. There is nothing inherent in one color of people which would grant them anything greater or lesser than any other color. To believe otherwise is truly racist. Let's suppose for just a moment that you are right, and that blacks have no soul. Suppose an interracial couple gets married and produces children. Do these children have souls? Now suppose these children marry whites, and produce children of their own. Do these children have souls? Now, carry it on. When do these children attain souls? Or do they never? Do you subscribe to the "one drop of blood" theory? If so, SHAME ON YOU! There is no difference between black blood and white blood and any other type of blood. If you are injured and need a blood transfusion, would you demand that you only receive white blood? And if you receive black blood, are you tainted forever? Suppose for a moment that you have your DNA analyzed, and you learn that there is African-American blood in your genetic makeup. Does this mean you don't have a soul, even though you thought you did? Terra, this line of thinking will destroy you! We are all the sons of Cain, or no one is. Bruce is right, you know. None of us has a soul. Whatever life force we have dies when we do, and we stop being. Our souls don't go to heaven or hell. You have been lied to, Terra Blanche. There is no heaven or hell. There is only death at the end of life.
You seem to value white skin. I do hope you realize that the Jesus you worship and adore was not white-skinned. He was a brown-skinned Jew of Middle-Eastern descent. How do we know he was brown-skinned? Because all Middle-Eastern Jews were brown-skinned. I realize that this likely creates a cognitive disconnect, because you probably feel deep affection for Jesus but little empathy for a Middle Eastern person. But it is the truth.
Your vision of a white earth will never happen. Millennials are accepting of people of all colors, races and gender stripes, and find discrimination against their friends and neighbors on the basis of gender or race appalling. They will be the salvation of our nation, and of the world. One day we will live in a world where people are accepted for who they are, not the color of their skin. And you and your kind will be a few tiny voices, crying in the wilderness because you have been cast out for your racist views.