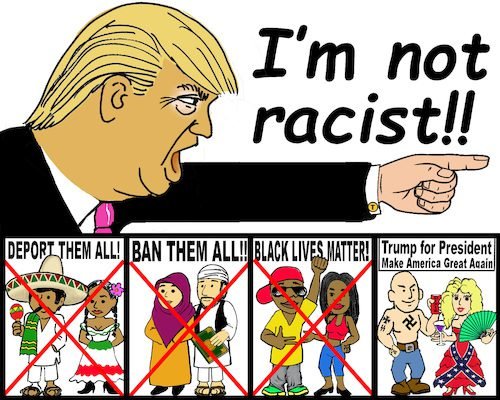 Please see Does Racism Exist in Rural Northwest Ohio? and Ignoring Any History Before White People)
Yesterday, I posted an excellent guest post by my editor, Grammar Gramma. I appreciate her willingness to respond to a drive-by reader's racist comment on The Curse of Cain: Why Blacks Have Dark Skin.
Racism is in the air thanks to Donald Trump. What was once said in secret behind closed doors is now publicly vomited on social media, blogs, and news sites. I live in an overwhelmingly white area. Confederate flag-waving knuckle-draggers are common, as are make Make America White Again® Trump supporters. In 2016, Trump overwhelmingly won in the Ohio counties of Williams, Defiance, Henry, and Fulton — rural northwest Ohio. Blacks make up less than one percent of the population, Hispanics/Latinos, seven percent. The Hispanic/Latino population is a reflection of the fact that farmers once used large numbers of migrant workers to pick crops. Some migrants who made the trek from Mexico to Ohio stayed after completing their work. They quietly go about their lives, increasingly worried that ICE might show up at their doors, destroying everything they have built and worked for. As a teenager, I knew a number of people who were in the United States "illegally." To the person, they were productive members of society.
Rural northwest Ohio is my home, even though politically, religiously, and socially I have little in common with most locals. I have been surrounded by overtly racist people most of my life, including in the churches I pastored in this area. If you think Jesus is an antidote for racism, think again. Some of the most racist people I know, both here in rural northwest Ohio and in my extended family, love the King of Kings and Lord of Lords, the man, the myth, the legend, Jesus H. Christ. As a pastor, I did what I could to combat racist attitudes and behaviors. Sometimes, it was just small rebukes, such as when one congregant would talk about "colored" people. I would respond, "what "color" were they, exactly?" "Oh preacher, you know." "No, I don't, tell me." Or when one woman would incessantly talk about all those lazy "blacks" on welfare who won't work for a living. I told her several times, "You do know most of the people who are on welfare and receive food stamps are white, right?" Sadly, my soft admonishments did little to correct deep-seated multi-generational racism.
Recently, a young woman (Erin) who attended a nearby church I pastored for seven years, engaged in an overtly racist discussion with a friend of hers (Tobias) from South Africa:
These comments reveal that racism is often passed on from parents to children, and until someone in the family tree sees the light, racist beliefs and practices will continue to flourish in my part of rural northwest Ohio. If you met this young woman, you would think that she is a wonderful person — and she is. But in her heart lie bigotry and hate, both birthed and  nurtured by her parents, friends, church, and community.
About Bruce Gerencser
Bruce Gerencser, 62, lives in rural Northwest Ohio with his wife of 41 years. He and his wife have six grown children and twelve grandchildren. Bruce pastored Evangelical churches for twenty-five years in Ohio, Texas, and Michigan. Bruce left the ministry in 2005, and in 2008 he left Christianity. Bruce is now a humanist and an atheist. For more information about Bruce, please read the About page.
Thank you for reading this post. Please share your thoughts in the comment section. If you are a first-time commenter, please read the commenting policy before wowing readers with your words. All first-time comments are moderated. If you would like to contact Bruce directly, please use the contact form to do so.
Donations are always appreciated. Donations on a monthly basis can be made through Patreon. One-time donations can be made through PayPal.