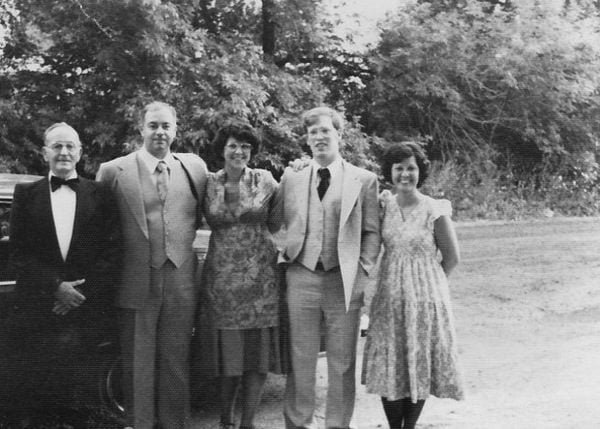 Dr. Bart Ehrman, a former Evangelical Christian and now an agnostic, writes:
Two things have happened to me this week that have made me think rather intensely about the path I've taken in life, and how radically it has swerved from the paths of others who were like me at the age of 20. I emphasize "who were like me."   The reality is that the path I was on already at 20 was (now I see) extremely weird, and to outsiders looks more than a little bizarre. I was a hard-core evangelical Christian dedicated to ministry for the sake of the gospel. Not exactly what most 20-year-olds (including any of my many high school friends) were doing at the time.  If ever I want a conversation-stopper at a cocktail party, all I need do is say something about my past.

Still, given that as my starting point, what happened next is even more highly unusual. And I was abruptly reminded it of it this week, twice.   First, on Monday I had a radio/podcast debate here in London on "Premier Christian Radio" (it is the leading Christian radio station in England) (not that it has a lot of competition, but it is indeed a high class operation) with another scholar of the New Testament, Peter Williams, one of the world's experts on ancient Syriac as it relates to the Bible (both OT and NT), former professor at the University of Aberdeen and current head of Tyndale House in Cambridge.

I have known Pete for years; he is a committed evangelical Christian with a view of the infallibility of the Bible. Our debate was on the question of whether the Gospels are historically reliable (a topic of frequent recurrence on this blog, obviously) (some bloggers may think "interminable" recurrence). He thinks there is not a single mistake in the Gospels, of any kind.  I think there are. You've heard this kind of debate before, so I won't be recounting the ins and outs (although they were quite different from those you've seen before; still, it won't matter for this post).

The second thing that happened is that I received a Facebook post from a former friend (I emphasize "former" since we apparently are no longer friendly) and classmate of mine from my Moody Bible Institute days (mid 70s), in which he lambasted the fellow alumni from my graduating class for holding me in any kind of esteem. The implication of his lambast was that I'm the enemy of the truth and no one should respect me or my views. I haven't talked with this fellow for over 40 years, but last I knew we were friends, on the same floor in the dorm and the same basketball team. OK, I couldn't hit a jump shot, but still, is that reason to be upset four decades later?

In any event, these two events made me think hard about one issue in particular, one that I keep coming back to in my head, in my life, and, occasionally, on this blog: why is it that some people are willing to change their minds about what they hold most dear and important in their lives and other people retain their same views, come hell or high water?    Why do some people explore options and think about whether they were originally "right" or not (about religion, personal ethics, social issues, politics, etc.), and other people cling tenaciously to the views they were given when they were 14 years old? It's an interesting question.

Because I changed my views on something near and dear to me and my then-friends, I'm a persona non grata in the circles I used to run around in. And granted, I have zero desire (OK, far less than zero) to run around in them now. But I don't feel any animosity toward my former friends, or think they're going to roast in hell because of their views, and wish that torment would begin sooner than later. I understand why they do (toward me), but it's sad and disheartening.

….

What I'm more interested in is why I would have changed my mind and others like him absolutely don't. Even scholars.  Their views significantly deepen, become more sophisticated, more nuanced – but the views don't change. (My sense of my former classmates at Moody – at least the ones I hear about – is that their views don't even deepen or grow more sophisticated; they literally think pretty much the same thing as they did when they were mid-teenagers, only now with more conviction and passion).

The reason I find the whole matter sad is almost entirely personal (I guess sadness by definition is). My former evangelical friends and current evangelical debate partners think I'm an enemy of the truth, when I've spent almost my entire weird journey trying to come to the truth. And so far as I can tell, they haven't. I'm not trying to be ungenerous, but it does seem to me to be the reality.

I'll try to put it in the most direct terms here: how is it at all plausible, or humanly possible, that someone can question, explore, look into, consider the beliefs they were taught as a young child (in the home, in church, in … whatever context) and after 40 years of thinking about it decide that everything they were taught is absolutely right? The views *they* were taught, out of the sixty trillion possible views out there, are absolutely right? The problem with these particular views (of evangelical Christianity) is that if they are indeed right, everyone else in the known universe is wrong and going to be tormented forever because of it.

I know most Christians don't think this: I'm just talking about this particular type of Christian. And they don't seem to see how strange it is that they are right because they agree with what they were taught as young children. Yes, they don't see it that way. They think they are right because they agree with the Bible which comes from God so they agree with God and I (and everyone else on the planet) disagree with God. But the reality is that this is the view they were handed as young kids.
Dr. Ehrman brings up a question that I have long pondered "why am I different from my former Evangelical friends, parishioners, and colleagues in the ministry?" I spent most of the first fifty years of my life in the Evangelical church. I attended an Independent Fundamentalist Baptist (IFB) college, married an IFB pastor's daughter, and spent twenty-five years pastoring Evangelical churches in Ohio, Texas, and Michigan. Yet, in November 2008, I divorced Jesus. Several months later, I sent a letter titled Dear Family, Friends, and Former Parishioners to several hundred people who knew me well. From that point forward, I became known as Bruce, the Evangelical pastor who became an atheist. As a result of my deconversion, I lost scores of lifelong relationships. I learned quickly that what held our relationships together was the glue of fidelity to orthodox Christianity; that once I repudiated the central claims of Christianity and rejected the notion that the Bible was, in any way, an inspired, inerrant, infallible text, all pretense of friendship was gone. Today? I have two Evangelicals friends (and former parishioners), and even with them, I find that our relationships are strained due to their utterances on social media about the evils of atheism and not believing in Jesus. I ignore the things they post and say, but I do take it personally. And that's it, for me, when it comes to connections to my Evangelical past.
I have known a number of Evangelical pastors over the years, and without exception, all of them say that they still believe and preach the truths we all held dear decades ago. Several of them have retired or left the ministry, but I have searched in vain for one ministerial colleague who lost his faith and is now an atheist or an agnostic. One is a lonely number, and I am it!  A handful of these "men of God" have moderated their Fundamentalist beliefs and practices, but the majority of them still hew to the old-time gospel. Many of these men still believe the same things they did when they were in Bible college over forty years ago. Dr. Ehrman has written numerous books about the nature of the New Testament text, and in doing so he has shredded the notion that the Bible is inerrant and infallible. (I don't mention inspiration here because it is a faith claim, whereas claims of inerrancy and infallibility can be empirically tested.) Either these Bible-believers — most of whom believe the King James Bible is the perfect, preserved Word of God for English-speaking people — have never read one of Dr. Ehrman's books or they have, ignoring, discounting, or denying what he had to say.
I remember having a discussion years ago with a dear friend and colleague of mine about the notion that the King James Bible was inerrant. I provided him a list of words that had been changed in the 1769 revision of the KJV. I thought that telling him there were word differences between the 1611 and 1769 editions would open his eyes to the folly of translational inerrancy. Instead, he doubled-down and said that he wouldn't believe the KJV had errors even if I could prove it did!  This conversation took place in the late 1980s. Thirty years later, this man, of course, is no longer friends with me, and he still believes that the KJV is inerrant and infallible. And based on a perusal of his church's website, he still holds to the same doctrinal beliefs he had when he graduated from a small Ohio-based IFB Bible college in the early 1980s. I fondly remember the conversations we had over lunch about hot topics such as: Calvinism, pre-wrath rapture, divorce, and countless other subjects. My ex-friend always struck me as a man who valued and appreciated knowledge and intellectual integrity. Yet, despite decades of reading books and studying the Bible, he remains unmoved from his Fundamentalist beliefs. Why is that?
As long-time readers know, my wife's father graduated from Midwestern Baptist College in Pontiac, Michigan — the same college Polly and I attended — and worked for and pastored IFB churches until he retired. Polly's uncle, Jim Dennis, attended Midwestern in the 1960s and pastored the Newark Baptist Temple for almost fifty years. Jim's children are all in the ministry. His two daughters married Pensacola Christian College-trained preachers, and his son — also trained at Pensacola — is a pastor. And now, Jim's grandchildren are heading off to Bible college. The third generation is attending institutions such as The Crown College and West Coast Baptist College. As I look at my wife's family, I want to scream. Why is it that no one can see the error of Fundamentalist thinking; that no one can see that Evangelical beliefs cannot be rationally and intellectually sustained; that no one can see the psychological damage done by Fundamentalist thinking? What made Polly and me different from her Jesus-loving family? Why could we see what they cannot?
I do know that many Evangelical preachers take great pride in believing the same things today that they believed twenty, thirty, or fifty years ago. It's almost as if they believe that God (and their pastors/professors) told them everything they needed to know in their twenties, and there's no reason to revisit past beliefs. It's as if these preachers are proud of the fact that "ignorance is bliss." It's not that these men don't read books, they do. However, a quick inventory of their libraries reveals that they rarely, if ever, read books by non-IFB or non-Evangelical writers. These preachers know what they know, and there's no reason to read anything that might change their beliefs. In fact, anything that might cause the least bit of doubt is suspect and considered the work of Satan.
For whatever reason, I was never one to sit still intellectually. I blame this on my mother. She taught me to read at an early age and helped me learn that the library was my best friend. Even as an IFB pastor, I read authors who were on the fringe of the movement, and my reading expanded well beyond Christian orthodoxy in the latter years of my time in the ministry. As a pastor, I devoted myself to reading books, studying the Bible, and making sure my beliefs aligned with what I was learning. This process, of course, led to numerous theological and lifestyle changes over the years. The boy who enrolled at Midwestern at age nineteen was very different from the man who walked away from the ministry at forty-seven, and Christianity at age fifty. In between these bookends were thousands and thousands of hours spent in the study. Whatever my critics might say about me, no one can accuse me of not taking my studies and preaching seriously. Noted IFB evangelist "Dr" Dennis Corle told me that my ministry would be best served if I just spent a few hours a week preparing my sermons, and spent the rest of my time soulwinning. I didn't follow his advice. I believed then that the people who called me "preacher" deserved to hear quality, educated, well-crafted sermons. I could do this and STILL have time for soulwinning. I have since come to the conclusion that Evangelicalism is littered with lazy preachers who have little regard for their congregants; who barf up pabulum week after week, rarely spending significant time in their studies. And why should they, I suppose? If you KNOW that your beliefs are straight from the mouth of God, there's no need to read books that might challenge said beliefs.
Several years ago, a former church member wrote to me about my loss of faith. She was sure she knew what the problem was and how I could get myself back on the proverbial sawdust trail. You see, according to her, all those books I read over the years were the problem. If I would just go back to reading only the B-I-B-L-E, then my faith would somehow magically reappear. In her mind, I knew too much, and that what I needed was some good old Baptist ignorance. Did not the Bible say about Peter and John in Acts 4:13:
Now when they saw the boldness of Peter and John, and perceived that they were unlearned and ignorant men, they marvelled; and they took knowledge of them, that they had been with Jesus.
Peter and John were thought to be unlearned, ignorant men, yet their lives revealed that they were men who had been with Jesus. Surely, being known for having been with Jesus is far more important than being known as a learned, educated man, right?
And at the end of the day, I can't unlearn what I know. I refuse to limit my intellectual inquiries. I refuse to rest on what I know today being the end-all, the zenith of wisdom and knowledge. No, in fact, leaving Christianity has shown me how much I don't know; that despite the countless hours I spent reading books, I have not yet scratched the surface of human knowledge and understanding. The best I can say is this, "I know more today than I did yesterday." And to quote Buzz Lightyear, "To Infinity and Beyond!"
About Bruce Gerencser
Bruce Gerencser, 62, lives in rural Northwest Ohio with his wife of 41 years. He and his wife have six grown children and twelve grandchildren. Bruce pastored Evangelical churches for twenty-five years in Ohio, Texas, and Michigan. Bruce left the ministry in 2005, and in 2008 he left Christianity. Bruce is now a humanist and an atheist. For more information about Bruce, please read the About page.
Are you on Social Media? Follow Bruce on Facebook and Twitter.
Thank you for reading this post. Please share your thoughts in the comment section. If you are a first-time commenter, please read the commenting policy before wowing readers with your words. All first-time comments are moderated. If you would like to contact Bruce directly, please use the contact form to do so.
Donations are always appreciated. Donations on a monthly basis can be made through Patreon. One-time donations can be made through PayPal.