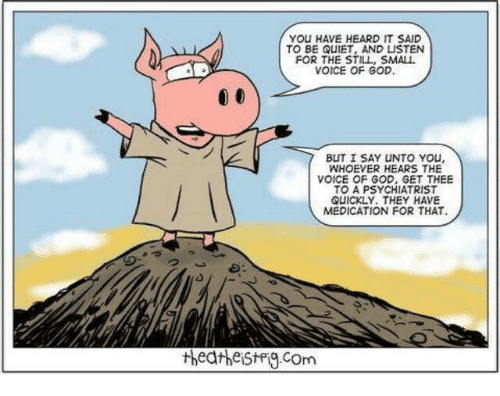 Evangelicals are taught that God speaks to them in a still small voice. In 1 Kings 18, the great Baptist preacher Elijah participated in a God Duel between Jehovah and Baal that was meant to prove once and for all that his God was the one true and living God. After Elijah's God rained fire down from heaven, proving that he alone was God, Elijah had Baal's false prophets — liberals, Democrats, atheists, Muslims, Catholics, and the like — slaughtered.
In I Kings 19, we find King Ahab telling Hillary Clinton — also known as Jezebel — "of all that Elijah had done, and withal how he had slain all the prophets [of Baal] with the sword." Jezebel sent a messenger to Elijah with this message:
So let the gods do to me, and more also, if I make not thy life as the life of one of them by to morrow about this time.
In other words, Jezebel told Elijah: I'm coming for you hotshot, and when I find you, I am going to slit your throat from ear to ear. Elijah, being the tough Baptist preacher that he was, stood up to Jezebel and said, Bring it on, bitch. Me and my God will whip your ass, and that will be the end of you! Not really. Baptist preachers are tough guys when surrounded by fawning, adoring crowds on Sundays, but Elijah was all alone, so he did the only thing he could do — run! In fact, Elijah, the greatest Baptist pulpiteer of the ninth century BCE, was so depressed that he pleaded with God to kill him. (1 Kings 19:4) After Elijah had spent 40 days in the wilderness, the Lord — one of the Christian Gods — questioned Elijah's commitment to the one true faith. Elijah replied:
I have been very jealous for the Lord God of hosts: for the children of Israel have forsaken thy covenant, thrown down thine altars, and slain thy prophets with the sword; and I, even I only, am left; and they seek my life, to take it away.
Poor Elijah. In his mind, he was the only Fundamentalist preacher (think Steven Anderson) in the known world preaching the truth; standing for the faith once to delivered to the first Baptist, John the Baptist and his cousin Jesus.
And he [Elijah] arose, and did eat and drink, and went in the strength of that meat forty days and forty nights unto Horeb the mount of God. And he came thither unto a cave, and lodged there; and, behold, the word of the Lord came to him, and he said unto him, What doest thou here, Elijah? And he said, I have been very jealous for the Lord God of hosts: for the children of Israel have forsaken thy covenant, thrown down thine altars, and slain thy prophets with the sword; and I, even I only, am left; and they seek my life, to take it away. And he said, Go forth, and stand upon the mount before the Lord. And, behold, the Lord passed by, and a great and strong wind rent the mountains, and brake in pieces the rocks before the Lord; but the Lord was not in the wind: and after the wind an earthquake; but the Lord was not in the earthquake: And after the earthquake a fire; but the Lord was not in the fire: and after the fire a still small voice. And it was so, when Elijah heard it, that he wrapped his face in his mantle, and went out, and stood in the entering in of the cave. And, behold, there came a voice unto him, and said, What doest thou here, Elijah? And he said, I have been very jealous for the Lord God of hosts: because the children of Israel have forsaken thy covenant, thrown down thine altars, and slain thy prophets with the sword; and I, even I only, am left; and they seek my life, to take it away.
The Lord decided to appear to Elijah, not in an outwardly physical way, but as a still small voice. It is unclear whether Elijah heard this voice out loud or not. For the sake of this erudite exposition of the inerrant, infallible Word of God, I'm going with Elijah hearing the voice in his head. And this, by the way, is how Evangelicals are taught to "hear" God's voice. God doesn't speak to them out loud or send them emails. God, in the personage of the Holy Ghost — who lives somewhere in the head of every Christian — speaks to them with a barely audible voice. In fact, you have to listen really, really, really close to even hear this voice.
When Evangelical preachers talk about God speaking to Christians, it's this still small voice they are talking about. On Sundays, these preachers deliver sermons they hope will "speak" to congregants and non-Christians alike. For non-Christians, it is expected they will hear in the minds God saying, "I am real. The Bible is true. What the preacher is saying is true. Repent of your sins and put your faith and trust in Jesus. This is a limited time offer and can be rescinded at any time. Get saved today!" Of course, many non-Christians hear this, instead: "damn, I wish this long winded blowhard would shut up. The game starts at 1:00 pm, and I don't want to miss the kickoff!" Evangelicals, on the other hand, are expected to hear God's still small voice applying the sermon to their lives: exposing sin, challenging their commitment to JESUS, and making them feel guilty over not witnessing, giving more money to the church, or dutifully, happily doing all of the endless right-with-God behaviors expected of them as church members.
Hang out with Evangelicals for very long, and you will learn that God talks to them quite frequently. Never out loud, of course, that would be scary. Just with a still small voice, much like that referred to in the Christian classic, In the Garden:
I come to the garden alone
While the dew is still on the roses
And the voice I hear falling on my ear
The son of God discloses.
And he walks with me and he talks with me
And he tells me I am his own
And the joy we share as we tarry there
None other has ever known.
He speaks and the sound of his voice is so sweet
The birds hush their singing
And the melody that he gave to me
Within my heart is ringing.
And he walks with me and he talks with me
And he tells me I am his own
And the joy we share as we tarry there
None other has ever known.
I'd stay in the garden with him
Though the night around me is falling
But He bids me go through the voice of woe
His voice to me is calling…
Can't get those words out of your head now, can you? Sorry about that.
C. Austin Miles, the author of the song, described how he came to write it this way:
One day in April 1912, I was seated in the dark room where I kept my photographic equipment, and also my organ. I drew my Bible toward me and it opened at my favorite book and chapter, John chapter twenty. I don't know if this was by chance or by the work of the Holy Spirit. I will let you the reader decide. That story of Jesus and Mary in John 20 had lost none of its power and charm.

It was though I was in a trance, as I read it that day, I seemed to be part of the scene. I became a silent witness to that dramatic moment in Mary's life when she knelt before her Lord and cried, "Rabboni". I rested my hands on the open Bible, as I stared at the light blue wall. As the light faded, I seemed to be standing at the entrance of a garden, looking down a gently winding path, shaded by olive branches. A woman in white, with head, bowed, hand clasping her throat, as if to choke back her sobs, walked slowly into the shadows. It was Mary. As she came unto the tomb, upon which she placed her hand, she bent over to look in and ran away.

John, in a flowing robe, appeared looking at the tomb. Then came Peter, who entered the tomb, followed slowly by John. As they departed, Mary reappeared leaning her head upon her arm at the tomb, she wept. Turning herself, she saw Jesus standing there, so did I. I knew it was He. She knelt before Him, with arms outstretched, and looking into His face cried, "Rabboni".

I awakened in sunlight, gripping my Bible with my muscles tense, and nerves vibrating, under the inspiration of the Holy Spirit. I wrote as quickly as the words could be formed the lyrics exactly as it is sung today. That same evening, I wrote the tune.
In other words, the Holy Spirit, with a still small voice, told Miles what to write. Or so he says, anyway. As with all such anecdotal stories, there is no evidence to prove the veracity of the claim.
And therein is my point. Evangelicals are certain that the Holy Ghost converses with them in their minds. There's no evidence for this claim, none whatsoever. In fact, if Evangelicals are honest, they will admit that the voices they hear could be Satan or self. That's right; Evangelicals believe that Satan can also speak to them with a still small voice. The following Homer Simpson cartoon best illustrates the dueling voices in Evangelical minds: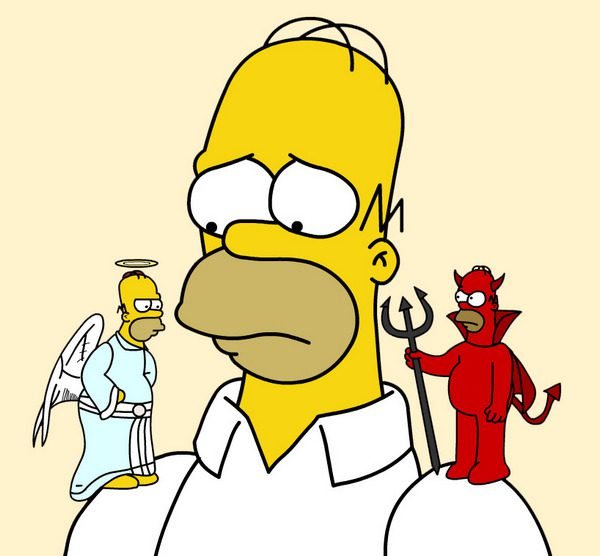 Of course, when the voice Evangelicals hear leads them to doubt and question the teachings of the Bible or Christianity in general, the still small voice is always Satan. God's voice always confirms, affirms, and reinforces the inscrutable teachings of the Bible, leading to increased and deepened faith. Skepticism, on the other hand, leads believers away from the truth, thus the voice Evangelicals hear can't be God's.
The Bible speaks of there being One Lord, One Faith, One Baptism. Evangelicals believe that the inward voice of God always speaks truthfully about the essential nature of Christianity and its beliefs. Why, then, do Evangelicals fight among themselves over everything from salvation and baptism to which behaviors are sins and the existence of a literal Hell. Spend a few hours traversing the Internet reading Evangelical blogs, websites, forums, and social media pages, and you will quickly conclude that Evangelicals bicker with each other over the smallest of things, right down to whether men should have "long" hair or women wear doilies on their heads as an act of submission to Jesus and their husbands. No belief is too trivial for Evangelicals to wage internecine wars with one another. Discernment ministries such as Pulpit & Pen, Reformation Charlotte, Lighthouse Trails Research, The Transformed Wife, Michelle Lesley, Herescope, Way of Life, and Christian Research Network endlessly judge, critique, and condemn Evangelical churches, pastors, and parachurch groups who run afoul of their peculiar interpretations of the Protestant Bible or their tribal/cultural standards. Jesus purportedly said in John 13:34:
A new commandment I [Jesus] give unto you, That ye love one another; as I have loved you, that ye also love one another.
Evangelicals are commanded by the man, the myth, the legend — Jesus — to love one another as he loved them. And we know how much Jesus loved them, right? (Spread your arms wide, and with an agonizing, tortured look say THIS MUCH!) Yet, their internecine wars and endless bickering reveal that Evangelicals haven't even got this basic Biblical command down pat, let alone hundreds and hundreds of laws, rules, and commands found from Table of Contents to Concordance.  One might conclude that the still small voice Evangelicals supposedly hear comes not from the Holy Ghost, but their Bible-sotted minds.
As an atheist, of course, I think that the only voice any of us hears is our own. I don't have the time or education to write about the nature of the voices we heard in our minds, I just know we all hear them from time to time. Three thousand or so years ago, a Baptist preacher named Elijah had an internal battle with a voice in his head. He thought that voice was his God. However, it was actually his own voice. Evangelicals complicate their lives by believing God speaks to them, and the voice they hear banging from neuron to neuron is that of the Holy Ghost. Or is it Satan? After all, Satan is an angel of light, a masterful liar and deceiver. How can any Christian be sure that the voice he or she is hearing is God's? Wouldn't it better to just admit that the internal mental "voices" we hear are quite human, a tool of sorts we use to sort through the day-to-day machinations of life?
About Bruce Gerencser
Bruce Gerencser, 62, lives in rural Northwest Ohio with his wife of 41 years. He and his wife have six grown children and twelve grandchildren. Bruce pastored Evangelical churches for twenty-five years in Ohio, Texas, and Michigan. Bruce left the ministry in 2005, and in 2008 he left Christianity. Bruce is now a humanist and an atheist. For more information about Bruce, please read the About page.
Are you on Social Media? Follow Bruce on Facebook and Twitter.
Thank you for reading this post. Please share your thoughts in the comment section. If you are a first-time commenter, please read the commenting policy before wowing readers with your words. All first-time comments are moderated. If you would like to contact Bruce directly, please use the contact form to do so.
Donations are always appreciated. Donations on a monthly basis can be made through Patreon. One-time donations can be made through PayPal.