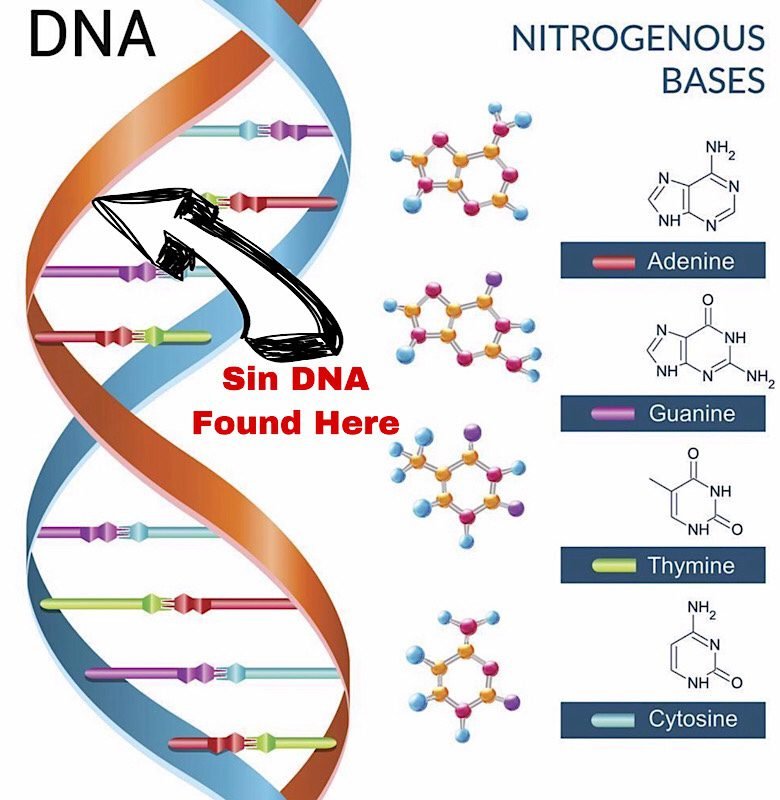 The Bible talks about our "sinful nature," "the flesh," and "carnal man" all of which refer to an attribute found in all humans: a propensity to sin. So the question is: Is this propensity to sin in our DNA? The answer is yes, sin nature is hardwired in us and in our DNA. We are not forced to sin, but we have the tendency to sin. This is not a God given tendency, but rather a result of Adam eating the forbidden fruit in the Garden of Eden some 6000 years ago.
….
After God finished the creation, He proclaimed that the entire creation was "very good," and this included man's hardwired memory, or basic human instincts. Then came the serpent who injected something (the first GMO – genetically modified organism) into man using the forbidden fruit; this fruit changed man's DNA, man now had the "sinful nature;" he was "carnal" and driven by his "flesh." We know that it happened quickly because Adam and Eve, immediately after committing the original sin, hid from God; they were afraid of Him and ashamed of their nakedness (Genesis 3: 9-11). This fear and shame could not have been learned in that no events occurred that would have caused them to "learn" to fear God or be ashamed.
….
Once the sin nature is understood, it becomes evident why it is so important for parents to teach their children right from wrong. It is the "learned" portion of the brain that can combat the hardwired sin nature.
However, the only permanent solution for dealing with the sin nature is to get rid of it; and, we have the hope that someday, soon, our sin nature will be removed; and, it will; the trumpets will blow, the dead in Christ will meet us in the air and we will be changed: our sin nature will be gone; we will get our good, pure, original DNA and we will be free. We will be redeemed.
— Genesis and Genetics, November 2, 2013