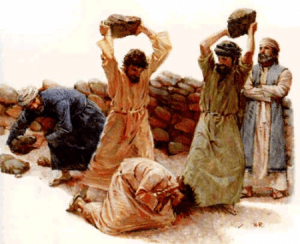 Repost from 2015. Edited, rewritten, and corrected. 
According to Evangelicals, the Bible is the inspired, inerrant, infallible, timeless Word of God. The Bible is God's road map for life, the divine blueprint for living. From Genesis 1:1 to Revelation 22:21, the Bible is one long letter from God to us. While Evangelicals use various hermeneutics, interpretive tools, and schemes to interpret the Bible, all agree that the text is the words of God.
Evangelicals also believe that God is immutable, that he does not change his mind. Malachi 3:6 says, For I am the Lord, I change not; therefore ye sons of Jacob are not consumed, and Hebrews 13:8 says, Jesus Christ (God) the same yesterday, and to day, and for ever. Ask Evangelicals if God changes his mind and they will emphatically say NO! God is perfect in all his ways, Evangelicals say, and his Word, the Bible, is truth.
How then, based on what I have written above, should Evangelicals interpret Deuteronomy 22:13-21?
If any man take a wife, and go in unto her, and hate her, and give occasions of speech against her, and bring up an evil name upon her, and say, I took this woman, and when I came to her, I found her not a maid: then shall the father of the damsel, and her mother, take and bring forth the tokens of the damsel's virginity unto the elders of the city in the gate: and the damsel's father shall say unto the elders, I gave my daughter unto this man to wife, and he hateth her; and, lo, he hath given occasions of speech against her, saying, I found not thy daughter a maid; and yet these are the tokens of my daughter's virginity. And they shall spread the cloth before the elders of the city. And the elders of that city shall take that man and chastise him; and they shall amerce him in an hundred shekels of silver, and give them unto the father of the damsel, because he hath brought up an evil name upon a virgin of Israel: and she shall be his wife; he may not put her away all his days.But if this thing be true, and the tokens of virginity be not found for the damsel: then they shall bring out the damsel to the door of her father's house, and the men of her city shall stone her with stones that she die: because she hath wrought folly in Israel, to play the whore in her father's house: so shalt thou put evil away from among you.
The gist of the story is this: if a man goes into his wife on their wedding night and has intercourse with her and finds out that she is not a virgin, then his bride is to be brought to the door of her father's house and stoned to death by the men of the city. There's no ambiguity in the text. The soiled bride is to be considered a whore and executed. (If you have not read Deuteronomy 22, I encourage you to do so. God prescribes stoning for a variety of sexual sins.)
What say ye, oh believer that the Bible is the inspired, inerrant, infallible words of God?
Well Bruce, the Evangelical says, this is in the OLD Testament, and we now live according to the NEW Testament. So, God changed his mind? Were his words in Deuteronomy 22 imperfect, lacking in some way? If God's law is perfect and true, why change it? All would agree that Deuteronomy 22 is the law of God. If it is, wouldn't God's law be preferable to man's law? If God's law was good enough for Israel, shouldn't it be good enough for the United States, a nation Evangelicals claim is Christian? Why would any Christian want to be governed by the inferior laws of man?
Evangelical hysteria over same-sex marriage is rooted in the belief that God's word/God's law has the final say on the matter. Shouldn't God's law also have the final say on female virgins having sex before they are married? Where can I find in the Bible the verse that says one law is applicable today, but not the other?
Jesus said in Matthew 5:17-18:
Think not that I am come to destroy the law, or the prophets: I am not come to destroy, but to fulfil. For verily I say unto you, Till heaven and earth pass, one jot or one tittle shall in no wise pass from the law, till all be fulfilled.
Jesus said that he did not come to destroy or do away the law. In fact, according to Jesus, until heaven and earth pass away, the law of God is valid and in force. Till all be fulfilled, he said. Has everything been fulfilled? Has Jesus come back to earth? Has God made a new heaven and new earth as prophesied in Revelation 21 and 2 Peter 3? No, no, and no. Thus, the law of God, particularly Deuteronomy 22:13-21, is in force. Every Evangelical is duty-bound to support the execution of women who are not virgins on their wedding day. The unchanging holy God has spoken!
Bruce Gerencser, 66, lives in rural Northwest Ohio with his wife of 45 years. He and his wife have six grown children and thirteen grandchildren. Bruce pastored Evangelical churches for twenty-five years in Ohio, Texas, and Michigan. Bruce left the ministry in 2005, and in 2008 he left Christianity. Bruce is now a humanist and an atheist.
Connect with me on social media:
Your comments are welcome and appreciated. All first-time comments are moderated. Please read the commenting rules before commenting.
You can email Bruce via the Contact Form.