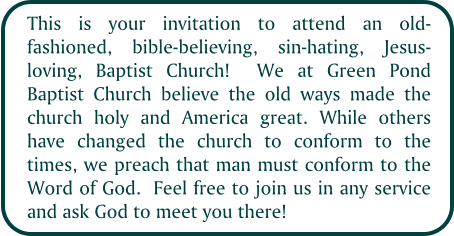 Repost from 2015. Edited, rewritten, and corrected.
Many Independent Fundamentalist Baptist (IFB) churches advertise themselves as "old- fashioned" churches. Many IFB preachers call themselves old-fashioned preachers. What do they mean when they say they are an old-fashioned church or an old-fashioned preacher?
An old-fashioned church is one that yearns for the past — usually the 1950s. In their mind, if society and Christianity would return to the 1950s all would be well. In the 1950s, Blacks knew their place, women were barefoot and pregnant, birth control was hard to come by, abortion was illegal, homosexuals and atheists were in the closet, and Joseph McCarthy terrorized Americans with attempts to root out communism. In the 1950s, we fought a war against communism, teachers still prayed and read the Bible in school, creationism was considered good science, and Christianity controlled the public space.
Then came the rebellious 1960s and 1970s, and everything changed. Sixty years later, Blacks no longer know their place, Whites are becoming a minority, couples no longer get married,  women have access to birth control, homosexuals and atheists are out of the closet, a Kenyan-born Muslim socialist communist black man was president, abortion is legal, prayer and Bible reading in school are banned, creationism is considered religious dogma, same-sex marriage is legal, and Christianity is no longer given a preferential seat at the head of the cultural table.
From the fundamentalist Christian's perspective, I readily understand why people yearn for the old-fashioned days of the 1950s. The 1950s were a time when their brand of Christianity was the norm. Now they are fighting to be heard. Thousands of church members have left, seeking out the friendlier confines of generic, hip Evangelical churches. Instead of hard preaching against sin, Christians clamor for pastors who will "feed" them and minister to their felt needs. Most of all, they want to be entertained. Nones and atheists are increasing in number, and more and more people consider themselves spiritual or not religious. Pluralism and secularism are on the rise, and cultural Christianity is the norm and not the exception.
So what's an old-fashioned Baptist church like? Their services are quite traditional; traditional meaning as it was in the 1950s. The focus is on "hard" preaching, often from the King James Version of the Bible. The goal is to convert sinners and strengthen church members so they can withstand the wiles of the devil and pressure from the "world." Everything the old-fashioned Baptist church does is a throwback to yesteryear — an era when preachers preached hard, hymns were sung, altar calls were given, couples stayed married, women saved themselves for marriage and the kitchen, and the Christian church was the hub around which the community revolved.
Millions of Americans attend some sort of an old-fashioned church, even if the Baptist name is not over the front door. They love the respite their church gives them from the evil, sinful, atheistic world they live in. They love the certainty they hear in their pastor's sermons. They are glad to be a part of a group that thinks just like they do. For those who desire to live in the 1950s, an old-fashioned church fits the bill. It heals their angst and gives them peace. It does not matter if their beliefs are true or whether their practice accurately reflects the 1950s. People seeking and finding value, hope, peace, and direction do not require truth. All they require is faith, and their belief that their "old-fashioned" version of Christianity is true. This is the power of myth.
Bruce Gerencser, 66, lives in rural Northwest Ohio with his wife of 45 years. He and his wife have six grown children and thirteen grandchildren. Bruce pastored Evangelical churches for twenty-five years in Ohio, Texas, and Michigan. Bruce left the ministry in 2005, and in 2008 he left Christianity. Bruce is now a humanist and an atheist.
Connect with me on social media:
Your comments are welcome and appreciated. All first-time comments are moderated. Please read the commenting rules before commenting.
You can email Bruce via the Contact Form.