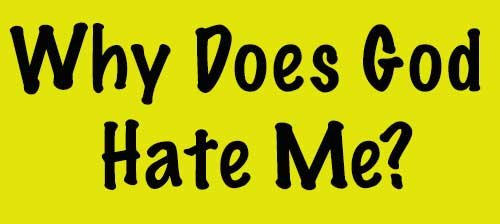 Repost from 2015. Edited, rewritten, and corrected.
Warning! Snark ahead!
THUS SAITH THE LORD:
Thou shalt not plant thee a grove of any trees near unto the altar of the LORD thy God, which thou shalt make thee. Neither shalt thou set thee up any image; which the LORD thy God hateth. Deuteronomy 16:21,22
For thou art not a God that hath pleasure in wickedness: neither shall evil dwell with thee. The foolish shall not stand in thy sight: thou hatest all workers of iniquity. Thou shalt destroy them that speak leasing: the LORD will abhor the bloody and deceitful man. Psalm 5:4-6
Thy throne, O God, is for ever and ever: the sceptre of thy kingdom is a right sceptre. Thou lovest righteousness, and hatest wickedness: therefore God, thy God, hath anointed thee with the oil of gladness above thy fellows. Psalm 45:6.7
Therefore shall his calamity come suddenly; suddenly shall he be broken without remedy. These six things doth the LORD hate: yea, seven are an abomination unto him: A proud look, a lying tongue, and hands that shed innocent blood, An heart that deviseth wicked imaginations, feet that be swift in running to mischief, A false witness that speaketh lies, and he that soweth discord among brethren. Proverbs 6:16-19
Shall not the day of the LORD be darkness, and not light? even very dark, and no brightness in it? I hate, I despise your feast days, and I will not smell in your solemn assemblies. Though ye offer me burnt offerings and your meat offerings, I will not accept them: neither will I regard the peace offerings of your fat beasts. Amos 5:20-22
The Lord GOD hath sworn by himself, saith the LORD the God of hosts, I abhor the excellency of Jacob, and hate his palaces: therefore will I deliver up the city with all that is therein. Amos 6:8
I have loved you, saith the LORD. Yet ye say, Wherein hast thou loved us? Was not Esau Jacob's brother? saith the LORD: yet I loved Jacob, And I hated Esau, and laid his mountains and his heritage waste for the dragons of the wilderness. Malachi 1:2,3
And did not he make one? Yet had he the residue of the spirit. And wherefore one? That he might seek a godly seed. Therefore take heed to your spirit, and let none deal treacherously against the wife of his youth. For the LORD, the God of Israel, saith that he hateth putting away: for one covereth violence with his garment, saith the LORD of hosts: therefore take heed to your spirit, that ye deal not treacherously. Malachi 2:15,16
Remember therefore from whence thou art fallen, and repent, and do the first works; or else I will come unto thee quickly, and will remove thy candlestick out of his place, except thou repent. But this thou hast, that thou hatest the deeds of the Nicolaitanes, which I also hate. He that hath an ear, let him hear what the Spirit saith unto the churches; To him that overcometh will I give to eat of the tree of life, which is in the midst of the paradise of God. Revelation 2:5-7
God judgeth the righteous, and God is angry with the wicked every day. Psalm 7:11
When God heard this, he was wroth, and greatly abhorred Israel: Psalm 78:59
Does God hate? The Bible is clear: God hates.
But, but, but, the Bible says God is a God of love! Yep, and it also says he is a God of hate. Deal with it, or as many Christians do, explain it away.
But, but, but, these verses are in the Old Testament! Is the Old Testament no longer a part of the canon of Scripture? Christian could only hope. Either the Old Testament accurately describes God as a hater or it doesn't. Your choice. Besides, isn't God the same yesterday, today, and forever? Didn't God say, I am the Lord, I change not?
But, but, but, God hates the sin, but loves the sinner! Still trying to use that lame, worn out, unsupportable cliché? Sin is what sinners do, right? When Jesus died on the cross, did he die for sin or sinners? Cue "When He was on the Cross I was on His Mind." (YouTube video of song) Sinners sin, and God is angry with all the workers of iniquity. According to Psalm 7:11: God is angry with the wicked every day.
Christians have several choices:
Own what the Bible says.
Explain it away using big important-sounding theological terms.
Make some Old Covenant/New Covenant defense for God.
Argue that God went to rehab, took an anger management class, and he is much nicer now.
Ignore what the Bible says and just keep living for Jesus.
Use Hebrew, Greek and Latin, along with West Virginian and Calvinese, to explain that the word hate doesn't meant hate.
Use the same scissors that Thomas Jefferson used to cut up the Bible and make it palatable. Just get rid of all those pesky hate verses.

I am a Bible believer. When the Bible says God hates, who am I to suggest otherwise?The God hates verses make me wonder if the Christian God exists at all. If God really exists, he would have blown up this whole planet by now. We ARE a vile, nasty, wicked, sinful, depraved, dead in trespasses and sin, Barack Obama-supporting, gay-loving people. We deserve God's hate. Ex-preachers like me really deserve God's hate. We know better, yet with great impunity, we trample under the blood of Jesus anyway. Here we are, untouched by the hand of the Almighty. Perhaps when NASCAR is over God will have more time to take care of us sinners. That is unless Tim Tebow miraculously makes a comeback and becomes a starting NFL quarterback. Then God will be tied up all winter guiding Tebow's errant passes into the hands of speedy receivers. God's going to get you, Bruce. You just wait and see. I am waiting . . .
Bruce Gerencser, 66, lives in rural Northwest Ohio with his wife of 45 years. He and his wife have six grown children and thirteen grandchildren. Bruce pastored Evangelical churches for twenty-five years in Ohio, Texas, and Michigan. Bruce left the ministry in 2005, and in 2008 he left Christianity. Bruce is now a humanist and an atheist.
Connect with me on social media:
Your comments are welcome and appreciated. All first-time comments are moderated. Please read the commenting rules before commenting.
You can email Bruce via the Contact Form.