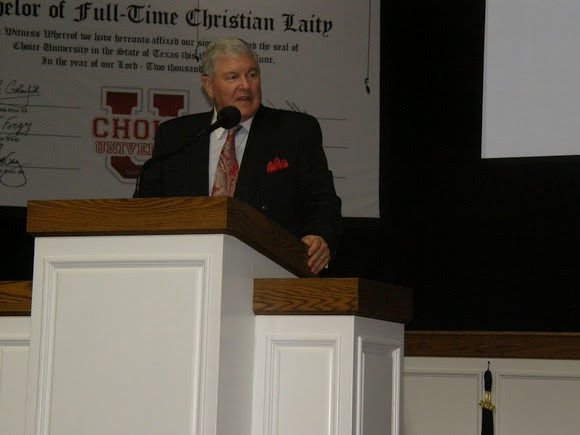 Bob Gray, Sr., retired pastor of the Longview Baptist Temple in Longview, Texas, is a super-duper salvation-dealing machine. Gray is an Independent Fundamentalist Baptist (IFB) who religiously subscribes to the Jack Hyles Easy-Believism, cheap-grace way of evangelizing lost sinners.
I was taught this kind of evangelism while a student at Midwestern Baptist College, but I came to see that it was little more than a cheap gimmick that allows preachers such as Gray to say: Look at how many people I won to Jesus. (Gray knows to the soul how many people he has won to Jesus over his long, illustrious preaching career.) It promotes a vacuous Christianity that does a real disservice to people who take the commands and teachings of Christ seriously.
Several years ago, Gray was in Albuquerque, New Mexico to hold a preaching meeting. While at a local Subway, Gray decided to do some soul winning. Here's his account, which has since been pulled from his blog:
… Flew to Albuquerque, NM, and was picked up by Pastor Brent Lenetine who pastors the Gospel Light Baptist Church of Rio Rancho, NM. I will be joined by Evangelist Allen Domelee Sunday night and Monday. This is a great soul winning church!

After resting for a while I went next door to the Motel to get a bite to eat at the Subway Restaurant. I sat at a table next to a man named Bill McDermit. We joked a little bit together and after a while I went over to his table and continued our conversation. He lives alone in a house trailer and was a devout Catholic. After a few moments I presented the Gospel to him and he took me by the hand and prayed to receive Christ as his personal Saviour.

WOW! That old KJB is still preserved inspiration and is THE incorruptible seed that brings life to a dead soul! Don't treat this issue of preserved inspiration lightly. He who sticks his head in the sand gets his behind kicked! Either the KJB is inspired or it is not! Which side of this issue are you on?
Let me summarize Gray's testimony:
Gray is on the prowl for souls in Albuquerque.
Gray is hungry, so he goes to Subway to eat.
He jokes around with the elderly trailer-living Catholic man next to him. The joking is a pretext for what comes next.
After a few moments, Gray shares the Jack Hyles IFB plan of salvation with the Catholic man.
The life-long Catholic sees the error of his way, takes Gray's hand, and prays the sinner's prayer. Holding the hand is important, much like the salesman giving you the pen. Hold their hand and you are more likely to close the salvation deal.
In but a few moments this man goes from a headed-for-hell Catholic to a . . . uh . . . let me think . . . oh, I know! A Catholic who prayed a prayer so the busybody preacher would let him finish his sub.
And don't forget that Gray used the all-powerful 1611 King James Bible to win this man to Jesus. It has supernatural powers that perverted, Satanic, non-inspired versions do not have.
This is the bankrupt gospel preached in countless IFB churches.
What I want to know is whether Gray was wearing this shirt: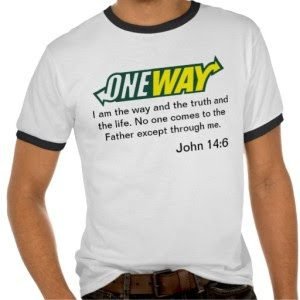 I originally wrote parts of this post in February 2015. At the time, Google listed this site on the first page when searching for "Longview Baptist Temple." This is still the case today. The same can be said for searching for "Bob Gray Sr." I love cozying my apostate atheist blog right up next to IFB church websites. That way it will be easier for them to know how to pray for me.
Here's an interesting photograph of one of Gray's books (circa 2002?). It will tell you everything you need to know about Bob Gray, the man, the myth, the legend.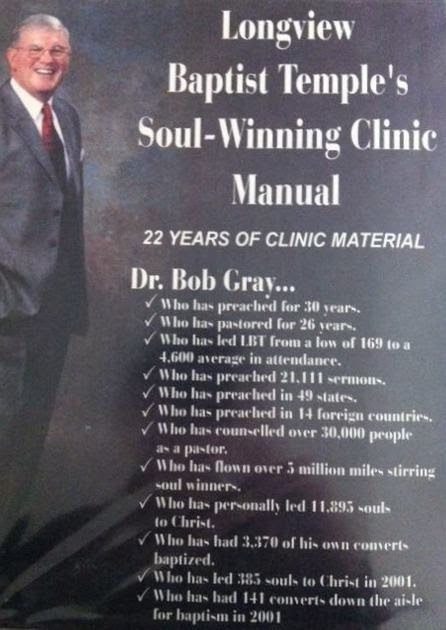 Not mentioned is the fact that his penis is 3 feet long! Size matters in the IFB.
Bruce Gerencser, 66, lives in rural Northwest Ohio with his wife of 45 years. He and his wife have six grown children and thirteen grandchildren. Bruce pastored Evangelical churches for twenty-five years in Ohio, Texas, and Michigan. Bruce left the ministry in 2005, and in 2008 he left Christianity. Bruce is now a humanist and an atheist.
Connect with me on social media:
Your comments are welcome and appreciated. All first-time comments are moderated. Please read the commenting rules before commenting.
You can email Bruce via the Contact Form.