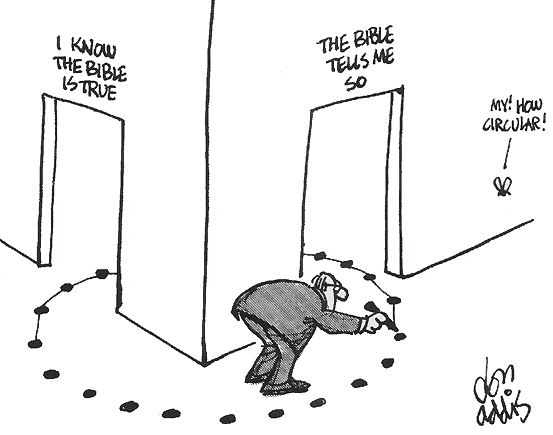 Why do some people [Bruce Gerencser] apostatize, who at one time professed faith in Jesus Christ, even those who were pastors, ended up leaving Jesus Christ? These false converts even believed that they had the Holy Spirit before they fell away from the faith.
An apostate [Bruce Gerencser] shows us that they never understood the Holy Scriptures because to understand the Bible, they had to have the Holy Spirit living inside of them in the first place. [According to Evangelical orthodoxy, only Christians have the Holy Spirit living inside of them. Yet, Spaniard VIII says unbelievers must have the Holy Spirit inside of them to understand the Bible. Which is it? Talk about circular reasoning.]
….
If an atheist [Bruce Gerencser] ever says to you that he knows more than you, referring to the Bible, or that he once had the Holy Spirit, it just shows how deluded they are and continues to be. Unless they humble themselves in the sight of Christ, they will continue to walk in darkness straight to the multiple pathways to hell. Atheists are one of the proudest people you will ever encounter. The reason for this is that they went through a traumatic situation that got them so bitter towards God that all they can do is curse at Him and His followers. People like that make me feel sorry for them. Only prayer can break their hardness.
— Spaniard VII, Spiritual Minefield, Why Do Some People Abandon Their Faith In Christ?, September 29, 2020
Marques Jeffries left the following comment on Spaniard VIII's post:
Amen, brother! Bruce [Gerencser], Andrea, John Arthur, and the rest of their Atheist friends' angry words against God are just a cover-up for either a panful event from their past, or because there is a sin that they are committing that they don't want to let go of. [Yes, I love fucking space aliens.]

The Holy Spirit allows us to see through all of their angry words, and know that it is Satan manipulating them to behave in this manner. The God that they reject is the only One who can supply the pure love that every person longs for.

Like you said, all we can do is witness to them, and pray that they will have a life experience that softens their heart to enable the Holy Spirit to come in and do a loving work within them…But salvation is a choice that God leaves to each of us.

Personally, accepting Jesus is the best thing that ever happened to me. (Marques needs to get out more often.]
Spaniard VIII replied:
Their hatred is pure evidence that they are full of bitterness towards Jesus Christ. Bruce has been reblogging me because I have been saying the truth [No, I have been quoting you to show that you are a Liar for Jesus®.], regarding atheism and it hurts him and the rest his blind followers, sadly. [Yes, your words have really, really, really hurt me.] The more they talk about me, the more blessed I feel. When you get slandered for the sake of Christ by these atheists, you will have treasure in heaven. I welcome it. Win-win for me.
Bruce Gerencser, 66, lives in rural Northwest Ohio with his wife of 45 years. He and his wife have six grown children and thirteen grandchildren. Bruce pastored Evangelical churches for twenty-five years in Ohio, Texas, and Michigan. Bruce left the ministry in 2005, and in 2008 he left Christianity. Bruce is now a humanist and an atheist.
Connect with me on social media:
Your comments are welcome and appreciated. All first-time comments are moderated. Please read the commenting rules before commenting.
You can email Bruce via the Contact Form.