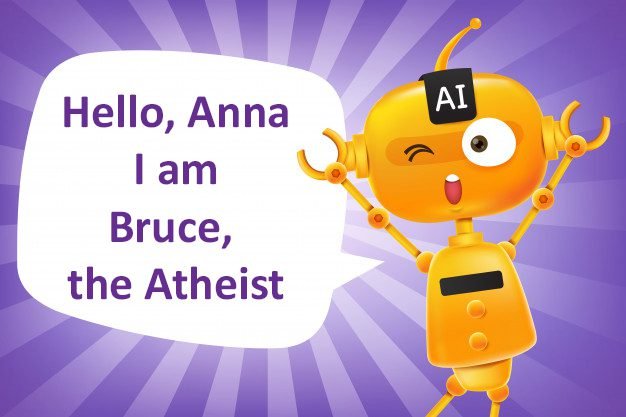 Over the past ten days, I have been emailing back and forth with a 50-something year old Canadian Evangelical woman named Anna (actually her name is Angela). I have written two posts about our interaction: Two Questions From an Evangelical Christian and Anna, the Evangelical, Hides Her Christianity Under a Bushel.
Yesterday, Anna sent me the following email. I have edited her email to remove any data that might personally identify her (all spelling and grammar in the original):
Hello Bruce. I'm going to tell you a little about myself. First my sincere apologies for being rude. I just get very defensive when my Lord is attacked. I am sorry.

….

My Hero [her brother] gone in a moment but not forever. I do not say this sarcastically, I say it in all sincerity what makes you go on when someone you love so deeply is gone. When your life is over do you believe you just go into the ground and decay. That you get this life for 1 breath or 100 years but that is it? To me that would be truly depressing. I know depression all to well it's a place I never want to be again. 

….

When I was *** years old I was swimming in a river. I could swim quite well. I went a ways out to one noticed me. All of a sudden I was under the water and drowning.

….

All I can remember is calling for help in my head, that I didn't want to die. Bruce no human being came to my rescue that day, it was Christ that put His Arm under me and raised me up out of that water. Without His intervention I would have died.

….

Last thing, as a child growing up I was sexually abused many times. I lived in fear many years. I always asked God to pick my spouse. I did not want the job. A month before my *** Birthday i was helping at my now husband's father's church. Organizing little boys for a Christmas concert when someone cupped my face. Turned my head towards my husband and said this is the man you will marry. At *** we married *** years ago. Without God our marriage would have never survived. Satan has tried to kill us many time. We have been tested so many times. he wants to destroy us but it will not happen. Jesus has saved us. If our lives were nothing but chaos and pain He has marked our hearts forever.

I don't follow Jesus for riches, for beauty, for material goods or expect life to be easy. Tough times do not shatter my faith. I've had a million of them. But I have peace, a peace I prayed for, for years. Whatever I have to live through here on earth cannot compare to His pain nor the life He has in store for me. So Bruce you did judge me prematurely on that. I absolutely do not hide my faith. I am very bold about my faith, some day it may cost me my earthly body but never my life. I dont you your [???] story but I pray it ends well one day. I will be praying for you at times. You can't stop that my friend. These are only a couple examples of His love for me. I honestly never read your replies. I'm sure they were insulting but all is fair.

Take Care

Angela 
Before I could reply to Anna, she fired off another email to me:
I forgot something Bruce. My evidence is my life, I don't need any other proof. Jesus has made Himself real to me. I have heard His voice and felt His touch. Literally on both, nothing can undo a heart and life that has been touched by Jesus. I care about you, I don't know what happened in your life to draw you away but it's just not worth it Bruce, it's just not

Angela
I could have responded to Anna's theological assertions, but after I read this line: "I honestly never read your replies," I thought, "why the fuck bother."
I replied:
Angela,

You are clueless. You don't bother to read my responses to you, yet you want me to wade through your long, rambling emails. Remember, you contacted me. You are the one who refused to say you were a Christian. You are the one who personally insulted me. You can tell me anecdotal stories, but your behavior reflects poorly on your faith. You see, it's how people behave that matters — at least to me, anyway.

Based on how you treated me, why would I ever want to become a Christian? You really need to rethink your approach, Angela. Again, you contacted me, personally insulted me, and then showed no interest in my responses to you. Not going to win many people to Jesus using this approach.

I plan to write another post about our "interaction." I won't mention any personally identifiable information.

Bruce Gerencser
Minutes later, I received a two sentence response from Anna:
Read one line, this cant be a real person. Answer is to fast
Evidently, Anna, AKA Angela, thinks I am an AI Atheist. Now, that's a new one. Anna, of course, doesn't know anything about me. She has made no effort to learn anything about my story. Had she done so, she might have found out that I am a prolific writer. I write and type quickly — with two fingers, by the way. I can churn out 1,000 words quicker than Cincinnati Reds' closer Raisel Iglesias can blow a save. And trust me, Iglesias is a prodigious save blower.
I have always been quick with my words, even when I shouldn't be. If that makes me some sort of Atheist Robot, so be it.
In closing, I want to challenge Anna's claim that she did not read my blog responses to her. The server log for her IP address suggests otherwise: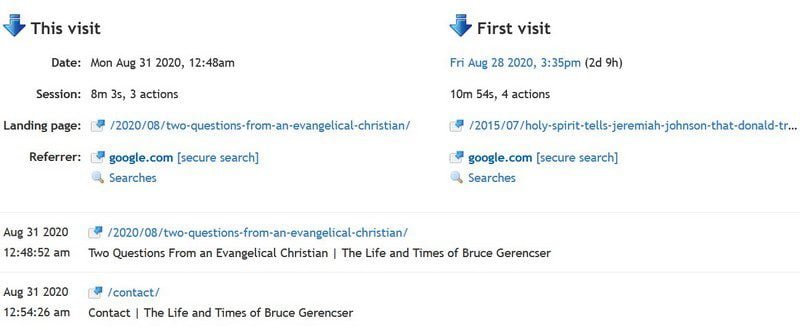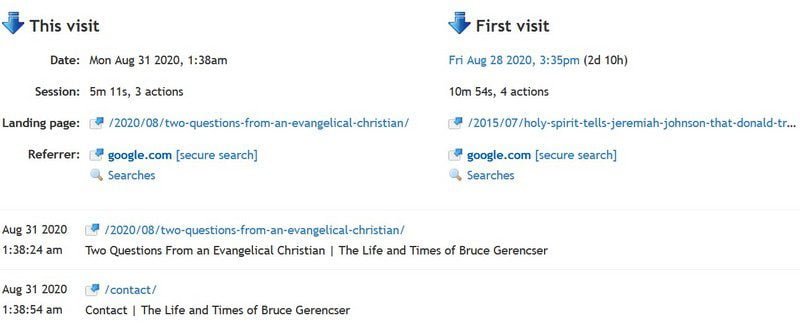 It is possible that Anna opened the post, but did not look at it. I know, I know, about as likely as the existence of God. The evidence suggests that she indeed read at least one of the posts I wrote about her. I may be a godless heathen, but I do tell the truth 99.9% of the time. Why not admit to reading my posts? You know, like admitting you secretly surf porn sites?
As is my custom, I will send Anna the link to this post. If I hear from her again in any substantive way, I will be sure to let you know.
Some readers may wonder why I write posts such as this one and the others about Anna. I think it is important for you to witness how some Evangelicals respond to me behind the scenes. Their behavior is an ever-present reminder of the fact that I made the right decision 12 years ago to walk away from Christianity. Why in the world would I want to be part of a club that treats non-club members so poorly? No thanks!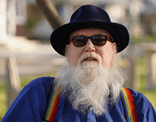 Bruce Gerencser, 64, lives in rural Northwest Ohio with his wife of 43 years. He and his wife have six grown children and thirteen grandchildren. Bruce pastored Evangelical churches for twenty-five years in Ohio, Texas, and Michigan. Bruce left the ministry in 2005, and in 2008 he left Christianity. Bruce is now a humanist and an atheist.
You can contact Bruce via email, Facebook, Twitter, or YouTube.
Your comments are welcome and appreciated. All first-time comments are moderated. Please read the commenting rules before commenting.