Repost from 2015-2016. Edited, updated, and corrected.
Evangelical Christians have all sorts of ideas about what atheists believe and what kind of people they are. Where do they get these ideas? From Evangelical apologetic's books, their pastors, evangelists who hold meetings at their churches, their Sunday School teachers, Christian Radio and TV, Fox News, and their fellow Christians.
Most Evangelicals don't know any atheists. They live in what I call the Evangelical ghetto, a bubble insulated from worldly, godless influences. After all, there are no atheists in their churches — though they might be surprised to learn that there are likely secret atheists sitting near them in church almost every Sunday. Evangelicals tend to surround themselves with people who think and act as they do, so they are rarely exposed to people who hold beliefs different from theirs — and this is common for all tribes, including atheists.
This is the same criticism LGBTQ people have of Evangelicals. Evangelicals rage against the sin of homosexuality, yet they don't personally know any LGBTQ people. All they know is what their pastors say, TV preachers say, or what they read in Evangelical apologetics book.
When Evangelicals actually meet and befriend a non-heterosexual, they are often forced to rethink their beliefs. When a face is put on their beliefs, they are forced to deal with the humanity of that person. Often, when Evangelicals become friends with an LGBTQ person, they soften or abandon their beliefs about homosexuals being sinful, wicked, deviant, child-molesters.
So it is with atheists. Evangelicals have little in-person, up-close contact with atheists, and until they do, they will continue to say and believe outlandish and untrue things about atheists.
So what do many Evangelical Christians think they know about atheists?
They think atheists are a monolithic group where everyone believes exactly the same thing.
They think atheists practice the "religion" of atheism.
They think atheists hate the Evangelical God.
They think atheists oppose religion of any kind.
They think atheists have a secret desire to live immoral lives.
They think atheists worship Madalyn Murray O'Hair.
They think atheists are ignorant of the Bible and Christianity.
They think atheists are out to steal the souls of children.
They think atheists are agents of Satan/Lucifer/Beelzebub/Barack Obama.
They think atheists revere men such as Adolph Hitler and Joseph Stalin.
They think all atheists are liberals, voted for Barack Obama in 2008/2012, and will vote for Joe Biden in November.
They think atheists are out to destroy America and turn it into a godless state.
They think all atheists are pro-abortion.
And in every instance, Evangelicals are wrong about what they think they know about atheists. What is atheism?
Atheism is in the broadest sense an absence of belief in the existence of deities. Less broadly, atheism is a rejection of the belief that any deities exist. In an even narrower sense, atheism is specifically the position that there are no deities. Atheism is contrasted with theism, which in its most general form is the belief that at least one deity exists.

From this point, atheists head off in many different directions. Yes, most atheists are likely political liberals, but many atheists are Republican, pro-life, Libertarian, supporters of the right to own guns, and yes, some of them, inexplicably, will vote for Donald Trump.
Are some atheists ignorant of the Bible and Christianity? Sure, and as an atheist, I am embarrassed when they open their mouths and expose their ignorance. However, many atheists are like I am, raised in the Christian church, taught the Bible from our youth, and we know the Bible inside and out. There are countless college-trained atheists who were once Evangelical pastors. Some, such as I, spent most of their adult life preaching and teaching the Bible, winning souls, and doing the work of the ministry.
As I asked one commenter who suggested that since I was not a Christian and didn't have the Holy Spirit living inside me, my understanding of the Bible was wrong: does this mean the moment I said, I am an atheist, thirty-five years of intense Bible study and knowledge immediately left my brain? Really?
If Evangelicals really want to understand atheists, they are going to have to set aside their presuppositions and actually get to know real, flesh-and-blood atheists. Most Evangelicals are unwilling to do this. They are closed-minded like former Taylor University professor James Spiegel (who wrote The Making of An Atheist: How Immorality Leads to Unbelief), having made up their mind that atheists are in rebellion against their peculiar version of God and secretly desire to live immoral lives.
Actually getting to know an atheist might force them to rethink their beliefs, and we can't have any of that. To admit that atheists can be and are kind, loving, thoughtful human beings means that the Evangelical claim that only Jesus makes people loving and kind is not true. To admit that atheists are as moral as they are is to rob the Evangelical God of his power.
Evangelicals cannot stand being "just like everyone else." They have been told their whole lives that they are unique and special — a new creation in Christ Jesus. To admit that atheists are just like they are is too much to handle, and invalidates the foundation upon which their lives are built.
So Evangelicals continue their attack on atheists, refusing to realize that the atheists they are attacking do not exist and are figments of their imaginations.
Here's an offer I will make to any Evangelical church/pastor within a two-hour drive from Ney, Ohio. I will gladly, free of charge, come and speak to your church about atheism and answer any questions the congregation might have. I will even bring my beautiful, godless wife of forty-two years with me. If you really want to know and understand what makes an atheist tick, I am ready and willing to be examined. This is not an offer to debate. I do not do debates. This is a genuine offer to educate your congregation about atheism. If you are interested, please contact me (and I will prepare myself for the deluge of invitations that are sure to come).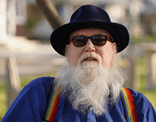 Bruce Gerencser, 64, lives in rural Northwest Ohio with his wife of 43 years. He and his wife have six grown children and thirteen grandchildren. Bruce pastored Evangelical churches for twenty-five years in Ohio, Texas, and Michigan. Bruce left the ministry in 2005, and in 2008 he left Christianity. Bruce is now a humanist and an atheist.
You can contact Bruce via email, Facebook, Twitter, or YouTube.
Your comments are welcome and appreciated. All first-time comments are moderated. Please read the commenting rules before commenting.