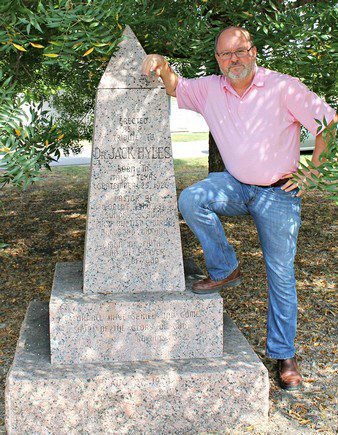 David Hyles, the son of the late Jack Hyles, pastor of First Baptist Church in Hammond, Indiana, finds himself yet again embroiled in a sex scandal. I have written about Hyles many times:
Yesterday, Preacher Boys Docs and Stop Pastoral Abuse reported that David Hyles allegedly was carrying on sexually with a young woman online.
On Sunday, October 11, 2020, Jonathan Grisham Burchfield of Stop Pastoral Abuse received messages from a woman in her young twenties, who alleged an online relationship with the now 67 year old David Hyles.

He would contact her from a variety of accounts, using aliases like David Jaxson and David Miller.

He made claims that his wife had passed away. This information is not true. 

When reading the messages, Hyles acts as you would expect – some messages referencing meetings he was preparing to speak at, while others are purely sexual in nature.

"I will shut my door and we can masturbate together… hehehehe," David wrote. 

Her response, "And there's allowed there at your office?"

David's personality shines through yet again, "I am the boss." "I can do what I want."

Among the myriad of messages that reflect a long running, deceitful and manipulative relationship are dozens of selfies from David Hyles. Pictures that she would be unlikely to possess unless truly sent by him.

It's important to recognize that, simultaneously to manipulating this young woman, he was financing himself off of the backs of churches. A true charlatan, using ministries, church members, and every other person in his life as pawns to his advantage.

Is this particular situation illegal? No. But it's a reflection of his moral character and his uncanny ability to lie without remorse or without consideration of impact it will have on the lives he toys with.
Hyles has evaded culpability and accountability for his decadent behavior for over 40 years. He continues to hide behind the "blood of Jesus," and says that if Jesus has forgiven him, so should everyone else. I will leave it to Hyles' victims to forgive him. All I know to do is to make sure that people know what kind of man David Hyles really is. That IFB preachers continue to support Hyles is beyond belief; a reflection of the esteem and worship wrongly given to the Hyles name.
David Hyles may love puppies, but when it comes to women, he is a serial abuser and adulterer. I would not trust him alone in a room with my wife, daughters, or granddaughters. He is, in every way, a bad man, and I will continue to hold this opinion until Hyles comes clean about 40 years of sexual misconduct, including involvement in acts that are criminal.
I'll leave readers with a screenshot of Hyles' messages to his latest mark.

Could these messages and photos be fake? Sure, it's possible. However, when it comes to Hyles, I'm confident that what we see here is another example of the "real" David Hyles.
Bruce Gerencser, 66, lives in rural Northwest Ohio with his wife of 45 years. He and his wife have six grown children and thirteen grandchildren. Bruce pastored Evangelical churches for twenty-five years in Ohio, Texas, and Michigan. Bruce left the ministry in 2005, and in 2008 he left Christianity. Bruce is now a humanist and an atheist.
Connect with me on social media:
Your comments are welcome and appreciated. All first-time comments are moderated. Please read the commenting rules before commenting.
You can email Bruce via the Contact Form.