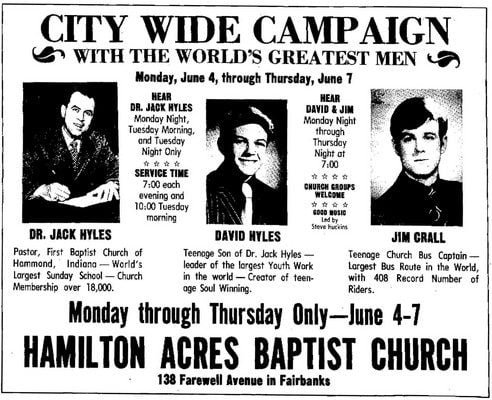 Jack Hyles, the late pastor of First Baptist Church in Hammond, Indiana, had a son named David. David Hyles was the youth pastor at First Baptist. He later pastored, if I remember right, Miller Road Baptist Church in Garland, Texas. Miller Road was previously pastored by his father. David Hyles, like his father before him, and like his brother-in-law Jack Schaap, (see Chicago Magazine articles on Schaap) had a problem with keeping it in his pants.  He was accused of having sex with girls/women at First Baptist Church, Miller Road Baptist Church and several of churches he attended after he could no longer find a church to pastor.
A post on Café Mom succinctly details the serial adultery and criminal behavior of David Hyles:
Jack's son, Dave Hyles is famous for his perversions that his daddy attempted to help cover up.

Dave Hyles used to scream until his face went purple when I was teenager. Dave used to travel around the country and hold youth rallies where he would scream: "BE PURE! BE PURE!!!" I was a teen then but I always knew there was something ungodly in his rage.

Not too long after that, they found a suitcase in a dumpster in a church parking lot containing pictures of Dave Hyles and a woman (not his wife), both very much in the nude and in compromising positions. Of course Dave wasn't removed from the ministry, just moved to a different church in a galaxy far far away. (Texas)

Then David Hyles was kicked out of that church for running around with lots of women. 19 to be exact!!

David Hyles ran off to Indiana with Brenda Stevens. (One of the women who was in those photographs with Dave Hyles found in that suitcase above.) Brenda Stevens had a young son, named Brent.

In late 1985, 15-month-old Brent was found dead in his crib. David Hyles, who had been alone with the child, claimed he found him not breathing, and called police. In reality Dave called his father Jack Hyles first. Jack Hyles was on the scene long before the police were called.

A coroner's inquest into Brent's death Dave Hyles exercised his Fifth Amendment rights. Brenda Stevens— the baby's mother didn't even attend the coroner's inquest into the death of her own 15 month old son.

At this inquest, it was revealed the investigation was thwarted because the little boy had been embalmed and buried the very next day— Jack officiated, The boy was buried before a proper autopsy could be performed.

The little 15 month old had nine different broken bones in different stages of healing. The case remains open to this day.

Was Dave Hyles banned from the ministry even after all the above? Oh no. In the 1990′s Dave moved by daddy where Dave taught Sunday school at a Pinellas Park Baptist Church in Florida. He was kicked out of that church because of adultery.

Dave Hyles was then thrown out of the next church he attended (Berean Baptist Church in Orange Park, Florida), for "sexual misconduct" with three different women. One of those 3 women was the church secretary Joyce Phaneuf, who was arrested for prostitution in 2003. Joyce Phaneuf, her mug shot and arrest report — which notes the tattoo on her right-upper thigh, reading "David's Girl."

After all this, Dave Hyles finally married Brenda Stevens and the two had their own son who they named Jack David. In March 1999, Brenda Stevens said little 5 year old Jack David must have fallen out of her car, she didn't know it, and she ran over her own son with her own car–killing him.
Of particular interest is David Hyles' involvement with Joyce Phaneuf, the secretary at Berean Baptist Church. The following graphic, detailing Phaneuf's tattoo, pretty well says it all.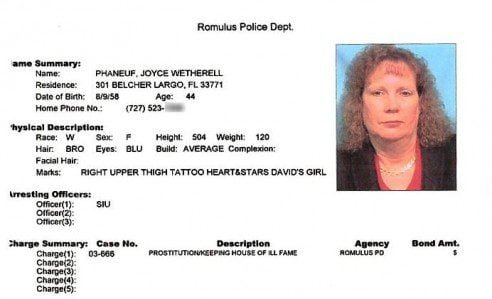 You can read the complete police report at The Smoking Gun.
If you have not read my post, Serial Adulterer David Hyles Has Been Restored, I encourage you to so. It will provide a bit of context for what I am going to write next. Reading The Legacy of Jack Hyles might provide further context.
Dr. Bob Gray Sr. is pastor emeritus of Longview Baptist Temple, an Independent Fundamentalist Baptist (IFB) megachurch in Longview Texas. The Gray franchise is now pastored by Bob Gray, Jr.  Bob Gray, Sr. prepared for the ministry at Hyles-Anderson College and is a stanch defender of all things Hyles. It should come as no surprise then that when David Hyles recently showed up at the Longview Baptist Temple, he was warmly received. A known serial adulterer, with a suspected criminal past, was given a warm welcome by Pastor Gray. (Junior I believe, since Senior was preaching in Grand Rapids, Michigan, on October 27th.) A person with a close connection to the Longview Baptist Temple emailed me about Hyles' appearance at the church. This person, a committed Christian, knowing Hyles' backstory, was rightly upset over Hyles being given a warm welcome.
Here is what I know about Bob Gray, Sr. Rather than being offended that a known serial adulterer, a PREDATORY abuser, and a suspected criminal, showed up at his church, he will be more offended that somebody dared to talk out of school. How dare someone report to an atheist what is going on the House that Bob Built!
This is a reminder to me that there are still decent, good people who attend IFB churches. I don't understand why they still attend these kind of churches, but they do (and the reasons may be things like fear, family, social connection). These good people rightly understand the indecency of giving a man like David Hyles one moment of respect. They rightly understand that the only place for David Hyles is back under the rock he crawled out from under.
Until David Hyles makes a full and public confession of his "sins" — which he will NEVER do because of possible criminal liability — he should not be allowed to step foot in a church. David Hyles left behind a trail of broken lives, women whose lives were ruined by a man of God why preyed on them. How can men like Bob Gray not understand this?
Dr. Bob Gray, Sr. obsesses over blogs such as this one. As a controlling egomaniac, he is outraged that he can't control the story line. He will take to his blog to express his unrighteous outrage, but his actions will be for nothing. Thousands more people will read this blog post than will ever read Gray's blog, Solve Church Problems. Those of us who make it our business to expose what goes on in IFB churches can't be silenced. Prayers that God kills us go unanswered and people, good Christian people, continue to share what is really going on in places like the Longview Baptist Temple.
We are on to you, Dr. Bob.
Perhaps Gray, Sr.  was paving the way for what took place at Longview on Sunday with the following post on his blog:
…No one is perfect; we are all dirty scoundrels. We have all offended and mistreated other people. If all of us seek vengeance towards those who have mistreated us, we will all be in trouble. If you continue to hold bitterness in your heart towards someone, you will never find happiness. You will die young because of hatred and bitterness. Instead, you should realize God has forgiven you of far greater sins than the sins people have committed against you. If He can forgive you, then surely you can forgive other people.

Once you have enjoyed the sunset of forgiveness, you will never again enjoy the sunset of vengeance. Once you have tasted the sweetness of forgiveness, once you have bathed in the sunlight of restitution, once you have eaten from the table of heavenly manna, love, and kindness, you will never be satisfied with hatred.

It is not my job to seek vengeance – that is God's responsibility. I do not know how to play the organ; the organist knows how to do it, and that is her responsibility. I do not know how to play the piano or sing; we have pianists and musicians to do that. If I were to walk into church one day and try to play the piano or organ, I would fail at it. I do not have the training. By the same token, it is not my responsibility to seek vengeance. That is God's responsibility.

There is a difference between my vengeance and His vengeance. My vengeance is destructive; I want to destroy a person. God's vengeance seeks to catch a person's attention so He can salvage him. I am incapable of properly seeking vengeance just as I am incapable of playing the piano properly.

My job is to forgive. It is not Christ-like to be forgiven, because Christ never sinned. On the other hand, it is Christ-like to forgive. If someone treats me wrong and I forgive him, I am being Christ-like…
Gray seems to not understand that forgiveness requires confession and repentance. In David Hyles' case, public sin requires public confession and repentance. Until this is done, there is no reason for anyone to forgive David Hyles. I am content to leave the forgiving to God; however, in THIS life, his victims deserve seeing David Hyles shamefully confessing his "sins." Perhaps, in some small way, this would allow them to come to terms with what happened to them and they can find peace. There are wounds that time often does not heal. Sexual wounds fall into that category. If Dr. Bob Gray Sr. really wants to do good, he will demand David Hyles come clean about his past. He will also demand that he make restitution wherever possible.
Of course, Dr. Bob won't do this. The ONLY thing he is concerned about is…who told?
Note
I trust the person who sent me this news. I treat these reports like TMZ. I reserve the right to amend the story if further details are made known. If you know anything about David Hyles being at the Longview Baptist Temple, please let me know.
071816