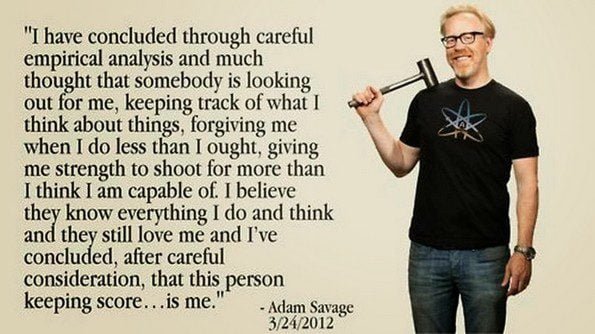 Repost from 2015-2016. Edited, updated, and corrected.
Over the years, countless Evangelical Christians have told me, "Bruce, I was an atheist like you before I found Jesus." Typically, my pithy answer is this: "No, you weren't."
Usually, this line is used by Evangelical apologists trying to get me to see that they "understand" where I am on the God issue. However, when pressed, they usually reveal that they were not as atheistic as they claimed to be, or they wrongly believed that not being a Christian means you are an atheist. Each of us was born into this world without any religious belief or moral framework. No one is born a Christian. This is the clear teaching of the Bible and every Christian denomination. To become a Christian, a person must commit to becoming a follower of Jesus Christ. One must embrace the Christian gospel and profess a desire to follow Jesus. This profession of faith is different from sect to sect. Some require a person to be baptized, while others require the person be confirmed or make a public profession of faith.
These rituals do not take place in a religious vacuüm. The United States is predominantly Christian, so it should come as no surprise that most Americans embrace the Christianity of their family and culture. Religion is inherently tribal, as can clearly be shown by looking at what the dominant religion is in a particular place. There are historical, geographical, and sociological reasons why, in a certain locale, most people are a certain flavor of Christianity (or a different religion altogether). For example, most Christians in the South are Evangelical and Baptist, while here in the North, Methodists and mainline sects have a greater foothold. Even at the local level, we see dominate sects, such as in nearby Archbold, Ohio where the Mennonite sect has numerous churches, or parts of rural northwest Ohio where Lutheran churches dominate the religious landscape.
The atheist-turned-Evangelical-Christian and I began life the same way, but our stories are very different from there. Like the Evangelical apologist, I too became a follower of Jesus Christ. For almost 50 years I was a devoted follower of the Lord, but at the age of 50, I left Christianity and embraced atheism and humanism. This was an open, honest, and sincere intellectual choice of mine, unlike many people who are Christians because they grew up in the Christian faith, and not because of any intellectual choice of theirs.
Most Evangelicals who say they once were atheists never made honest intellectual choices to become atheists. They were non-believers by default, and at some point in their lives, they decided to become followers of Jesus Christ, or their parents decided for them. They took off their non-believer clothing and put on the robes of Jesus Christ's righteousness. One day they were unbelievers, and the next day they were Christians. This is not how the process worked for most of the atheists I know.
Many atheists were at one time, like me, devoted followers of Jesus. Our deconversions weren't a matter of taking off the righteousness of Christ and putting on shirts with a scarlet A. Most of us spent months and years reading and studying before we concluded that the claims of Christianity are false and the Christian God is fiction. For some atheists, due to family and social pressures, they spent decades in the atheist closet, unwilling or unable to declare their godlessness.
While I can point to a definite place and time — on the last Sunday of November in 2008 — when I dared to say out loud I no longer believe, I spent years getting to that point. My journey took me from the strict Fundamentalism of the Independent Fundamentalist Baptist (IFB) church movement through Calvinism and generic Evangelicalism to emergent Christianity and liberalism, and on to universalism, agnosticism, and atheism. Every step along this path was laden with emotional and mental anguish. The hardest decision I've ever made came at the moment when I was willing to say that I no longer believed. Making this decision meant I was saying that my previous life as a Christian was based on a lie.
So, I say this to Evangelicals who say they once were atheists: Yes, you may have been an unbeliever, but you were not an atheist like me. Until you can show me that you have done your homework, then I am going to assume that you were what I call a default atheist. If you are going to comment on my blog and claim you were an atheist before you became a Christian, then it is fair for me to ask you to demonstrate how and why you became an atheist. It is not enough for you to say that you didn't believe in God and then you became a Christian. ALL of us didn't believe in God at one time. That's the normal human condition, according to the Bible.
Bruce Gerencser, 63, lives in rural Northwest Ohio with his wife of 42 years. He and his wife have six grown children and thirteen awesome grandchildren. Bruce pastored Evangelical churches for twenty-five years in Ohio, Texas, and Michigan. Bruce left the ministry in 2005, and in 2008 he left Christianity. Bruce is now a humanist and an atheist. For more information about Bruce, please read the About page.
Are you on Social Media?
Follow Bruce on Facebook and Twitter.
Thank you for reading this post. Please share your thoughts in the comment section. If you are a first-time commenter, please read the commenting policy before wowing readers with your words. All first-time comments are moderated. If you would like to contact Bruce directly, please use the contact form to do so. Donations are always appreciated. Donations on a monthly basis can be made through Patreon. One-time donations can be made through PayPal.