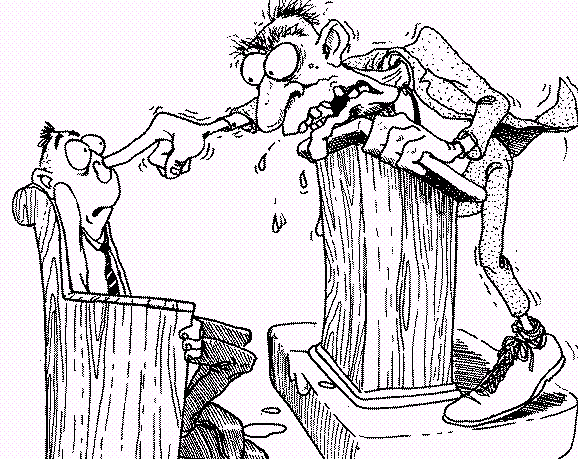 I recently read a blog post on another website that talked about bullies in the pulpit. For those of us raised in Independent Fundamentalist Baptist (IFB) churches, we are quite aware of so-called men of God bullying church members under the guise of preaching the Word of God or sharing what God laid upon their hearts. Let me share a couple of illustrations I believe will aptly illustrate my point.
In the early 1980s, my wife and I attended the Newark Baptist Temple in Newark, Ohio. The church's pastor was James (Jim) Dennis, Polly's uncle. Jim graduated from Midwestern Baptist College in Pontiac, Michigan in the 1960s. Polly's father would later attend this college, as did Polly and I. Midwestern was known for producing fire-breathing, authoritarian preachers. Tom Malone, the chancellor of Midwestern and pastor of nearby Emmanuel Baptist Church, took a " my way or the highway" approach to ministry. Legalistic thinking permeated both the church and the college. Run afoul of Malone, and you were shown the door. I vividly remember someone leaving a church service at Emmanuel and Malone stopping his sermon to address the man leaving. Much to the man's embarrassment, Malone said, with his Alabamian drawl, "don't let the door hit you on the way out." The only phrase missing was "on the ass."
Jim Dennis followed in the footsteps of Malone when it came to being a bully. While Jim could have a winsome personality, cross him and he would quickly put you in your place. The Baptist Temple was his church, end of discussion. God had called him to be its pastor, and as God's chosen oracle, his word was law.
The church was going through a difficult time financially. Jim decided that he would inspect the tithing records to see which church members were giving and how much. Jim was shocked to learn that many of the teachers and staff in the church's Christian school were not tithing. Never mind that teachers and staff members were paid pathetically low wages and had few, if any, benefits. Polly taught first grade one year at the school. She made $180 a week before taxes. She also worked in the church's daycare the previous year. Polly's total gross wages in 1980-81 were $9,111. I made almost three times as much money working for Long John Silver's (and had full benefits) as Polly did teaching and caring for the church's children. Worse yet, women were paid less money than men. Why? Because men were breadwinners, not women. Employees were expected to treat their jobs as a ministry of sorts, the equivalent of a Baptist vow of poverty. It should not be surprising then that many teachers and staff members couldn't afford to tithe and give offerings. When you are in the poorhouse, it is hard to justify giving money to the church.
One Sunday, an angry Jim Dennis — righteous anger, right?— took to the bully pulpit and savaged his selflessly serving teachers. He demanded that they immediately start tithing, and if they didn't, he would have their tithes deducted from their paychecks. While I'm sure Polly's IFB family would wish I didn't write stories such as this, I think it is important to expose this sort of behavior for what it is: bullying.
Let me share another story before moving on to my own abhorrent behavior. In the 1980s, a fire-breathing Fundamentalist named Mike Lee was the pastor of Montpelier Baptist Church in Montpelier, Ohio. Montpelier Baptist was the first church I worked for after leaving Midwestern in 1979. The pastor I worked for, Jay Stucky, later left and Lee became pastor. My sister and her husband were members of the church both while I was there and after Lee took over the helm. After my sister's marriage fell apart, Lee would have her followed to see what she was up to. Granted, her behavior didn't measure up to the IFB standard, but deacons following her to the local bar and grill to observe her behavior? My sister, of course, left the church.
Several years later, the good pastor Lee decided to address the burning issue of church teenagers attending their high school prom. In the minds of Fundamentalists like Lee, attending the prom was among the vilest of "sins." After his sermon was over, Lee told the congregation that he had something he wanted to talk to them about. Wanting to make sure that no one could leave the church auditorium, Lee had the ushers lock the doors. How do I know this happened? A couple who would later join the church I pastored in West Unity were visiting Lee's church that day. They were scared witless by his behavior. There's one word to describe this pastor's behavior: bullying.
These two illustrations likely seem beyond the pale to non-IFB Christians, but trust me, such behavior is quite normal among IFB pastors and churches. Why is that? Most IFB pastors are anti-culture. I suspect most of them voted for Donald Trump in the last election. Authoritarians love other authoritarians. Many IFB pastors run their churches in a fashion similar to the way Trump ran his businesses and the federal government. IFB pastors, to the man, believe the Bible is the inspired, inerrant, infallible Word of God. Couple this with a literalistic interpretation of the Bible, a belief that pastors are divinely called by God to speak on his behalf, and that their opinions and personal interpretations have the weight of law, is it any surprise that many of them are bullies?
I grew up in IFB churches and attended an IFB college. My pastors, professors, and colleagues in the ministry all modeled bullying behavior to one degree or another. I heard it at pastor's conferences in the stories preachers told about their churches, and I witnessed it when I visited other IFB churches. People wrongly assume that Steven Anderson, an IFB pastor in Tempe, Arizona, is an outlier, an aberration. He's not. The same goes for the late-Fred Phelps, pastor of Westboro Baptist Church.
It is not surprising, then, that I was an authoritarian and bully as a pastor. I may have been kind, compassionate, and may have gone out of my way to help church members, but I expected congregants to heed my pronouncements. I expected them to recognize and bow what is called in IFB circles "pastoral authority." This false notion was reinforced in my sermons, private interactions, and church business meetings. Church members were warned that failure to obey the man of God would lead to judgment and chastisement from the Almighty. And surprisingly, hundreds of people bowed to my authority, believing I was in some way or the other chosen by God to be their "shepherd."
The good news is that I stopped being a bully long before I left the ministry. I came to see that the church didn't belong to me. It was "our" church, not my personal fiefdom. Did I totally lose my authoritarian bent? Sadly, no. I learned that many church members were quite comfortable with me making all or most of the decisions. They were fine with me telling them what to believe and how to live. I endured countless church business meetings where I would plead with congregants to share their opinions, only to see them stay silent or let me have the final say. This was frustrating, to say the least, but it is hard for me not to conclude that every church I pastored had cultic tendencies.
After leaving the ministry in 2005 and Christianity in 2008, I have repeatedly apologized to former parishioners for my bullying behavior. While I have been forgiven by those I have harmed, it's hard for me to live with the damage and harm I caused to others. Sure, I was a product of my environment and training. Sure, I did what was modeled to me by my pastors, professors, and other IFB pastors and evangelists. All that is true and makes for a great psych profile, but the fact remains that I was a bully, that I harmed other people, including my wife and children.
Alas, there are no do-overs in life. All I know to do is tell my story and hope that others will be warded off from authoritarian pastors. Not all pastors are bullies, so I suggest potential church members carefully pay attention to how a preacher conducts himself before committing one's time and money to a particular church. Bullying behavior can be found in other sects too. In general, Evangelicalism has a problem with bullies in the pulpit, men who are engorged with power and control. The only way to end such behavior is to stop giving these bullies an audience. When all the students stay off the playground, the bully has no one to harm. It's time for Christians to leave authoritarian pastors to their own devices.
Bruce Gerencser, 66, lives in rural Northwest Ohio with his wife of 45 years. He and his wife have six grown children and thirteen grandchildren. Bruce pastored Evangelical churches for twenty-five years in Ohio, Texas, and Michigan. Bruce left the ministry in 2005, and in 2008 he left Christianity. Bruce is now a humanist and an atheist.
Connect with me on social media:
Your comments are welcome and appreciated. All first-time comments are moderated. Please read the commenting rules before commenting.
You can email Bruce via the Contact Form.