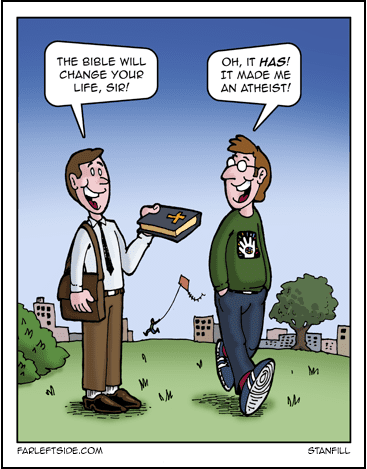 Evangelicals love the Protestant Christian Bible. Evangelicals believe that the Bible is the inspired, inerrant, infallible Word of God. Every word in the Good Book is straight from the mouth of God. Thus, when seeking "truth," where do Evangelicals turn? The Bible. 2 Peter 1:3 states:
According as his [God's] divine power hath given unto us [Christians] all things that pertain unto life and godliness, through the knowledge of him that hath called us to glory and virtue.
Through the Bible, the Holy Spirit, and conscience, God gives to Christians everything that pertains to life and godliness. Unbelievers, of course, lack this knowledge and understanding. Their minds have been darkened by the God of this world, Satan. While unbelievers have the intellectual ability to read, their depravity keeps them from truly "knowing" what the Bible says.
I was in the Christian church for fifty years. I spent twenty-five years pastoring Evangelical churches. I read the Bible from cover to cover numerous times, spending tens of thousands of hours studying its pages. I had a deep, passionate love for the Bible. As a pastor, I preached over 4,000 sermons — all from the Word of God. I am not bragging, then, when I say that I know and understand the Bible.
According to many Evangelical apologists, I don't really "know" the Bible. The moment I said I was no longer a Christian, all my Bible knowledge magically disappeared — àla a Men in Black mind wipe. This argument is absurd, ranking right up there with the belief that I am still a Christian. Why do Evangelicals refuse to accept that I "know" the Bible? Simple. The Bible says in 1 Corinthians 2:14:
But the natural man receiveth not the things of the Spirit of God: for they are foolishness unto him: neither can he know them, because they are spiritually discerned.
Let me translate this verse for you:
Unsaved people do not understand the things of the Spirit of God [the Bible] To unbelievers, the Bible is a foolish book. Its teachings cannot be understood by non-Christians because the Holy Spirit does not live inside of them as their teacher and guide.
If, as Evangelicals allege, the Holy Spirit lives inside [where?] of every Christian, why are so many [most?] believers ignorant of the Bible's teachings? Why are there so many Christian sects, each with its own interpretations of the Bible? Why can't Christian churches and pastors even agree on the basics: salvation, baptism, and communion?
There is one body, and one Spirit, even as ye are called in one hope of your calling; One Lord, one faith, one baptism, One God and Father of all, who is above all, and through all, and in you all.
This text tells us that there is:
One body [church]
One Holy Spirit
One hope
One Lord
One faith
One baptism
One God and Father
Pray tell where can we find what these verses speak of? Sectarianism, division, and internecine warfare abound. It seems, then, that having the Holy Spirit living inside of you doesn't do much, if anything, knowledge-wise. Ask one hundred Christians a theological question, and you will be given one hundred answers. I have written numerous posts over the past thirteen years detailing the various Christian systems of beliefs and hermeneutics. All roads better lead to Heaven. If not, a lot of Christians are going to land in Hell when they die. Why? Wrong beliefs. Evangelicals love to preach up salvation by grace, but what really matters is right beliefs. It is right beliefs that determine one's eternal destiny, not faith or grace. Believe the wrong things, and you are going to fry.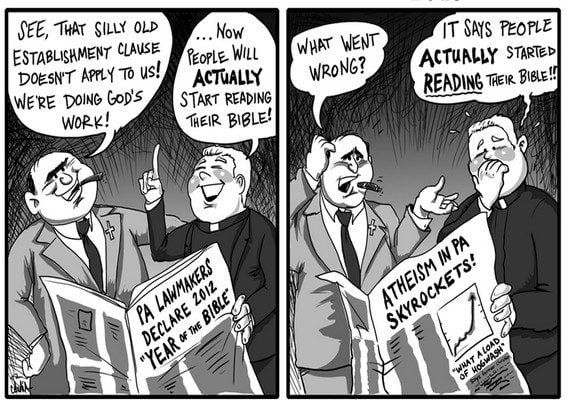 Now to the subject of the post: is the Bible a "simple" book? Based on what I wrote above, you would think that that answer to this question is no! Understanding the Bible requires God living inside of you. This same God darkens the minds [hearts] of unbelievers so they cannot understand the Bible's teachings. Unless God, through regeneration, gives unbelievers faith, it is impossible for them to savingly believe and understand the Bible. Or so Evangelicals — especially Calvinists — say, anyway.
Yet, many Evangelicals encourage unbelievers to read the Bible. "The Bible is so simple, even a child can understand it," evangelizers say. Often, unbelievers are told to start reading the gospel of John (never mind the fact that this gospel contradicts Matthew, Mark, and Luke in numerous places). "Just read John, and God will reveal himself to you!" If the Bible is such a "simple" book, why do preachers and theologians own countless books that tell them what the Bible says? If the Bible is such a "simple" book,, why do pastors attend BIBLE colleges and seminaries? It seems to me that the Bible is anything but "simple."
Most Evangelical laypeople (and many pastors) believe the Bible is a "simple" book. Pastors reinforce this false notion in their sermons. Many churches encourage congregants to follow daily Bible reading schedules such as Our Daily Bread (most Christians never read through the Bible one time). These reading schedules present Christians with a truncated, sanitized reading of the Bible. I quite certain that none of these pastor-approved Bible reading schedules covered Ezekiel 23:18-21 (The Message):
I turned my back on her just as I had on her sister. But that didn't slow her down. She went at her whoring harder than ever. She remembered when she was young, just starting out as a whore in Egypt. That whetted her appetite for more virile, vulgar, and violent lovers—stallions obsessive in their lust. She longed for the sexual prowess of her youth back in Egypt, where her firm young breasts were caressed and fondled.
The New Living Translation (NLT) renders Ezekiel 23:18-21 this way:
In the same way, I became disgusted with Oholibah and rejected her, just as I had rejected her sister, because she flaunted herself before them and gave herself to satisfy their lusts. Yet she turned to even greater prostitution, remembering her youth when she was a prostitute in Egypt. She lusted after lovers with genitals as large as a donkey's and emissions like those of a horse. And so, Oholibah, you relived your former days as a young girl in Egypt, when you first allowed your breasts to be fondled.
Imagine the discussion during family devotions (another practice Evangelicals love to talk about but rarely do) over this passage of Scripture. "Mommy, what does it mean to have genitals as large as a donkey's and emissions like those of a horse?"
The Bible is many things, but "simple" it is not. That's why Evangelicals should invest time in actually reading and studying the Bible. Doing so is a good way to turn people into atheists.
Bruce Gerencser, 66, lives in rural Northwest Ohio with his wife of 45 years. He and his wife have six grown children and thirteen grandchildren. Bruce pastored Evangelical churches for twenty-five years in Ohio, Texas, and Michigan. Bruce left the ministry in 2005, and in 2008 he left Christianity. Bruce is now a humanist and an atheist.
Connect with me on social media:
Your comments are welcome and appreciated. All first-time comments are moderated. Please read the commenting rules before commenting.
You can email Bruce via the Contact Form.