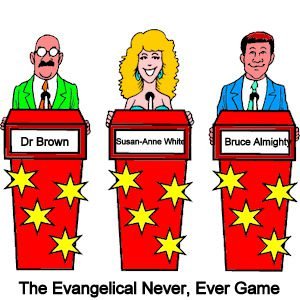 Several years ago, The Foundations of Morality blog posted an article by "Dr." David Brown that gives seven reasons why Christians should NEVER, EVER drink alcoholic beverages (links have been removed due to the malware they serve up):
Drinking leads to drunkenness
The Bible condemns strong drink
In Bible times what Christians drank was sub-alcoholic, basically purified water
It will call others to stumble
It harms our bodies which are the Lord's
Alcohol is addictive
Believers are kings and priests separated unto God
Are you ready, contestants? It's time to play The Evangelical Never, Ever Game.
Using David Brown's "logic," I can come to the following conclusion:
Eating food leads to gluttony
The Bible condemns gluttony
Gluttony will cause others to stumble
Gluttony harms our bodies
Eating food is addictive
Conclusion? Don't eat food.
Wasn't that fun? Let's play another round.
Sex leads to fornication and adultery
The Bible condemns fornication and adultery
Fornication and adultery will cause others to stumble
Fornication and adultery harm our bodies (not really, but Christians think they do)
Sex is addictive
Conclusion? Don't have sex.
Isn't this game fun? Feel free to continue playing the game in the comment section.
"Dr." David Brown is the pastor of First Baptist Church of Oak Creek, Wisconsin. You can check out his blog here.  First Baptist is an Independent Fundamentalist Baptist (IFB) congregation.
Bruce Gerencser, 66, lives in rural Northwest Ohio with his wife of 45 years. He and his wife have six grown children and thirteen grandchildren. Bruce pastored Evangelical churches for twenty-five years in Ohio, Texas, and Michigan. Bruce left the ministry in 2005, and in 2008 he left Christianity. Bruce is now a humanist and an atheist.
Connect with me on social media:
Your comments are welcome and appreciated. All first-time comments are moderated. Please read the commenting rules before commenting.
You can email Bruce via the Contact Form.