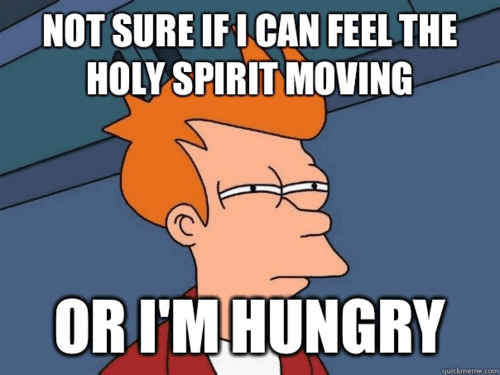 One of the proofs given by Evangelicals for the existence of the Christian God is that they "feel" Him in their lives. Countless Evangelicals have said, I KNOW my God is real because He lives in my heart! Among Charismatics and Pentecostals, this "feeling" God is taken to extremes, resulting in speaking in tongues, bodily contortions, and all sorts of physical phenomena. Even among Baptists — especially South of the Mason-Dixon Line, God's presence can be evidenced by those "feeling" God running the aisles, standing on pews, waving towels/hankies, raising hands, and shouting AMEN!
I have been asked numerous times whether I ever "felt" God in my life. Such questioners want to know if what I had was a head salvation, one rooted in the intellect, and not the "heart." Never mind the fact that humans do not have "hearts" in the sense that Evangelicals use the word. The Bible, in fact, says, as a man THINKS in his HEART so is he. Biblically speaking, the heart is the mind, the intellect, and not the blood-pumping organ. Who hasn't heard a sermon about missing heaven by eighteen inches — the distance between the human brain and heart. That said, when asked if I ever "felt" God, the answer is an emphatic, no-doubt-about-it YES!
Let me give several examples of when I "felt" God.
One of my favorite get-alone-with-God places was the auditorium of Somerset Baptist Church in Mt. Perry, Ohio. Somerset Baptist was a rural church, and I would, on many occasions over the twelve years I pastored the church, sit in the quiet, empty auditorium and speak out loud to God. On more than a few occasions, I "felt" not only God's presence, but also God speaking to me.
Another occasion of "feeling" God also took place at Somerset Baptist in November of 1993. Several months prior, Pat Horner and Community Baptist Church in Elmendorf, Texas, extended to me an invitation to become the co-pastor of Community Baptist. After praying over the matter, I decided God wanted me to stay in Somerset. In November, I was kneeling in my office praying when all of a sudden, I "felt" God's overwhelming presence. God said to me, I want you to become co-pastor of Community Baptist Church. I began to weep uncontrollably, telling God that I would do whatever it was He wanted me to do. The rest of this story can be found in the series I am a Publican and a Heathen.
Music has played a part in my "feeling" God. Hearing songs such as I Can Only Imagine by MercyMe, Because of Who You Are, Use Me Here, Nails in Your Hands by Everybodyduck, and Who am I, Praise You in This Storm, and Voice of Truth by Casting Crowns, often elicited deep feelings of God's presence. There were times that I was so overwhelmed by God's presence that I was weeping uncontrollably and had to pull the car off on the berm until my tears subsided.
I also "felt" God when certain hymns were sung. In particular, singing It is Well With My Soul often resulted in me "feeling" God. It should not be surprising, then, that many Evangelicals "feel" God while engaged in singing praise and worship music. The lyrics and music are deliberately crafted to bring worshipers into the "presence" of God. I have personally witnessed and experienced all sorts of emotional experiences during praise and worship sessions. It was as if God personally showed up and was in the midst of the congregation.
Let me give one more example of "feeling" God. Over the course of twenty-five years in the ministry, I preached 4,000+ sermons. There were numerous occasions while I was preaching that I "felt" God, and I could see that others "felt" God too. I have been in services where the presence of God was so thick that you could cut it with a knife. I have seen countless people "feel" God as He took my words and used them for His honor and glory. Or so I thought, anyway.
I know for certain that I have "felt" God and that "feeling" Him was a regular part of my life as a Christian, both before and during my time in the ministry. How, then, do I square this fact with what I now know to be true — that there is no God? Early in the deconversion process, this question troubled me. I knew that I had "felt" God. I knew for certain that God had visibly and deeply moved me emotionally. Based on these experiences, how could I now say that these intimate connections with God were not what I claimed they were?
Were these experiences real? Of course, they were. I grew up in a religious culture where it was common for people to "feel" God and to have Him speak to them through prayer, Scripture, and the preaching of the Word. God was everywhere, and those who sought Him would find Him. I read numerous books authored by Christian mystics going all the way back to the Puritan era. I desired more than anything to be filled with and empowered by the Holy Spirit. Any honest evaluation of my Evangelical upbringing will conclude that "feeling" God was very much a part of what it meant to be Christian. While salvation rested not on subjective feelings, but the objective words of God, "feeling" God was a reminder that you were God's child and he was always with you.
Understanding "feeling" God became clearer to me when I examined other emotional experiences in my life. Watching my grandchildren play can, at times, elicit similar feelings, as can making love and having an intimate, quiet night on the town with Polly. Several years ago, Polly and I watched our youngest son graduate from Northwest State Community College and our youngest daughter graduate from Bowling Green State University. As I watched each of them walk the aisle and receive their diplomas, I was overwhelmed emotionally, my mind flooded with gratitude and joy over their accomplishments — accomplishments that would NOT have happened had I remained an Evangelical pastor.
I have similar feelings watching certain movies. The same can be said for sporting events. Years ago, I stopped by a high school track meet to take some photographs. One of the events had a runner who was definitely not as good as the rest of the competitors. I watched as she got farther and farther behind until she was half a track behind everyone else. Yet, while everyone else was cheering the winners, I found myself deeply moved emotionally over the last-place finisher's determination and grit.
I now know that "feeling" God is as real as other emotional experiences I have had in my life. God need not be real for me to "feel" Him/Her/It. Practitioners of non-Christian religions can share similar experiences of "feeling" their God or being overwhelmed emotionally. Feeling such things are a part of our DNA. Sadly, Evangelicals think that their "feeling" God is objectively true, and all others are false; that there is a BIG difference between "feeling" God and the emotional experiences humans have through relationships and interactions with the natural world. Who among us can look at the star-filled skies and not feel a sense of awe and wonder. Must we believe in God to have such feelings? Of course not. All of us have the capacity to feel, no God needed.
Did you "feel" God as a Christian? How do you explain these experiences now that you no longer believe in God?  Please share your thoughts in the comment section.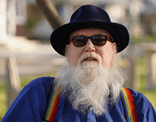 Bruce Gerencser, 64, lives in rural Northwest Ohio with his wife of 43 years. He and his wife have six grown children and thirteen grandchildren. Bruce pastored Evangelical churches for twenty-five years in Ohio, Texas, and Michigan. Bruce left the ministry in 2005, and in 2008 he left Christianity. Bruce is now a humanist and an atheist.
You can contact Bruce via email, Facebook, Twitter, or YouTube.
Your comments are welcome and appreciated. All first-time comments are moderated. Please read the commenting rules before commenting.