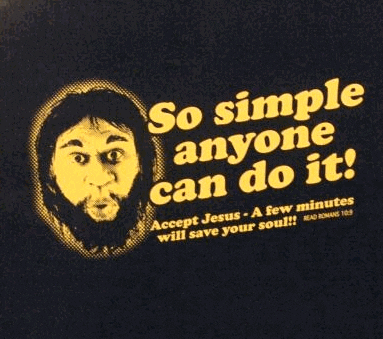 According to Fundamentalist Christian Jimmy Randolph, there is no such thing as an ex-Christian. In an article titled Beware of the Perils and Pitfalls of Easy-Believism, Randolph shares a recent experience he had of witnessing to an atheist:
A few days ago the Lord allowed me to witness to an atheist about creation and Jesus Christ's blood atonement for sinners. After a few minutes of going back and forth, I could see that the particular atheist I was dealing with was not interested in truth, but excuse. As I was about to end the conversation by telling the atheist that he will one day face his Creator face to face at the Great White Throne Judgment and give an account for every secret sin, the atheist interrupted me by telling me that he was "a former Christian". Now any Bible Believer knows that it is not impossible for a born-again Christian to apostate so dramatically to the point where they could possibly become an atheist (2 Tim 2:13 KJV). Therefore, I decided to check out his testimony in the Lord.

I asked him "how did you become a Christian?" He answered "I was raised in a society that was mostly Christian." I then explained to him that being raised in a Christian society does not make you a Christian any more than being raised in a garage makes you a car. So I presented the question to him again: "how did you become a Christian?" This time he answered me and said "I believed in a theistic God." I then explained to him that the devils also believe in a theistic God and tremble (James 2:19 KJV). I presented the question to him a third time: "how did you become a Christian?" He answered and said "I believed the bible and that prayers would be the answer" I then explained to him that Muslims also believe in prayer and that Mormons also believe the bible, but that doesn't make them Christians. I then rebuked the atheist by telling him that according to all three cases of his own testimony, he was NEVER a Christian, only RELIGIOUS. It was at this point were the atheist let his anger get the best of him at accused me of being radical, mean-spirited, outrageous, illogical, spreading hate, unreasonable, what's wrong with "Christianity" today, ridiculous ideology, blah, blah, blah.

Now why would this atheist label himself as a "former Christian" when he was absolutely clueless to what a Christian was? Two words: EASY BELIEVISM. Easy Believism is a heresy that teaches that salvation or reconciliation with God is relative to the individual and NOT ABSOLUTE according to God's word. In other words, Easy Believism teaches that an individual doesn't have to run to Calvary's cross as a BROKEN SINNER in need of a sinless Savior to save them from HELL. Instead, the individual can come to God self-righteously as their own mediator, in their own way, in their own time, according to their own thoughts and logic.
According to Randolph, those of us who label ourselves as ex-Christians never really understood the True Christian® gospel. Randolph thinks that ex-Christians fell prey to what he calls easy-believism. Unfortunately, Randolph has no idea what easy-believism is. Proponents of easy-believism (free grace)  — men such as Jack Hyles, Curtis Hutson, Bob Gray, Charles Ryrie, Chuck Swindoll, Charles Stanley, and Zane Hodges — believe that people are saved when they mentally assent to a set of propositional beliefs and put their faith and trust in Jesus Christ. Those opposed to easy-believism — men such as John MacArthur and most Calvinists — believe that unsaved people must not only accept Jesus as their Savior, but they also must make him the Lord of their lives (lordship salvation). While both parties believe that good works are a natural consequence of being saved, those who oppose easy-believism say that these works prove that a person has indeed been born from above.
As you can see from the previous paragraph, Randolph doesn't understand easy-believism. I am not sure where he pulled his definition from, but it wasn't from any of the pro/anti-easy-believism books of the 1980s and 1990s. Randolph's inability to define and understand easy-believism renders his claim moot. Still, for the sake of argument, I will let his definition stand so I can adequately address what he writes next.
According to Randolph, there are ten ways to spot the false converts to easy-believism (grammar errors and all caps in the original):
THEY WON'T OR HAVE DIFFICULTY ADMITTING TO BEING A SINNER
THEY DON'T BELIEVE THAT THEY EVER TRULY DESERVED TO BURN IN HELL
THEY BELIEVE THAT ANY GENERIC BELIEF IN GOD IS "GOOD ENOUGH"
THE IDEA OF SALVATION ALONE THROUGH CHRIST CRUCIFIED IS FOOLISHNESS TO THEM
THEY IDENTIFY THEMSELVES AS BEING A "CHRISTIAN" OR A "CHILD OF GOD" WITHOUT EVER ADMITTING TO BEING A LOST HELLBOUND SINNER BEFORE CONVERSION
THEY VIEW GOD AS A GENERIC BUDDY INSTEAD OF A SINLESS PERSONAL SAVIOUR
THEY BELIEVE THAT GENERAL GENERIC PRAYER, BIBLE READING, CHURCH ATTENDANCE, FAMILY RELATIONSHIPS, CHURCH MEMBERSHIP, SOCIAL FUNCTIONS, AND DEALING WITH SOCIETAL ISSUES EARNS THEM SALVATION OR SPECIAL FAVOR WITH GOD OUTSIDE OF SCRIPTURE.
THEY BELIEVE THAT SALVATION AND A PERSONAL RELATIONSHIP WITH GOD CAN BE ACCOMPLISHED BY REJECTING, IGNORING, OR BEING PURPOSELY IGNORANT TO WHAT SCRIPTURE SAYS.
THEY BELIEVE THAT ALL RELIGIONS ARE THE SAME OR LEAD TO THE SAME GOD.
THEY CAN'T REMEMBER A TIME IN THEIR LIFE WHEN THEY HAD A FACE TO FACE COLLISION WITH JESUS CHRIST AND CALLED ON HIS NAME FOR SALVATION AS A BROKEN SINNER.
As regular readers know, I was a Christian for almost fifty years. I spent twenty-five years pastoring Evangelical churches in Ohio, Michigan, and Texas. As many readers of this blog, I was, for many years, a devoted follower of Jesus Christ. At one time, thanks to the churches I grew up in and the training I received at Midwestern Baptist College, I preached the easy-believism gospel. However, by the mid-1980s, I realized that the easy-believism gospel generally turned people into cultural Christians who had no desire to follow in the footsteps of Jesus. So when John MacArthur wrote his Evangelical-shaking book, The Gospel According to Jesus, I quickly realized that MacArthur was spot on when it came to the lordship of Christ. From that point forward, my preaching and emphasis changed. Instead of just trying to get people to pray the sinner's prayer, I focused on what I called the gospel of full disclosure. If people were going to become followers of Jesus, I believed they needed to know exactly what Jesus expected (demanded) of them.
So when I look at Randolph's ten ways to spot a false convert to easy-believism, I can emphatically say that none of these things is true of me. And I expect that many of the readers of this blog can say the same.  We are living examples of the fact that people can be Christians and then walk away.  Any thorough examination of our lives reveals that we were once committed followers of Jesus. Our lives are proof that what Jimmy Randolph writes in his post is not true.
This should be the end of the discussion. I've presented evidence — my life — that cannot be refuted. But, this won't be the end of the discussion because people like Randolph, when confronted with the exemplary lives of one-time Christians, will then suggest that we must still be Christians because the Bible says that the true Christian can never fall from grace or lose their salvation. Instead, we are just backslidden, and God, through chastisement or even death, will brings us back to Jesus.
While perusing the comments on Randolph's post, I noticed that he said his definition of easy-believism came straight from the Bible.  After reading several more of his comments, I have concluded that he actually believes in easy-believism, just not the Bible-defined easy-believism that he has concocted in his head. (He also rejects lordship salvation.) In other words, he doesn't know what he is talking about. Instead of trying to "save" atheists, perhaps Randolph should invest some money in buying several systematic theology books and doing some study on what the Bible actually says about salvation. Then, once thoroughly confused, Randolph can deconvert and become an ex-Christian who was never a Christian.
Bruce Gerencser, 66, lives in rural Northwest Ohio with his wife of 45 years. He and his wife have six grown children and thirteen grandchildren. Bruce pastored Evangelical churches for twenty-five years in Ohio, Texas, and Michigan. Bruce left the ministry in 2005, and in 2008 he left Christianity. Bruce is now a humanist and an atheist.
Connect with me on social media:
Your comments are welcome and appreciated. All first-time comments are moderated. Please read the commenting rules before commenting.
You can email Bruce via the Contact Form.