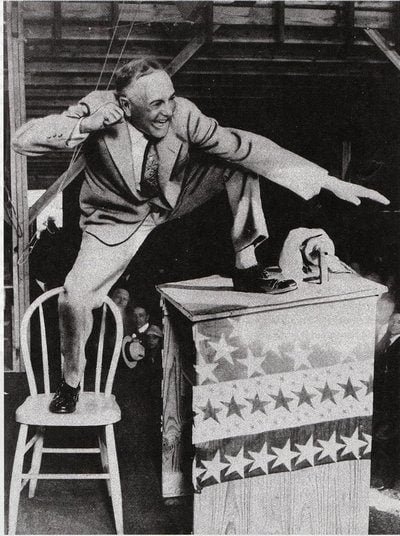 Last Monday, I had outpatient surgery to remove a benign tumor from my upper abdomen. Today, I returned to the surgeon's office so he could remove the dressing and check the incision. I no longer drive, so my wife has to drive me to and from my medical appointments. Typically, while Polly checks me in, I slowly walk to the designated waiting area. Polly and I were apart all of five minutes, but that was enough time for me to "persecute" a Christian.
After sitting down in the waiting area, I couldn't help but see and hear a loud, boisterous Evangelical Christian trying to evangelize a man sitting near him. I am not sure how the one-way conversation started since it was in progress when I arrived. What I do know is that while I was sitting there the Evangelical man told the unsuspecting "sinner" that his mother was in Heaven is she was saved; that some Christians believe you can't lose your salvation and others believe you can; that he personally believed that once a person asks Jesus to save him he can't fall from grace; that going to church doesn't make you a Christian; that sometimes churches treat people badly, saying he had experienced such treatment himself; that people who don't get saved go to Hell. His last words to the man were as follows: "I know you are a good man."
Five minutes of loud in-your-face preaching, with the "target" not saying one word in response, just nodding his head in polite Midwestern fashion. As Polly was walking up the hallway to where I was sitting, I decided that I had had enough of the Evangelical man's unwanted abusive behavior. I said to him in my preacher's voice, "maybe the man doesn't want you badgering him. Maybe we (there were six people sitting in the waiting room) don't want to hear your bullshit. I know I don't." 🙂 And with that, the Evangelical man sat down and didn't say another word. All praise be to Loki for his kindness.
I am plumb worn out (and irritated) by Evangelicals who think they have a duty and right to harass people in public. It was evident that the "target" wasn't interested in what the man was selling, but was too polite to tell him to fuck off. Of course, Evangelicals reading this post will say, "Bruce, that sinner's blood is on your hands. If he ends up in Hell, God will hold you accountable! It's evident God sent the Evangelical man to the sinner to preach the gospel to him." No, what is evident is that the Evangelical man didn't care about social boundaries. I'm sure his pastor taught him to look for opportunities to witness. Evidently, his pastor didn't warn him about curmudgeonly atheists who might be lurking nearby. 🙂
Come Sunday, I have no doubt the Evangelical man will tell his pastor and fellow church members that he was "persecuted" for sharing the gospel.
Bruce Gerencser, 66, lives in rural Northwest Ohio with his wife of 45 years. He and his wife have six grown children and thirteen grandchildren. Bruce pastored Evangelical churches for twenty-five years in Ohio, Texas, and Michigan. Bruce left the ministry in 2005, and in 2008 he left Christianity. Bruce is now a humanist and an atheist.
Connect with me on social media:
Your comments are welcome and appreciated. All first-time comments are moderated. Please read the commenting rules before commenting.
You can email Bruce via the Contact Form.