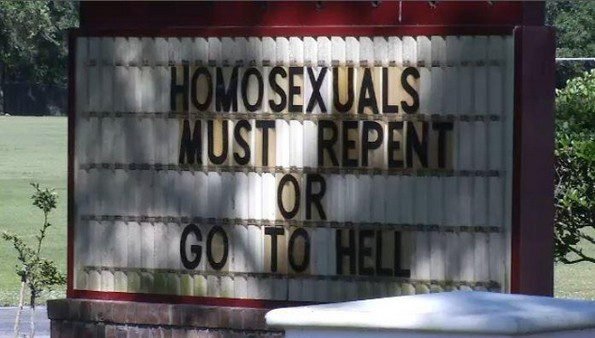 Note: I don't typically use the word homosexual in my writing due to the fact that the word is used in a pejorative sense among Evangelicals. I use the word in this post because I want to attract Evangelical readers through various search engines.
According to the dictionary, a homosexual is someone who is attracted to a person of the same sex. Homosexuality is the sexual attraction to (or sexual relations with) the same sex. Evangelicals believe that each of us is born a heterosexual male or female. In accordance with this errant understanding of human sexuality, they refuse to accept that anyone is born homosexual. They believe gays choose to be homosexual and engage in same-sex sexual behavior. According to their interpretation of the Bible, homosexuality is a soul-damning sin.
Some Evangelicals think a person can be attracted to the same sex and not commit sin. It is the act of homosexual sex that is a sin. If people who are attracted to others of the same gender abstain from same-sex sexual behavior, it is possible for them to be considered Christian. However, anyone who engages in habitual homosexual sex is not a Christian. Since anal and oral intercourse are usually the way gays engage in sex, shouldn't these very same practices among Evangelical heterosexuals land them in the same Hell as homosexuals? Further, if homosexual sex is just one of many sexual behaviors that God condemns, why is it that the sins of adultery, fornication, and masturbation among Evangelicals are rarely treated identically to same-sex sexual behavior? Why the obsession with how and with whom LGBTQ people have sex?
According to the Evangelical Christian interpretation of Romans 1, many (most, all) homosexuals have been given over by God to a reprobate mind. Reprobates are people such as myself who have crossed the line of no return when it comes to God's mercy and grace. Reprobates are beyond redemption and will certainly burn in Hell for all eternity.
To a large degree, Evangelicals are a sect of sexually repressed people. Evangelical church-goers spend their lives being told what they can and can't do sexually (and the "can's" and "cant's" vary from church to church, pastor to pastor). The blazing red line in the sand is this: heterosexual sexual intercourse between a husband and his wife is the only permissible form of sex (preferably in the missionary position and for the purpose of procreation). Attempts to spice up one's sex life are often met with condemnation and judgment. When Evangelical husbands or wives ask their spouses to engage in sexual behavior that is considered kinky, they expose themselves to accusations of having watched pornography. After all, where would an Evangelical get the notion to engage in kinky sex without having been exposed to it elsewhere?
This is the world Evangelicals live in.
Back in the R-E-A-L world, we know that people are sexual beings. We have a natural desire for sexual intimacy. We also know that there are numerous sexual orientations, including heterosexuality, homosexuality, bisexuality, non-binary, and others. While we readily admit that environmental factors certainly affect our sexual desires, we also know that most of us are born with a certain sexual identity. I am heterosexual because I was born this way, and so it is for the homosexual.
It is a common occurrence these days to hear of an Evangelical who has been outed as a homosexual. Gay Evangelical pastors, evangelists, worship leaders, youth directors, college professors, and para-church leaders, among others, are regularly exposed and either end up repenting of their sin or leaving Evangelicalism. Many Evangelical homosexuals spend their lives in the closet, secretly indulging their nature, all the while living their lives as "normal" heterosexuals. Often they marry someone of the opposite sex, hoping this will "cure" them of their attraction towards the same-sex. They will engage in heterosexual sex, father or birth children, outwardly doing all the things heterosexuals are supposed to do. But inwardly they battle with who and what they really are. Frequently they are depressed, desperately struggling to maintain their Evangelical façade. Some even consider suicide, a sin only slightly less heinous to Evangelicals than homosexuality.
I suppose marrying away the gay works for some, but more often than not, this approach fails miserably. The homosexual feels trapped in a marital relationship that is not open and honest. Sometimes the spouse understands the dilemma and turns a blind eye to liaisons with people of the same sex. Sometimes the sexual hypocrisy reaches such a point that it results in divorce. Imagine the pain and suffering inflicted on heterosexual spouses, knowing that their significant other desires a man or a woman and not them. Envision the pain, agony, and confusion children go through when they discover one parent or the other is not heterosexual. The family and spouse have been indoctrinated with the Evangelical view of homosexuality that says such behavior is abhorrent and vile. Is it any wonder that Mom or Dad coming out of the closet often causes huge rifts? These fissures frequently cause irreparable damage to family relationships.
It is easy to understand, then, why many Evangelical closeted gays remain safely hidden in the darkened back of the closet. Loving their family more than life itself, they willingly hide who and what they really are. While I personally experience physical pain, I can only imagine the emotional and mental suffering endured by those forced to live a lie because the Evangelical God hates homosexuals. And make no mistake about it, he DOES hates LGBTQ people.
Sometimes, Evangelicals who struggle with homosexuality are told they just need to pray. When they are tempted with same-sex sexual desires, they are told to pray away the gay. If they will just pray hard enough, have enough faith, and trust that God will not give them more than they can bear, they will surely be delivered from their same-sex attraction. And if they still have this attraction? It's is their fault. They didn't pray hard enough, have enough faith, or really believe that God would deliver them. No matter what, it's their fault.
Imagine the same scenario for a heterosexual. We know that the majority of Evangelicals engage in premarital sex. Most Evangelical heterosexuals are not virgins when they walk down the aisle at the local Baptist church. Add to this number those who masturbate, and it is clear very few Evangelicals actually keep the Bible's puritanical, anti-human sexuality code. Imagine two Evangelical young adults, let call them Nathan and Abigail, regularly dating.  Over time, they become more physical with one another. Soon they find themselves rounding third and heading for home. What should they do? Pray? Have faith? Trust that God will provide them a way of escape (remember, masturbation is NOT a way of escape)?
It is likely that Nathan and Abigail will slide right into home. They will feel guilty afterward, promising God they will never, ever do it again. And then, just like a man who has a chocolate shake for the first time at Dairy Queen, who forever after yearns for a chocolate shake every time he passes a DQ, Nathan and Abigail want to have sex every time they engage in sexual intimacy. Once a person experiences sexual intercourse for the first time, there's no going back.
Do you think fornicators Nathan and Abigail will be treated the same as two homosexuals when their sexual activity is exposed? Of course not. All of the older adults at the local Baptist church understand youthful temptation and desire. They likely know from firsthand experience the guilt Nathan and Abigail are experiencing. As heterosexuals, they understand how such things happen. However, when it comes to two homosexuals sliding into home, they cannot begin to fathom such a thing. In their eyes, homosexuality is the one sin that is above every other transgression of God's law.
Sometimes, Evangelical churches and pastors reluctantly admit that some church members are attracted to people of the same sex. They might even grudgingly admit these people were born that way.  But, make no mistake about it, born this way or not, their homosexuality is condemned by the Bible, and such conduct is never permissible. God creates us with sexual desires and then tells us we can't act on them? Strange way to go about things, don't you think? Evangelical homosexuals are told that they must live a sexually celibate life. They are never permitted to love someone, to know what it is to find sexual fulfillment in the embrace of their significant other. They must forsake what is essential to human nature and live like a celibate priest, all the while foregoing masturbatory relief (and we all know how well that works).
Evangelical homosexuals rightly consider marry away the gay, pray away the gay, and forced celibacy teachings to be an offensive denial of who and what they are. While many Evangelical homosexuals have strong faith in the Christian God and desire to worship him, they are usually forced to leave the church. The good news is that there are liberal and progressive Christian churches that will gladly accept them as they are.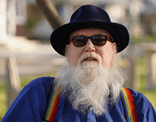 Bruce Gerencser, 65, lives in rural Northwest Ohio with his wife of 44 years. He and his wife have six grown children and thirteen grandchildren. Bruce pastored Evangelical churches for twenty-five years in Ohio, Texas, and Michigan. Bruce left the ministry in 2005, and in 2008 he left Christianity. Bruce is now a humanist and an atheist.
Connect with me on social media:
You can email Bruce via the Contact Form.
Your comments are welcome and appreciated. All first-time comments are moderated. Please read the commenting rules before commenting.