I received the following email today:
Our assessment of BG. We are not going to post this publicly so do not worry about being humiliated or embarrassed.
We have analyzed BG's behavior and words for some time now and we see a developing identity. He is a person who was a low-level obscure independent Baptist preacher who certainly gets jealous and envious of others.
His Christian work seems to have been motivated by these desires as he used his own will and not Jesus' in his ministry as well as his being critical of those more successful, popular, and less obscure counterparts.
Instead of humbling himself and correctly following Jesus, he followed his character trait and quit. That is not a sign of a good servant of God. He likes to stand in judgment of others grading their level of spirituality with a subjective ruler judging that those observed were not practicing the faith properly.
What exact standard he used is not known, but it was his own making and not God's. Then instead of being the example, he walks away and condemns every Christin [sic] and God for failing to meet his ideals.
Now he is just a narcissist who hopes he gains the fame and popularity that escaped him when he was a Christian. he wants to leave a negative legacy behind so that people will think he was a great preacher and now a great blogger.
In reality, he remains obscure, uninfluential , and wants to be the center of attention like he has found something new and wonderful for the world, when he is just another unbeliever in a line filled with billions of unbelievers saying the exact same thing as every other unbeliever has said or is saying.
He is a sad and pathetic figure who needs to broadcast his failure to follow Christ to the end of the world and instead of being great, he makes himself a laughingstock. Someone who could not cut it.
And yes we are still sad that you walked away from your faith.
— end of email —
I will not mention this man by name nor will I link to his website. Long-time readers will know exactly who this small-minded, pathetic man is. He wrongly thinks that his words, if made public, will humiliate and embarrass me. Why? His email tells readers more about him than it does me, and readers will see it for what it is: an email from a man who is jealous that I have found happiness and peace without Jesus and the strictures of Fundamentalist Christianity. He wishes he could have what I have, and because his religion keeps him from entering the Promised Land and enjoying its fruits, he stands outside chucking rocks and hurling epithets at me, much like the playground bully.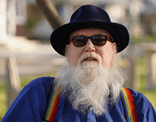 Bruce Gerencser, 64, lives in rural Northwest Ohio with his wife of 43 years. He and his wife have six grown children and thirteen grandchildren. Bruce pastored Evangelical churches for twenty-five years in Ohio, Texas, and Michigan. Bruce left the ministry in 2005, and in 2008 he left Christianity. Bruce is now a humanist and an atheist.
You can email Bruce via the Contact Form.
Your comments are welcome and appreciated. All first-time comments are moderated. Please read the commenting rules before commenting.