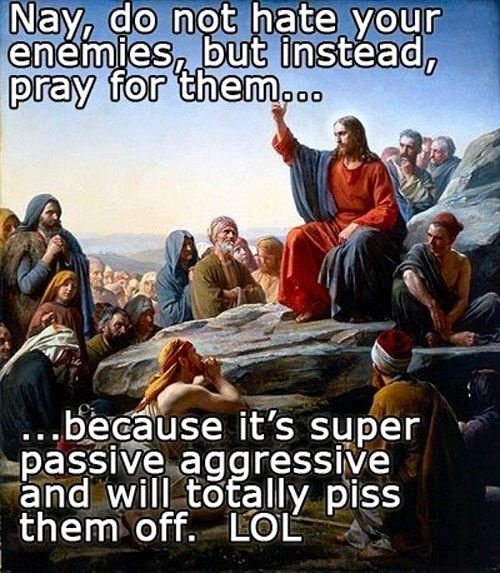 Several years ago, Polly and I traveled to Newark, Ohio, to spend the day with Polly's parents. Physically, the trip was brutal. Three hours down, three hours back, and more potholes than I could count, the trip left me writhing in pain by the time we returned home. For chronic pain sufferers such as myself, this agony is often the price of admission. If I want to venture out among the living, I must endure the bangs and bumps that come my way. On days such as this, pain medications tend to be ineffective, so I grit my teeth and endure. To quote the Bible, he that endureth to the end shall be saved. My salvation came when we arrived home and I went straight to bed. I slept for fourteen hours. (Things have physically deteriorated for me since the writing of this post. A shopping trip to Toledo cost me two days in bed.)
Polly's late father had his hip replaced in 2015. I previously wrote about Dad's health problems here: How Fundamentalist Prohibitions Cause Needless Suffering and Pain. Sadly, this post proved to be prophetic. Dad ended up in a nursing home, forced to wear a brace to keep his hip in place. Several days after the surgery the new hip dislocated. It was several more days before the rehab staff figured out that there was something wrong with the hip. If there ever was a circumstance that could be labeled a clusterfuck, this was it. I am sure that if Dad had it to do all over again, he would not have had the surgery. Dad was able to come home eventually, but he was never able to walk normally again.
While we were visiting with Dad and Mom at the nursing home, Polly's preacher uncle, Jim Dennis, stopped by for a visit. He didn't know we were going to be there, so he was quite surprised to see us. After twenty minutes or so, it was time for Polly's uncle to leave. Before leaving, Polly's uncle offered up a prayer. Recently retired from the ministry and in poor health himself, Uncle Jim launched into what can only be described as a sermon prayer. Those raised in Fundamentalist churches likely have heard many such prayers. These prayers are not meant for God as much as they are for those who are listening, In this instance, the prayer was meant for the two atheists in the room, Polly and Bruce.
The prayer started out with a request for healing and strength for Dad but quickly moved into a recitation of the plan of salvation. I thought, why is Uncle Jim praying like this? God knows the plan of salvation, as does Dad, so the soteriological utterance couldn't have been for their benefit. Mom was nearby, but she was one of God's chosen ones too. The only unsaved people in the room were Bruce, Polly, and their daughter with Down Syndrome. As Polly's uncle prayed, I looked at Polly, smirked, and shook my head. Here I was, at the time, fifty-eight years old, having spent fifty years in the Christian church, and I was being treated like someone who had never heard the Independent Fundamentalist Baptist (IFB) version of the gospel.
If this had happened a few years ago, I likely would have said something. But, as I looked at Polly's uncle and her Mom and Dad, I thought, soon they will all be dead. Morbid? Sure. But, the truth? Absolutely. I have no desire to fight over religion with Polly's diehard Fundamentalist Baptist family. I am sure Polly's preacher uncle thought that putting in a good word for Jesus might somehow, some way, cause us to fall on our knees, repent, and ask Jesus to save us. Regardless of his motivation, it was clear that Uncle Jim did not respect us. (Since the writing of this post in 2016, Dad has died, along with Jim and his wife Linda. Only Mom is still alive.)
Polly and I, along with our children, are huge disappointments to her family. Since I was once considered the patriarch of our tribe, the blame for our fall from grace rests squarely on my shoulders. It has been thirteen years since Polly and I darkened the doors of a church. We have attended numerous family functions, and not one person in her family has attempted to understand why we deconverted — not one. Some of them read this blog, and I am sure this post will make its way in printed form to Polly's Mom. Will it finally force an honest discussion about the elephant in the room? Probably not. Better to hope Polly and that $*%$ husband of hers are still saved. Backslidden, but still saved. Anything, but having a frank discussion about why we no longer believe in the existence of the Christian God, or any other deity, for that matter.
While I would never expect or demand that Polly's Fundamentalist family stop living out their faith, it would be nice if they respected us enough to accept us as we are. We are ready and willing to share why we no longer believe. If family members want to know, all they have to do is ask. And if they aren't interested in knowing, the least they can do is refrain from trying to evangelize us. There are no prayers that can be prayed that could possibly cause us to change our minds about God, Jesus, Christianity, and the Bible. Thousands of prayers have been uttered on our behalf, yet Polly and I remain happy unbelievers. We are living proof of the powerlessness of prayer.
Polly and I have known each other for almost forty-six years. I first met her preacher uncle in December of 1976 at a midweek church service at the Newark Baptist Temple. Uncle Jim let the church know that Polly had a guest with her. As the congregation turned to gawk at the embarrassed redheaded young man, Polly's uncle said, They have a shirttail relationship. It remains to be seen how long the shirttail is. The next day, I spent my first Christmas with Polly's family, meeting her cousins, uncle, and grandfather for the first time. Forty-six years have come and gone. Polly and I are now in our sixties. Our middle-aged children have greying hair, and their thirteen children call us Nana and Grandpa. We have spent many wonderful moments with Polly's family, and more than a few moments we would just as soon forget. I love them dearly, as does Polly. We just wish that they loved us more than they love Jesus.
Bruce Gerencser, 66, lives in rural Northwest Ohio with his wife of 45 years. He and his wife have six grown children and thirteen grandchildren. Bruce pastored Evangelical churches for twenty-five years in Ohio, Texas, and Michigan. Bruce left the ministry in 2005, and in 2008 he left Christianity. Bruce is now a humanist and an atheist.
Connect with me on social media:
Your comments are welcome and appreciated. All first-time comments are moderated. Please read the commenting rules before commenting.
You can email Bruce via the Contact Form.