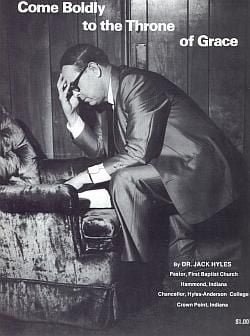 If you are unfamiliar with Jack Hyles, please read The Legacy of Jack Hyles.
Excerpt from Woman the Completer, by the late Jack Hyles, pastor of First Baptist Church in Hammond, Indiana:
"Dear Dr. Hyles. I am 24 years of age. I am a preacher boy whom God called to preach six months after I got saved three years ago. I felt led to go to a certain Bible college in a certain state. I attended there until God called me to pastor a small church. I was ordained. From there, God led me back to a certain city in a certain state where I got saved under Dr. Joe Doe. (I'm using ficticious names.) I worked on the staff of Dr. Doe for that summer and started to go to the Letot Bible Institute that fall.

As I started to go to school that fall, I got a full-time position in a church as assistant pastor and youth director. While I was in a certain state, I met and married a wonderful girl, a spiritual girl, a girl that loved Jesus Christ. As we lived in Letot, I was working for a church in a certain place. I seemed to be getting away from soul winning and getting deeper into the books. After awhile I was not doing what God wanted me to do and what God made me to do. I was not knocking on doors and winning people to Jesus Christ. My not being the man of God I ought to be affected my marriage. It affected my marriage to the extent that my wife told me at one time that if I didn't become the soul winner that God wants me to be, she couldn't respect me as a man of God, and she thinks. . . ."

"One afternoon as I was leaving from school, my wife and I seemed to be in the flesh. We didn't have devotions that day and pray as we usually do. I walked out of the house without telling her I loved her and without telling her good-bye. As I got to school, I felt bad, so I called on the phone, and there was no answer. I knew something was wrong. I drove home immediately and found my wife had committed suicide."

"As we had her funeral in her hometown up North, I went a half hour early before her relatives and friends viewed the body. I walked in and put my head on my wife's chest in the casket and was hoping that she would lean up and hold me, kiss me, cuddle me, baby me and tell me that she loved me, but she wasn't there–she was with the Lord. I then fell on my face before the casket and talked with God. Something happened to me there that I can't explain, but for once in my life I had the full power of God, but what a price to have to pay! As her friends and relatives came by the casket, I stood there like a soldier witnessing and telling them about Jesus Christ. I feel, Dr. Hyles, that God is leading me to Hyles-Anderson College to learn more about Him and learn more about character and discipline and be the man that God wants me to be."
Does anyone really believe this story is true? I know I don't. Jack Hyles was a pathological liar, often spinning yarns, half-truths, and exaggerations in his sermons. Such behavior is not uncommon in Independent Fundamentalist Baptist circles.
Bruce Gerencser, 66, lives in rural Northwest Ohio with his wife of 45 years. He and his wife have six grown children and thirteen grandchildren. Bruce pastored Evangelical churches for twenty-five years in Ohio, Texas, and Michigan. Bruce left the ministry in 2005, and in 2008 he left Christianity. Bruce is now a humanist and an atheist.
Connect with me on social media:
Your comments are welcome and appreciated. All first-time comments are moderated. Please read the commenting rules before commenting.
You can email Bruce via the Contact Form.