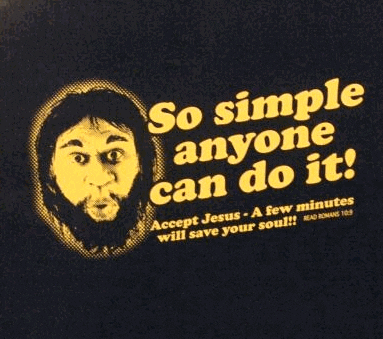 On occasion, an Evangelical commenter will suggest that deep down in my heart of hearts I KNOW that I am still a Christian; that my claiming to be an agnostic/atheist is a ruse or some sort of misdirection meant to lead people away from finding out the truth about what and who I really am. Such a conclusion is derived from reading my writing through blood-of-Jesus-colored glasses, seeing faith where there is none. Several years ago, one commenter even went so far as to suggest that my capitalization of words such as Bible, Heaven, and Hell, was proof that I am, despite my protestations, still a Christian. Taking this approach, of course, allows once-saved-always-saved Baptists to square my past with the present. Once saved by the miracle-working power of Jesus, no matter what I say or do, I cannot be separated from the love of God. No matter how hard I try to divorce myself from God or run from his presence, I remain eternally married to Jesus. Jesus is the epitome of the abusive husband in a no-divorce state. The only way to be free of Jesus is to kill him. I wonder . . . is it possible to kill Jesus twice? 🙂
Most thinking people will recognize that the aforementioned argument is absurd and makes a mockery of what it means to be a follower of Jesus Christ. Salvation is reduced to intellectual assent to a set of propositional facts about the nature of God, the human condition, the need of redemption, the threat of judgment, and the promise of eternal life. If someone, as I did when a fifteen-year-old boy, sincerely believes these facts, then he or she is instantly and eternally saved. After being instantaneously saved, it matters not how the saved sinner lives. He SHOULD desire to live right. Indwelt by the Holy Spirit, those born from above SHOULD desire to attend church, pray, read the Bible, and follow the commands and precepts of God. But if they don't, they are still saved, no matter what! In other words, a Christian could renounce Jesus, reject the teachings of the Bible, embrace atheism, and live a life of debauchery; it matters not, he is still saved. Supposedly, such a life would bring God's judgment and chastisement, but if it doesn't, the Christian is still saved. Several Christians have suggested my health problems are God's chastisement of me for my rebellion against him. The problem with this line of argument is that my health problems started years and decades before I divorced myself my Jesus. What was God up to then?
If I am still, way down in the depths of my imaginary soul, a Christian, why would I claim to be an agnostic/atheist now? Point to one good thing that comes from me professing to be an atheist. I live in rural Northwest Ohio. The Evangelical Jesus is on public display everywhere I look. In the Williams/Defiance/Fulton/Henry County area, three hundred churches dot the landscape. Almost all of them skew to the right theologically and politically. I am not only an atheist, I am also a pacifist and a Democratic Socialist. I am everything most people in the quad-county area are not. Being an outspoken atheist has resulted in social ostracization. While I have in recent years tried to pick my battles more carefully, I am still labeled by Christian zealots as an immoral tool of Satan. I continue to despise the preferential treatment given to Christianity and I deplore attempts to promote theocratic thinking and scientific ignorance. I have concluded that locals can live with my godlessness as long as I don't shove it in their faces. Of course, there is this little problem called The Life and Times of Bruce Gerencser. Anyone who bothers to do a search on my name — I am the only Bruce Gerencser in the world — will quickly find out my views about God, Christianity, the Bible, Evangelicalism, Trump, right-wing politics, asphalt auto racing, and the designated hitter. I am not hiding my lack of belief as much as I am being more careful in choosing when, where, and how I want to take a stand against God and his anointed ones.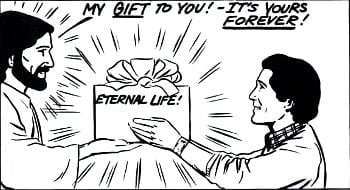 It seems to me that it would an easier path for me if I said I was a Christian and lived as most local Christians do — as practical atheists, espousing a cultural Christianity that is trotted out for holidays, weddings, funerals, and periodic outbursts of self-righteousness over perceived secular attacks on the baby Jesus. I would, in effect, live as if God doesn't exist. Such living is hypocrisy at its best — saying one is a Christian, yet living as if God is a myth. Surely, if people say they are Christians, shouldn't they make a good faith effort to live according to teachings of the Bible? Shouldn't their lives reflect their beliefs?
I can't think of one rational reason for me to still be a Christian, yet claim to be an atheist. Being a Christian, even in name only, is a path of ease, one that requires nothing from me. Atheism, on the other hand, brings social and cultural criticism, ostracism, and attack. I do my best to be an example of a good atheist, someone who lives according to the humanistic ideal. I try to let my good works show the kind of man, husband, father, and grandfather I am. I want local Christians to know that people can be unbelievers and still live moral and ethical lives. Most of all, I want my life to be a glaring contradiction when how I live is compared to presuppositions and stereotypes about atheists. A Christianity worth having is evidenced not by beliefs, but by how a follower of Jesus lives. So it is with atheists. How we live our day-to-day lives is vitally important. People are watching us, trying to figure out what kind of people we really are. I want to be the best atheist in town, one who loves his fellow man and, when needed, lends his care and support to those in need. Surely, atheists and Christians alike should desire what is best not only for their progeny, but also for their friends and neighbors.
If you can come up with a reason for someone to still be a Christian, yet claim to be an atheist, please share it in the comment section below.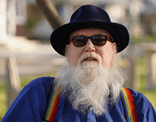 Bruce Gerencser, 65, lives in rural Northwest Ohio with his wife of 44 years. He and his wife have six grown children and thirteen grandchildren. Bruce pastored Evangelical churches for twenty-five years in Ohio, Texas, and Michigan. Bruce left the ministry in 2005, and in 2008 he left Christianity. Bruce is now a humanist and an atheist.
Connect with me on social media:
You can email Bruce via the Contact Form.
Your comments are welcome and appreciated. All first-time comments are moderated. Please read the commenting rules before commenting.