Guest Post by MJ Lisbeth
A week and a half ago, Southern Baptist Convention leaders released a list of alleged sex-abuse offenders that had been kept secret. Perhaps it is not fair of me to say that I am not surprised, as I have never had any connection with the SBC. On the other hand, having experienced childhood sexual abuse while serving as an altar boy in the Roman Catholic Church—and hearing whispers about sexual harassment of women and teenaged girls in the Evangelical church of which I was later a part—I don't think I was being cynical in saying to myself, "Well, what does anybody expect?" upon reading about the SBC report.
Perhaps even less surprising, to me, was the accompanying revelation: victims who alerted church authorities, at whatever level, were advised to "be quiet" or, worse, intimidated into silence. It sounded like an alternate-universe version, if you will, of my own story. Decades passed, and the priest who abused me died, before I spoke or wrote about my experience. For one thing, I had neither the language nor other cultural contexts for telling about what was done to me: there was no open discussion about such matters in the time and place in which I grew up, and priests and other church officials were seen as beyond reproach. In such an environment, even if I knew the names of the parts of my body that priest touched, I could not have told of my ordeal in a way that would have been more credible, in the eyes of my community, than anything that priest—or the priests to whom he reported—could have said. I can't help but to think that if I could have described what the priest did to me—beyond that "it felt weird"—someone, whether a relative or a father in the church, would have told me to keep my story to myself.
That nobody had to tell me not to tell—at least at that time in my life—is a testament to, not only the esteem in which priests in the church were held in my community, but also the power the Church has wielded. It also says something about how powerless I was. Perhaps the most important lesson I have learned from carrying my sexual abuse, alone—and, years later, seeing children bearing their burdens without a champion or mentor—is that nothing is more damaging than inculcating, or allowing a child to grow up, with a sense that their reality—or, more importantly, what they have to say about it—is not to be trusted or believed.
For that matter, invalidation of the fear, anger or whatever else one might feel about having been violated—which, by definition, is done by someone with more power or, at least, credibility—serves only to further traumatize the victim. That is what SBC officials did when they told people to "be quiet." That is what my parish, and larger Church officials, could just as well have done after I was abused by a priest.
So, while the abuse I experienced as an altar boy in a Roman Catholic parish in Brooklyn, New York in the 1960s is different from what girls and women in the Southern Baptist Convention endured, we have this much in common: we suffered in silence for too long as a result of churches that were more interested in preserving their "institutional integrity" than in helping those of us who have been victimized. That silence—my "closet," if you will—hindered my development in so many ways, not the least of which is that I didn't affirm my identity as a woman until my mid-40s. I can only wish that those whom the SBC told to "keep quiet" didn't lose as much—time, or anything else—by remaining in a "closet" I know all too well.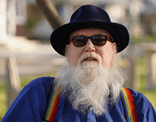 Bruce Gerencser, 65, lives in rural Northwest Ohio with his wife of 44 years. He and his wife have six grown children and thirteen grandchildren. Bruce pastored Evangelical churches for twenty-five years in Ohio, Texas, and Michigan. Bruce left the ministry in 2005, and in 2008 he left Christianity. Bruce is now a humanist and an atheist.
Connect with me on social media:
You can email Bruce via the Contact Form.
Your comments are welcome and appreciated. All first-time comments are moderated. Please read the commenting rules before commenting.