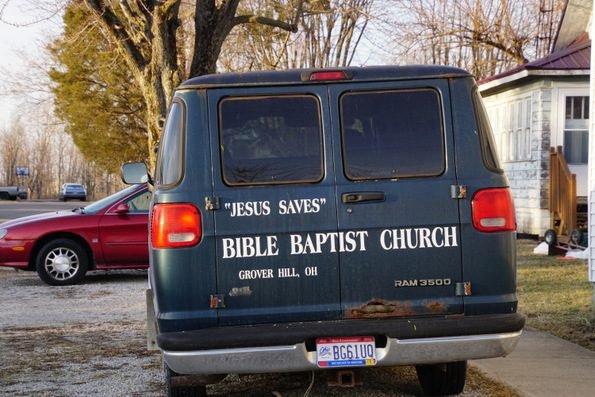 Earlier this week, the Defiance Crescent-News published Patrick Holt's response to my letter about his previous letter.
Here is what I had to say:
Dear Editor,

Patrick Holt is an Independent Fundamentalist Baptist preacher. Stuck in the 1950s, Holt thinks America would be great again if we just returned to the homophobic, racist, misogynistic 50s; a return to the days when Evangelical Christianity ruled the roost. Holt looks at our culture and sees decline, decay, and godlessness. He blames these failures on the removal of Bible reading, prayer, and the Ten Commandments from public schools. If only our progeny were led in daily prayer and Bible reading by their teachers and taught the Ten Commandments, our culture would magically return to the glory days of the 1950s.

That ship has sailed, never to return. The 1950s were hardly what Holt intimates them to be. Racism. Homophobia. Misogyny. Patriarchalism. McCarthyism. Criminalization of birth control and abortion. Shall I go on? Those of us who value social progress, equality, and equal protection under the law have a very different view of the world. We intend to push back when Evangelicals try to drag us back to the "good old days." Evangelical Christianity is dying on the vine. Younger Americans are abandoning organized religion in record numbers. The number of atheists, agnostics, and nones continues to grow, now equaling Evangelicals as a voting bloc.

Holt would have us believe that the only thing keeping him from being a thief and murderer is Jesus. Is that not the conclusion we must come to when he says "Godlessness leads to lawlessness?" I don't know about Holt, but I murder all the people I want to. I burglarize as many of my neighbors as I want to. I just don't want to. The unwashed, uncircumcised Philistines of the world have moral and ethical values — no God needed.

This Saturday, Defiance will have its first Pride Walk. I have no doubt that Holt will see this event as yet another sign of decay and depravity, a sign of the soon return of the dead Jesus. I plan to be at the Pride Walk. I am sixty-five years old, by all accounts a curmudgeon. Yet, I know that a better tomorrow requires justice and equality for all. I have thirteen grandchildren. I want a better future for them. I understand Holt's beliefs. I once was an IFB preacher, an Evangelical pastor for twenty-five years. I also know that it is possible to break free from the narrow, bigoted, anti-human beliefs of Evangelical Christianity.

Bruce Gerencser
Ney, Ohio
Holt, the pastor of Bible Baptist Church in Grover Hill, Ohio, replied:
Dear Editor,

I recently wrote a letter concerning the past and recent mass shootings in schools. I mentioned that when I was in school that there were no shootings and that prayer, the Bible and the Ten Commandments were then present. People wanted those three removed and now our schools have mass shootings.

Also mentioned was the attempt at removing those three from our society. The published response never mentioned anything about the school shootings, just a number of accusations that the writer perceived in his mind.

The author did a "Wizard of Oz" trick. Remember when Toto pulled back the curtain? The wizard said something similar to this: "pay no attention to the man behind the curtain." Otherwise, divert attention away from the obvious.

The author, a former preacher and pastor, claims to know what I think and believe. Sorry, that's not possible, unless you are prophet, a mind reader or the Lord Jesus. What do we have now? Mass shootings everywhere. Murder and crime are increasing rapidly.

The author states that Christianity is dying and that those without God are taking control. So in his words what we have today is a result of those without God taking control.

Remember you can decide what you want or do not want, but you cannot change what the result will be. Look around you folks. What is going on, according to the author, is a result of those without God.

Patrick Holt
Grover Hill
Tonight, I submitted a rebuttal to the newspaper.
Dear Editor,
What follows is my rebuttal of Patrick Holt's recent letter to the editor.
I never mentioned Pastor Holt's school shootings "argument" because it is absurd. Holt sees a connection between banning school prayer, Bible reading, and the Ten Commandments in public schools, and school shootings. When he and I were in school, cell phones had not been invented. There were few school shootings. Now virtually every public school student has a cell phone and we have frequent school shootings. Using Holt's logic, I could easily conclude that cellphones caused the increase in school shootings. I can make the same argument with birth control. Absurd, right? Holt should stop reading the Bible, and read up on the "correlation implies causation" fallacy. Holt wrongly thinks that there is a cause-and-effect relationship between prayer/Bible reading/Ten commandments and school shootings. He provides no evidence for this claim other than he thinks it's true.
Holt forgets the discussion we had on my blog. He is not a stranger to me. Further, Holt is an Independent Fundamentalist Baptist (IFB) preacher. I am generally considered an expert on the IFB church movement. I was raised in the IFB church, attended an IFB college, married an IFB pastor's daughter, pastored IFB churches, and I continue to closely follow the machinations of the IFB church movement. I know Holt's beliefs quite well. Holt made no attempt to rebut my claims. I assume, then, that my assessment was spot on.
Holt's soteriological and eschatological beliefs force him to see the world as fallen, in a continued state of decline. I reject his beliefs out of hand. The current attack by the religious right on women, LGBTQ people, religious minorities, and the separation of church and state rests squarely on the shoulders of Holt and his ilk. The "godless" have no power. While we "godless" are rapidly increasing in number, seven out of ten Americans identify as Christian. If Holt is looking for someone to blame, I suggest he look in the mirror. As a humanist, my goal is to make the world a safer place to live. Instead of blaming atheists for school shootings, put the blame where it belongs: non-existent gun laws, easy access to weapons of mass carnage, and our nation's continued worship of the AR-15. The solution to school shootings is right in front of us. Or we could just keep praying . . .
Bruce Gerencser
Ney, Ohio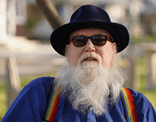 Bruce Gerencser, 65, lives in rural Northwest Ohio with his wife of 44 years. He and his wife have six grown children and thirteen grandchildren. Bruce pastored Evangelical churches for twenty-five years in Ohio, Texas, and Michigan. Bruce left the ministry in 2005, and in 2008 he left Christianity. Bruce is now a humanist and an atheist.
Connect with me on social media:
You can email Bruce via the Contact Form.
Your comments are welcome and appreciated. All first-time comments are moderated. Please read the commenting rules before commenting.