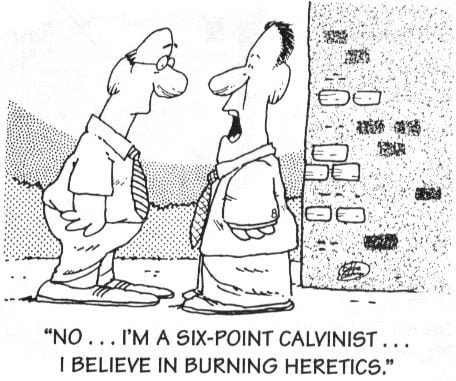 I pastored Somerset Baptist Church in Mount Perry, Ohio, from 1983-1994. In 1988, after being exposed to what Calvinists call the "doctrines of grace," I abandoned my Independent Fundamentalist Baptist (IFB) theology and embraced Evangelical Calvinism. By this time, I had begun preaching expositionally (verse by verse through books of the Bible). This allowed me to preach through the books loved by Calvinists: Ephesians, Romans, John, and First John. One Sunday night, I talked about limited atonement (particular redemption) in my sermon. Afterward, a man in the church passed me a note that said, Did I just hear you say that Christ only died for the elect? I later explained to him how my theology was changing. For a short time, I would be preaching John Calvin in the auditorium on Sunday while he taught our teenagers IFB theology in the church basement. Eventually, he and his wife left the church. (Please see Dear Greg.)
Outside of this man (who was a dear friend), every other regular attendee went along for the ride, believing that I had their best interests at heart — I did — and would always tell them the truth — truth being my peculiar interpretation of the Bible. Not only had my soteriology changed (doctrine of salvation), so had my eschatology (end-times, future events). As an IFB preacher, I was a dispensationalist. I believed that the return of Jesus was imminent; that Jesus was coming soon in the clouds to rapture away his people. And then God, for seven years, would rain holy hell upon the earth, culminating in Jesus returning to earth again (yes, a second, second coming). After Jesus' return, he would reign on earth for a thousand years. At the end of these days, Satan would be loosed for a season, causing many of the people on earth to rebel against God one last time. God crushes this rebellion, destroys Heaven and Earth, makes a new Heaven and Earth, judges all humanity, sending non-Christians to the Lake of Fire and Christians to God's Eternal Kingdom. And all God's people live happily ever after. Not God's people? Eternal punishment and torture awaits. Got all that?
As a Calvinist, my eschatology was simple and direct: someday God will pour out his wrath on earth, judge the living and dead (general resurrection and judgment), make a new Heaven and a new Earth, and usher in his everlasting kingdom. The joy of the Lord awaits the elect. The non-elect are cast into the Lake of Fire, a place reserved for the devil, his angels, and the whore of Babylon (Catholic church).
After several months of preaching the wonders of Calvinism, I gathered a core group of church members together and asked them to attend a Wednesday night class so I could teach them the finer points of the doctrines of grace. So, for three months, ten or so faithful members, including my wife, gathered with me as I took them through the five points of Calvinism: Total Depravity, Unconditional Election, Limited Atonement, Irresistible Grace, and the Perseverance of the Saints. Once these people were thoroughly indoctrinated, I knew it would be smooth sailing from there. These were the people who gave the most money and did most of the work. Most of them had been with me from our early days. They were the core group that would stand with me no matter what.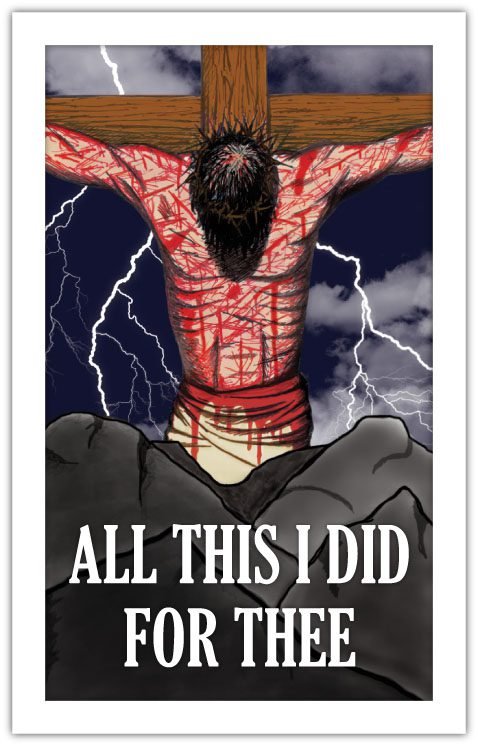 Over time, I changed out the printed literature we were using, moving from Chick Tracts and Fellowship Tract League literature to materials printed by Chapel Library. I also purchased Calvinistic books and made them available to the church, hoping that they would read them and better understand the doctrines of grace. Sadly, most congregants preferred me just telling them what to believe. Just give us a book report, Preacher.
In August 1989, we opened the doors of Somerset Baptist Academy to fifteen students, ranging from kindergarten to tenth grade. The school became yet another vehicle to indoctrinate people in the "true" gospel. Children were required to memorize the 1689 London Baptist Confession of Faith and read biographies of Calvinistic missionaries and preachers. For a time, we primarily used — I shit you not — McGuffey Readers. After one year with the McGuffey Readers, I decided that was a big mistake — thank God! We began the second year of school using books published by a Mennonite/Amish publisher Rod & Staff. We also used PACES (self-study materials) for some of the high school students.
On Sundays, I stopped giving invitations and got rid of our hymnbooks, putting in their place Gadsby's Hymns — a nineteenth-century collection of 1,100 Calvinistic hymns. After a year or two of grinding through Gadsby's Hymns, I decided to let some of our loved and cherished Arminian hymns back into the church (I know, proof that I was not a True Calvinist®.) Every change I made was framed in "Biblical" terms. The Bible says __________________, so this is why we are doing this and no longer doing that. Congregants genuinely believed that I wouldn't lead them astray, but I do have to wonder how many of that original group really understood the depths of my changing theology and practice. As I will share in the next post, word got out that I was now a Calvinist, and this brought to the church new people who were specifically looking for a Calvinistic church. They knew Calvinism inside and out.
As with virtually everything I do in life, I threw my body, soul (I had one back then, before Satan stole it), and mind into building a bastion of Calvinistic truth in rural Southeast Ohio. I read, studied, preached, evangelized, taught school, and visited prospective members — week after week, month after month. I was filled with zeal, believing that I had been lied to by my IFB pastors and professors. And now that I knew the "truth," the whole "truth," and nothing but the "truth," I made sure my wife's preacher-laden family and my colleagues in the ministry heard this "truth" too. Surprisingly, Polly's long-tenured IFB preacher uncle, the late Jim Dennis, actually agreed with me (though his outward practices suggested otherwise). Other family members chalked up my new beliefs to, Oh, that Bruce. There he goes on another tangent. Many of my colleagues in the ministry, believing that Calvinism was heresy, distanced themselves from me. The fifteen-church youth fellowship I had started in 1986 went up in smoke as pastors said they didn't want to fellowship with a Tulip-picker or have a Calvinist preaching to their teens. Some of my friends ignored my changed beliefs, expecting that I would come around in time. I did, but not in ways they expected. These would be the friends who would abandon me after my theology and politics turned towards the left.
In the next post in this series, I will continue to talk about how Pastor Bruce becoming a Calvinist materially affected the church I was pastoring and how it altered my personal relationships with my wife, children, and friends.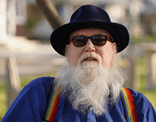 Bruce Gerencser, 65, lives in rural Northwest Ohio with his wife of 44 years. He and his wife have six grown children and thirteen grandchildren. Bruce pastored Evangelical churches for twenty-five years in Ohio, Texas, and Michigan. Bruce left the ministry in 2005, and in 2008 he left Christianity. Bruce is now a humanist and an atheist.
Connect with me on social media:
You can email Bruce via the Contact Form.
Your comments are welcome and appreciated. All first-time comments are moderated. Please read the commenting rules before commenting.