I spent the first fifty years of my life in the Evangelical church. Twenty-five of those years were spent pastoring churches in Ohio, Texas, and Michigan. I have met thousands of Christians in my lifetime. Even now, fourteen years removed from the last time I attended a Christian church, I continue to meet Christians and interact with them on this blog, through email, and on social media. My exposure to the personal lives of hundreds of Christians allows me to draw some conclusions about Christianity. I include myself and my family in the sample set. My conclusion is this: For all their talk about being Spirit-filled, it seems that Christians are anything but.
According to the Bible, all Christians have the Holy Spirit living inside of them. The Holy Spirit is their teacher and guide. He teaches them everything that pertains to life and godliness. Why is it then that most Christians live lives contrary to the basic, foundational teachings of the New Testament? WWJD, what would Jesus do, is rarely seen among Christians. Christians are commanded to follow the Lamb (Jesus) wherever he goes. How many times have Christians heard their pastor say we need to walk in the footsteps of Jesus, yet any casual observer can see that most Christians seem to walk wherever the hell they want. If Jesus wants to follow along, that's okay, but if not, fine, because the mall has some great sales going on.
The passage at the top of this post says, "the fruit of the Spirit is." The fruit of the Spirit is the evidence, the proof that a person is a Christian. Notice that it says IS. This is a very important word. According to Strong's Exhaustive Concordance and Greek Dictionary, the word IS in this verse is "third person singular present indicative." Simply put, the fruit of the Spirit is not some lofty objective to hope for or aspire to; it is the proof, the evidence that a person is a Christian. Since the Holy Spirit lives inside every Christian, shouldn't it be readily evident in the lives of EVERY Christian? The lives of Christians should evidence the fruit of the Spirit every moment of every day. With such a great power as the Christian God living inside them, surely this should not be a difficult way of life to maintain, right? After all, according to the Bible, he that is in the Christian (the Holy Spirit) is greater than he that is in the world (Satan).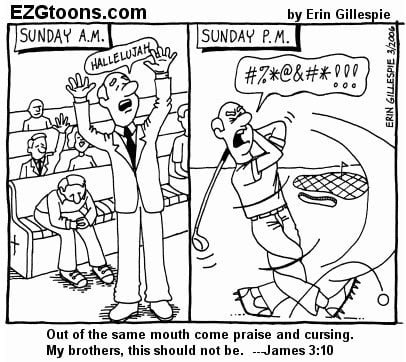 However, when we critically look at how Christians live their lives, what do we find? We find that Christians are not much different from the uncircumcised, unwashed Philistines of the world whom they judge and condemn to Hell. It is chic these days for Christians to admit that they are just sinners saved by grace or that they are a work in progress. A popular bumper sticker says, Don't judge me, God isn't finished with me yet. However, such statements are directly contrary to what Galatians 5:22, 23 says.
The Bible is very clear…every Christian should evidence the following each and every day of his or her life:
love
joy
peace
long-suffering
gentleness
goodness
faith
meekness
temperance
A wonderful list of admirable character traits, to be sure. Every one of us would do well to strive to live lives that demonstrate these traits. However, we know, even on our best days, we fail miserably in demonstrating these character traits. We are, after all, human. We recognize that all of us have flaws and weaknesses that can and do affect the relationships we have with others. I don't know of any non-Christians who think they are perfect or a beacon of morality and virtue. While many non-Christians certainly evidence the fruit of the Spirit, none would be so foolish to say that they perfectly do so.
Christians aren't given the luxury of claiming they are human. Remember, the fruit of the spirit IS. There is no place in the Christian life for anything less than perfect obedience to the Christian God. After all, Christians have EVERYTHING they need to live a life of perfection. Surely God did not leave them lacking in any way, right?
Within Christianity we find many reactions to what I have written above:
Some Christians believe in perfection. They are entirely sanctified and cannot and do not sin.
Some Christians think there are two classes of Christians: ordinary everyday Christians and Spirit-filled Christians. Most Christians are the former and very few become the latter.
Some Christians think every Christian has two natures, the Spirit and the flesh, and these two natures continually battle against each other. Which nature you feed the most is the one who wins the battle. Christians are classified as either Spirit-filled or carnal/fleshly.
Some Christians think they are saved by grace and how they live doesn't matter. While they certainly think a believer should evidence the fruit of the Spirit, if they don't they are still Christian. Their ticket to Heaven is punched, their fire insurance is paid up, and a home in God's Motel 6 awaits them no matter how they live their lives.
Some Christians think that God gives a special anointing of the Spirit to some people. All the TV preachers have this anointing (along with the ability to extract large sums of money from the bank accounts of gullible Christians) Some sects call this being baptized with the Holy Spirit, while others call it a second definite work of grace.
Some Christians believe in progressive sanctification. They believe that the Christian life is a long process where sin is progressively dealt with and forsaken. It is a wash, rinse, and repeat kind of process.
All of these reactions, except the first one, reject the clear teaching and meaning of Galatians 5:22,23. Again, the fruit of the spirit IS! Of course, the first reaction is ludicrous. There is no such thing as a Christian who doesn't sin. The evidence of this is everywhere we look. Here's a dirty little secret that many Christians don't want non-Christians to know: for all their talk about God, Jesus, and Spirit-filled living, they live just like the rest of us. While they may be experts at putting on the good Christian act, underneath the façade, they are no different from Atheists, Humanists, Buddhists, Muslims, Mormons, Shintoists, Pagans, or Satanists. Try as they might, they still live lives that are an admixture of good and bad behavior.
All I am trying to do is knock Christians off their high horses and get them to see that they are not, in any way, different from the rest of us. I am trying to get them to see how offensive it is when they try to force their moral code on others when they themselves can't even keep it. Even with God living inside of them, they "sin" just like everyone else. Christianity would be better served if Christians presented their moral code as one code among many, worth aspiring to and not as a "God says, Do this or else." Not many atheists are going to disagree with Christians about the value of the character traits listed in Galatians 5:22,23. The world would be a far better place if we all tried to evidence these character traits (and others) in our lives.
Bruce Gerencser, 66, lives in rural Northwest Ohio with his wife of 45 years. He and his wife have six grown children and thirteen grandchildren. Bruce pastored Evangelical churches for twenty-five years in Ohio, Texas, and Michigan. Bruce left the ministry in 2005, and in 2008 he left Christianity. Bruce is now a humanist and an atheist.
Connect with me on social media:
Your comments are welcome and appreciated. All first-time comments are moderated. Please read the commenting rules before commenting.
You can email Bruce via the Contact Form.