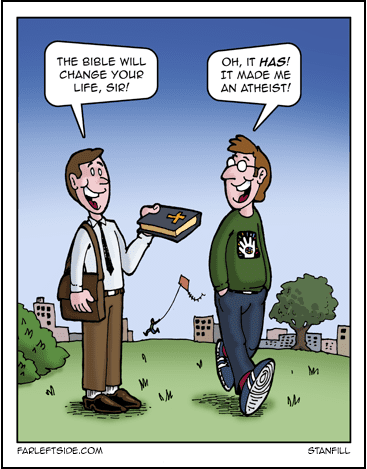 Several years ago, I had a brief comment section discussion with an Evangelical man about the Bible. I posed some questions to him that I thought would challenge his beliefs, but instead of answering them, he replied:
The words you use to speak about the Bible are far away from 'adult level' as you demand /expect in your blog policy from others.

I will not respond to your statements anymore. Not that there is not enough things to address but I will not communicate on such a demeaning language level and rather use my time differently.
What did I say that proved so offensive to this believer? Here's what transpired (all grammatical errors in the original text):
Ronny: While it seems on the surface you are doing a good job defeating christianity, when one knows enough Bible it becomes evident that you are not right. Lets just say for example that 'Christians live like the rest of us'. Which so called Christians did you get to know? Yes Christians sin acc. to 1 John. But they sin less and less as they grow in their faith. A REAL Christian IS different from the world. Those that you describe fall into the category of Mt 7. There is more to respond to you but my tram arrives in one minute so I say goodbye.
Bruce: The neat thing about the Bible is that it can be used to prove virtually anything. Actually 1 John says that those who sin are of the devil. Are Christians, then, of the devil?
The definition of who is a REAL Christian varies from sect to sect, church to church, and believer to believer. What makes you right and other Christians wrong? Why should anyone accept your peculiar interpretation over that of anyone else?
My observations about Christianity are both specific and general. I was a pastor for twenty-five years. I pastored a lot of people and knew many of their secrets. I stand by my observations.
Thank you for commenting.
Ronny: I am a bit surprised that you let me comment actually. I thought because I mentioned scripture that my response would have been deleted because of your policy. But how can we talk about christianity and not use bible verses acc. your policy…
Anyhow there is much to comment but if I e.g. take your statement that those people are of the devil – you have to look at the greek. And isnt poio/prasso speaking of a habitual lifestyle? And even if I am wrong here because I am not the biggest scholar, we ought to always take the full counsel of God and not one verse.
And I understand that you got to know many professing Christians, my point is that 'many will say to me Lord Lord' Mt7, and 'broad is the way' – people who profess Jesus but look like the world (James…) dont posess faith. And it saddens me that Gods name is put down because of such people. The fruit of the Spirit IS, yes, and it is seen in people like Paul, Jesus, John, and people of our day as well if you not just look for any professing people but Christians who do not play a game but take God and faith seriously.
I hope people who read this will not judge Christinity acc. to the majority of Christians who only are believers by name and not lifestyle.
Bruce: So let me see if I understand your argument:
1. We need to understand Biblical Greek to properly interpret the Bible; that the indwelling of the Spirit is not — contrary to what the Bible says — sufficient to teach and guide believers in truth.
2. The verses in question cannot mean what I say they do because they contradict your interpretation of other verses and don't fit in your theological box.
3. And even if the verses mean what I say they do, they are talking about habitual sin, not one-off or infrequent sins. At what point does behavior become habitual? Using your logic, if a man only murders one person, that's okay since it's not "habitual." Of course, the Bible says no murderers will inherit the kingdom of God. The Bible says the same about adulterers. Thus, anyone who divorces and remarries and anyone who lustfully looks at a woman won't inherit the kingdom of God. The Bible is a real bitch, Ronny. By all means, dance your way out of the plain/rational interpretations and conclusions of the aforementioned verses.
4. You are a true Christian. The people I knew — numbering in the thousands weren't true Christians. How convenient.
Do you sin? How often do you sin? How many sins does a habit make? The Bible says, be ye perfect even as your Father in heaven is perfect. Are you perfect?
As with all Christians, you have taken the Bible and shaped it into proof of the veracity of your beliefs and lifestyle. You are a true Christian. Why? Because your peculiar interpretation of the Bible says you are. Again, how convenient.
Here's what I know. I took my faith seriously. I spent much of my life trying to live according to the teachings of the Bible. I was, in every way, a committed follower of Jesus. I was, at the same time, a sinner, yea, even a habitual sinner. The fruit of the Spirit was my goal, one that I never met. I've known countless dedicated followers of Jesus. They too strived to live according to the teachings of the Bible. Yet, they failed to measure up to the fruit of the Spirit standard. All these people, according to you, were false believers. Again, how convenient.
Bruce: The policy about Bible verses is the result of Evangelicals beating people over the heads with the Bible or suggesting that the people who frequent this blog haven't read the Bible or don't "understand" its teachings. Such behaviors are offensive, so I don't allow them.
Evangelicals wrongly believe that the Bible is coherent in its presentation of theology and history. The Bible is, in fact, contradictory, often incoherent, and a source of endless debate. If the Bible is God's Word, he must have been drunk or high when he wrote it.
As I told you previously, the Bible can be used to prove almost anything. For example, I assume you have a Trinitarian view of God. I can take Genesis 1-3 and show that God is not a triune being, that there are, instead, multiple Gods. The awesome thing about no longer being a Christian is that I no longer need to make the Bible fit a certain theological box. I can read the Bible and come to different conclusions than most Evangelicals. What if my interpretation is right? What if the Bible teaches polytheism, not monotheism?
Ronny: The words you use to speak about the Bible are far away from 'adult level' as you demand /expect in your blog policy from others.I will not respond to your statements anymore. Not that there is not enough things to address but I will not communicate on such a demeaning language level and rather use my time differently.
So, what did I say that was so offensive? I suppose the line, the Bible is a real bitch might be beyond the pale to some Evangelicals, but there's nothing in my responses that were the least bit offensive. Perhaps Ronny didn't like me suggesting that maybe God was high or drunk when he wrote the Bible (the Bible does say with God ALL things are possible). All I did was give my perspective and ask him questions. What seems far more likely to me is that Ronny couldn't answer my questions, so he found something to be offended over, and this allowed him — in his mind — to justify ignoring and dismissing my questions.
This leads me, then, to this question: is the Bible worthy of reverence and respect? The short answer is "no." Why should the Bible be treated differently from other books? Evangelicals have all sorts of rules about the Bible. Some Christians believe it's a sin to write in the Bible, while other believers make copious notes and underline. In IFB churches, it was not uncommon for children and teenagers to have big-name preachers autograph their Bibles. My pastor encouraged members to seek out the autographs of men "greatly used by God." He also told us to record in the front of our Bibles the date, time, and place where we were saved. This way, we would never forget when it was that we were born again.
Some Christians believe it is wrong to put anything on top of the Bible. I attended Trinity Baptist Church in Findlay, Ohio in the 1970s. Teenagers were encouraged to carry their Bibles to school; not under your books, but right on top so everyone could see it. I was one of a handful of a students who displayed my religion for all to see. One day, an acquaintance of mine took my Bible and started a hot potato game with it. Around and around my Bible went, until my classmates finally tired of tossing my Bible around. After a few weeks, I decided to leave my Bible at home. While I was still quite vocal about my beliefs, I didn't like the attention carrying my Bible brought.
Regardless of what rules they might hold to, most Evangelical revere and respect the Bible. This makes sense, I suppose, when you consider that Evangelicals believe the Bible is an inspired, inerrant, infallible book written by the Christian God. In their minds, the Bible is different from all the other books ever written. It's a supernatural book written by a supernatural God. Thus, to say anything negative about the Bible is considered offensive.
However, I don't believe the Bible is a supernatural text. It is, at best, a collection of ancient writings. Its words may at one time have had great significance, but they no longer do today. While the Bible remains a top seller, it is also a book that most people never or rarely read. Evangelicals base so much of their life on what their pastor says the Bible says, yet few of them have read it from cover to cover. How can someone be a Christian, a Bible-believer, and not completely read through the Bible at least once? If the Bible is so damn important, why do Christians treat it like a museum piece; something to be looked at but not read?
Ronny is not the first person to feign offense as a way to avoid my questions. I know how Evangelicals think about the Bible. I am conversant in all things Evangelical. So, I can quickly distill what it is commenters such as Ronny are trying to say. The Bible remains a book that can be used to prove almost any belief. That's why there are thousands of Christian sects and thousands of Evangelical churches. Each denomination and church believes that they have the truth, and any "truth" that contradicts theirs is false.
My objective is to point out that their certainty is grounded in arrogance and not facts, and that there are competing and contradictory narratives in the Bible. Within its pages, readers will find multiple Gods and multiple plans of salvation. The Bible is a wonderful book, especially for buffet Christians. Eat what you want, ignore the rest. And all the people of God said, AMEN!
Want to know more about the history and nature of the Bible? I recommend reading one or more books written by best-selling author Dr. Bart Ehrman, a New Testament scholar at the University of North Carolina.
Armageddon: What the Bible Really Says about the End (Release date March 21, 2023)
The Triumph of Christianity: How a Forbidden Religion Swept the World
Journeys to Heaven and Hell: Tours of the Afterlife in the Early Christian Tradition
Misquoting Jesus: The Story Behind Who Changed the Bible and Why
How Jesus Became God: the Exaltation of a Jewish Preacher from Galilee
Jesus Before the Gospels: How the Earliest Christians Remembered, Changed, and Invented Their Stories of the Savior
Jesus, Interrupted: Revealing the Hidden Contradictions in the Bible (And Why We Don't Know About Them)
Did Jesus Exist?: The Historical Argument for Jesus of Nazareth
Forged: Writing in the Name of God–Why the Bible's Authors Are Not Who We Think They Are
God's Problem: How the Bible Fails to Answer Our Most Important Question — Why We Suffer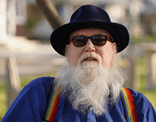 Bruce Gerencser, 65, lives in rural Northwest Ohio with his wife of 44 years. He and his wife have six grown children and thirteen grandchildren. Bruce pastored Evangelical churches for twenty-five years in Ohio, Texas, and Michigan. Bruce left the ministry in 2005, and in 2008 he left Christianity. Bruce is now a humanist and an atheist.
Connect with me on social media:
You can email Bruce via the Contact Form.
Your comments are welcome and appreciated. All first-time comments are moderated. Please read the commenting rules before commenting.