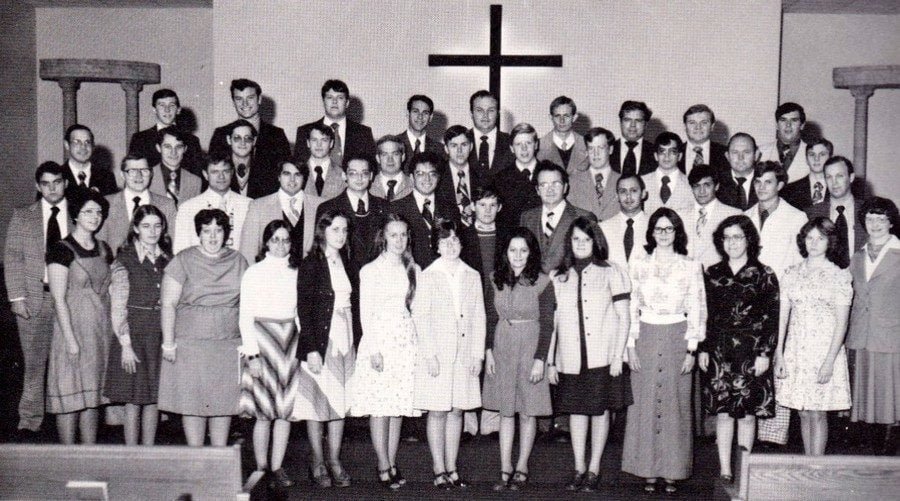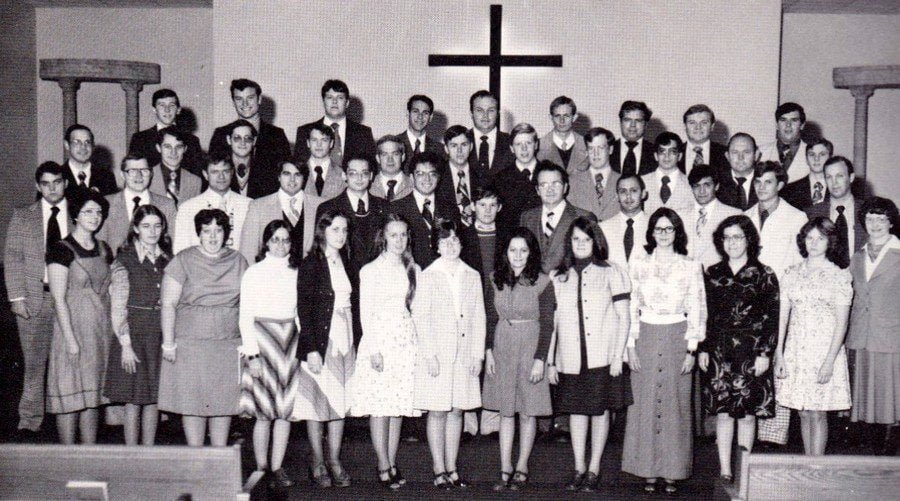 Series Navigation
Midwestern Baptist College, an Independent Fundamentalist Baptist (IFB) institution previously located in Pontiac, Michigan, was never a large school. At the height of its influence within the IFB church movement, approximately 400 students attended Midwestern. By the time my wife, Polly Shope Gerencser, and I enrolled for classes in the fall of 1976, enrollment was closer to 150. In the fall of 1977, sophomore class enrollment was forty-five — thirteen women and thirty-two men. (This count is based on the picture above. It is likely there was a handful of students who aren't in the photo.) The dropout rate at Midwestern was quite high. By the time a group of freshmen reached their senior year, over fifty percent of them had dropped out. The 1978 Flame Yearbook pictures seventy-one freshmen, forty-five sophomores, twenty-seven juniors, and twenty-eight seniors. Four women and twenty-four men graduated in 1978. Only twelve of the graduates started their days at Midwestern as dorm students.
Most of the students who left before graduating did so due to the pressures of the Midwestern grind, financial struggles, or expulsion. Polly and I dropped out for two reasons: birth control failure and job loss. We had only been married six weeks when Polly informed me that she was pregnant. Severe morning sickness made it impossible for her to work part-time and still attend classes. Three months later, I was laid off from my machine operator job at Deco Grande in Detroit. Our already tenuous finances quickly unraveled. Polly and I talked to one college administrator, Levi Corey, about our struggles and our intention of dropping out for a semester. He insisted that it was God's will for us to stay in college; that if we would just pray and have faith everything would work out. We pleaded with God to help us, but our prayers went unanswered. In February 1979, we packed up our meager belongings in a small U-Haul trailer attached to our white 1967 Chevy Impala and returned to the place of my birth, Bryan, Ohio (five miles from where we live today). I quickly found employment at General Tire, working in their milling department. I later took a job in the shipping and receiving department at Aro. Five months later, our first child, Jason, was born.
Never Quit! God Never Uses Quitters! These words were uttered countless times by Dr. Tom Malone, the chancellor of Midwestern, professors, and speakers at the daily chapel services students were required to attend. To drop out meant you were a failure; that God would never use you. If God led you to enroll at Midwestern, then he would provide the means for you to stay in college, students were told. What God orders, he pays for! This, of course, put a lot of pressure on students, causing fear and shame if they had to drop out.
Was there a cause and effect between staying in college and later serving the Lord in the ministry? Maybe. Many of the students who enrolled at Midwestern to study for the ministry and later dropped out never became pastors. However, many of the students who did graduate never became preachers either. There were too many variables to come to any sort of cause-and-effect conclusion. For example, some students worked for one of the local auto manufacturers while attending Midwestern. Great pay and benefits. Upon graduation, ready to enter God's vineyard, these newly minted preachers started looking for churches to pastor. They quickly learned that the ministry was rewarding, but the pay was terrible. Unable to "trust" that God would meet their needs on seventy-five percent less income, with no benefits and insurance, these God-called preachers stayed in Pontiac to continue working their well-paying manufacturing jobs.
Many of the students who dropped out learned during their time at Midwestern that the ministry wasn't for them. The work was hard and demanding, requiring long hours of work and putting God and the church above family. Unwilling to sacrifice their humanity and economic stability for the "sake of the call," these students dropped out, often returning to their home churches and serving there in a lay capacity.
As I reflect on the rigors of being a Midwestern student, I have concluded that Dr. Malone and other people associated with the college deliberately made things hard for students. The goal was to cull from the herd those who were weak; those who couldn't hack it. That's why the attrition rate was so high. I was a full-time student. I typically attended classes Monday through Friday from 8:00 am to Noon. Afterward, I would eat lunch and change my clothes, before heading to my full-time employment at a factory, laundry, or grocery store. I typically arrived back to the dorm after curfew. I followed this routine five days a week. On Saturdays and Sundays, I attended two church services, taught Sunday school, drove a bus, visited a bus route, and preached at a drug rehab center in Detroit. I also had a social life. Polly and I dated for the two years we lived in the dorm. We went out on one or two dates every weekend, depending on whether I had any money. (Polly was destitute most of her time at Midwestern. Her work opportunities were severely limited by the draconian rules governing employment and travel for female dorm students. Her parents, who were barely holding their heads above water working at an IFB church in Newark, Ohio, sent her very little money.)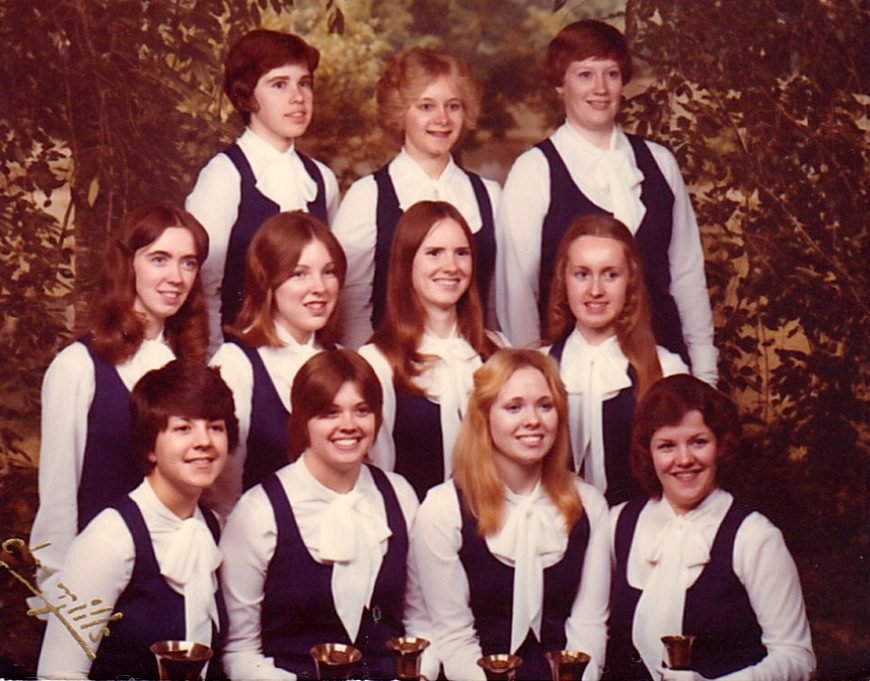 As you can see, I had very little time to even breathe or relax, and neither did Polly. While Polly was only allowed to work poor-paying part-time jobs, she too had church commitments. She also traveled with a college hand-bell group that performed at various IFB churches in Michigan, Ohio, and Indiana. For both of us, there was great pressure to obey and perform, instilling in us the idea that this way of life was the "will of God."
Some dropouts defied the quitter label. I know Polly and I did. The day we were packing up our belongings, a dorm roommate and groomsman in our wedding named Wendell stopped by to beg us not to leave. He reminded us of what had been drilled into our heads in chapel: God never uses quitters. His passionate plea fell on deaf ears. In 1980, we returned to Pontiac and spent the weekend with him and his wife, taking time to reconsider leaving Midwestern. Wendell, once again, pleaded with us to return to college, reminding us that God never uses quitters. Alas, it was not to be. By then we were living in Newark, Ohio and I was a general manager for Arthur Treacher's. Polly was teaching third grade at a local Christian school. Over the next five years, I helped my father-in-law start a new IFB church in Buckeye Lake and then I started a new church in Somerset — a congregation I pastored for eleven years.
By the mid-1980s, Somerset Baptist Church was booming, reaching a high attendance of 206. Somerset Baptist was the largest non-Catholic church in Perry County. By IFB standards, I was a success. One weeknight, I attended a conference at the Newark Baptist Temple, an IFB church pastored by Polly's uncle, the late Jim Dennis. Jim was a 1960s graduate of Midwestern, a college trustee, and the recipient of an honorary doctorate from the college. Dr. Malone was the featured speaker for the night.
Before beginning his sermon, Doc noticed that I was in attendance. He mentioned me by name, complimented me on my work, and then admitted, "if Bruce had stayed any longer at Midwestern, we probably would have ruined him." I guess I wasn't a quitter, after all.
My dorm roommate who pleaded with me not to quit? He graduated from Midwestern, returned home with his wife, and never pastored a church. Does this mean Wendell was a quitter, a failure? Of course not. By all accounts, he and his wife have built a wonderful life together. I have no doubt that he faithfully serves Jesus in his local church.
People "quit" for all sorts of reasons. Get divorced, leave jobs, drop out of college. Rarely does any of us do anything for a lifetime. We grow up, and we change, developing different wants, needs, and desires. This is the grand experience we call life. Midwestern caused great harm to its students when it promoted and amplified the false idea that if you say "God is calling me" you must fulfill that calling no matter what. I wonder how many former students still have feelings of guilt over not fulfilling their calling? No matter what they ultimately did with their lives, their failure to graduate or enter the ministry is a millstone around their neck.
Bruce Gerencser, 66, lives in rural Northwest Ohio with his wife of 45 years. He and his wife have six grown children and thirteen grandchildren. Bruce pastored Evangelical churches for twenty-five years in Ohio, Texas, and Michigan. Bruce left the ministry in 2005, and in 2008 he left Christianity. Bruce is now a humanist and an atheist.
Connect with me on social media:
Your comments are welcome and appreciated. All first-time comments are moderated. Please read the commenting rules before commenting.
You can email Bruce via the Contact Form.