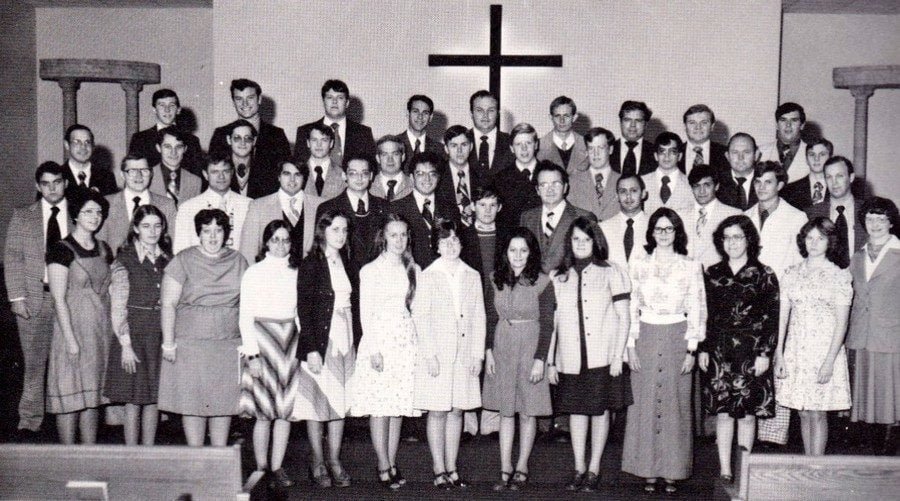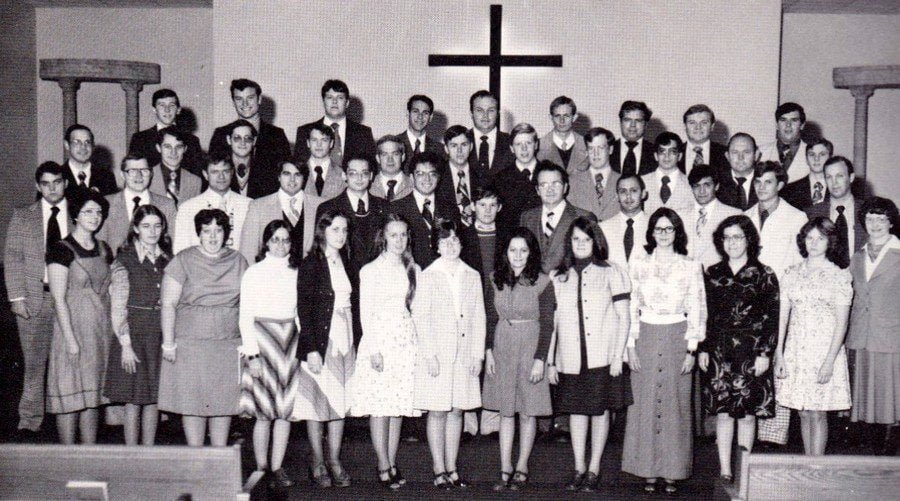 Series Navigation
In the early 1960s, my dad packed up our family and meager belongings and moved us from Bryan, Ohio to San Diego, California. Looking for the pot of gold at the end of the rainbow, Dad hoped to find prosperity. What he found instead was Jesus. The Gerencser family was always religious, attending the Lutheran Church and Episcopalian Church in Bryan. However, upon arriving in California, we started attending a large Independent Fundamentalist Baptist (IFB) congregation, Scott Memorial Baptist Church in El Cajon (now Shadow Mountain Community Church). Pastored by Tim LaHaye, who would later author the Left Behind series with Jerry Jenkins and the Act of Marriage, Scott Memorial was the genesis for what would happen in my life for the next forty-five years. Both of my parents made public professions of faith and were baptized, as was I at the age of five. From this time forward until my parents divorced in 1972, the Gerencser family was in church every time the doors were open.
Dad never found the pot of gold he was looking for, and after three years in California, we returned to Bryan. For a while, we attended Eastland Baptist Church, affiliated with the Southern Baptist Convention. In 1965, we started attending First Baptist Church, an IFB congregation pastored by Jack Bennett. Over the next few years, we moved to Farmer, Deshler, and Harrod, and then in 1970, we moved to Findlay. At each of these stops, my parents joined what they described as "Bible-believing" churches.
After a short stint at Calvary Baptist Church in Findlay, our family began attending Trinity Baptist Church, an IFB congregation affiliated with the Baptist Bible Fellowship (BBF). Trinity was pastored by Gene Millioni. Ron John was the assistant pastor and Bruce Turner was the youth pastor. All of these men, especially Bruce Turner, would make a deep, lasting imprint on my life. (Please see Dear Bruce Turner.)
In 1972, my parents divorced. This ended my parents' and siblings' church attendance. I, on the other hand, continued to attend church every time the doors were open, including revivals, conferences, Bible school, and other sundry services. Throw in youth meetings, youth outings, church basketball, bus ministry, and visitation, and it is clear that my life revolved around church. As my home life disintegrated, the church became a place of safety and security for me. I rarely spent any time at home. Dad had married a nineteen-year-old girl — four years older than I. We did not get along, to say the least.
In the fall of 1972, Evangelist Al Lacy came to Trinity to hold a revival service. One night, as I sat in the meeting with my friends, I felt deep conviction over my sins while the evangelist preached. I tried to push aside the Holy Spirit's work in my heart, but when the evangelist gave the invitation, I knew that I needed to go forward. I knew that I was a wretched sinner in need of salvation. (Romans 3) I knew that I was headed for Hell and that Jesus, the resurrected son of God, was the only person who could save me from my sin. I knelt at the altar and asked Jesus to forgive me of my sin and save me. I put my faith and trust in Jesus, that he alone was my Lord and Savior. (That if thou shalt confess with thy mouth the Lord Jesus, and shalt believe in thine heart that God hath raised him from the dead, thou shalt be saved. For with the heart man believeth unto righteousness; and with the mouth confession is made unto salvation. For the scripture saith, Whosoever believeth on him shall not be ashamed. Romans 10:9-11)
I got up from the altar a changed person. I had no doubt that I was a new creation, old things had passed away, and all things had become new. (Therefore if any man be in Christ, he is a new creature: old things are passed away; behold, all things become new. (2 Corinthians 5:17)
The next Sunday, I was baptized, and several weeks later I stood before the church and declared that I believed God was calling me to preach.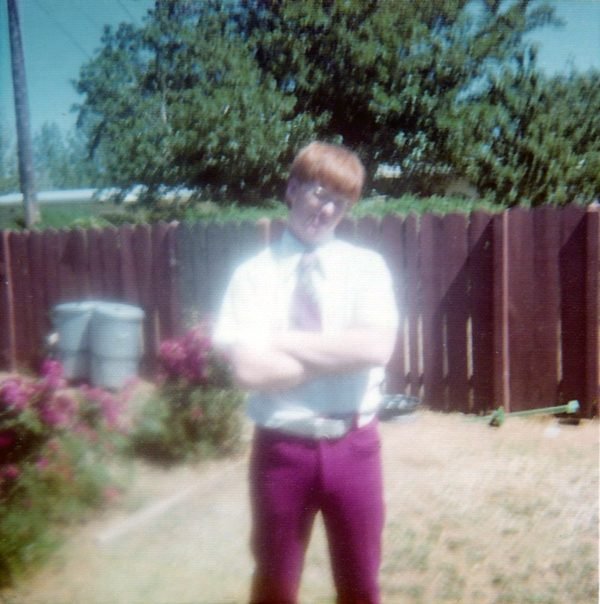 In March 1973, Dad informed us that we were moving to Tucson, Arizona. After arriving in Tucson, I sought out an IFB church to attend, the Tucson Baptist Temple, pastored by Lewis Johnson. I quickly immersed myself in the life of the church, working on a bus route, going on teen visitation, and winning souls to Christ. Four months later, I hopped a Greyhound bus and returned to my mom's home in Bryan. After spending June and July in Bryan, I talked to Bruce Turner about moving to Findlay so I could attend Trinity again. Bruce found me a family to live with, Bob and Bonnie Bolander. That lasted for three months before Bob informed me that I would have to move. I would later learn that he thought I was getting too friendly with his wife. In retrospect, I may have been, but as a young, naïve, virgin boy I was clueless about such things. Bruce found me a new home with Gladys Canterberry, a matronly divorcée in the church. I became a ward of the court so I could get Medicaid insurance and Gladys could receive a monthly check for keeping me. I lived with Gladys until the end of May 1974. Two weeks before school was out, I moved back to my mom's home.
After returning home to Bryan, I learned that Findlay High School was refusing me credit for eleventh grade. Why? I failed to take my final exams. Never mind the fact that I never missed a day of school. Never mind the fact that I had good, albeit not spectacular, grades. Never mind the fact that I got out of school every day at noon so I could work the lunch shift at Bill Knapp's as a busboy (and I often worked the dinner shift too, 25-30 hours a week). I was so livid over this, that I dropped out of school and started working at a Marathon gas station pump gas and fixing cars. During this time, I called First Baptist Church in Bryan my church home.
In October 1974, Mom was admitted for her second stint at the Toledo State Mental Hospital. After two months of living on my own with my sixteen-year-old brother and fourteen-year-old sister, Dad came from Arizona and moved us to Sierra Vista where he now lived. While in Sierra Vista, I attended Sierra Vista Baptist Church — a Conservative Baptist congregation. I immersed myself in the life of the church, working in the bus ministry, teaching Sunday school, and attending church three times a week. While attending Sierra Vista Baptist, I met a young woman named Anita Farr. I was quickly smitten with Anita and we had a torrid love affair until she returned to college in Phoenix in the fall of 1975. (Please see 1975: Anita, My First Love.) In a fit of jealousy, I broke up with Anita, and a week later I was sitting in Bryan, Ohio.
I spent the next year living with my mom and working as the dairy manager for Foodland. First Baptist was once again my church home, and in the spring of 1976, I decided that it was time for me to act on my calling to the ministry. I planned to attend Prairie Bible Institute in Three Hills, Alberta, Canada. Unable to raise the necessary funds to enroll at Prairie Bible, I looked for a Fundamentalist college closer to home to attend. My IFB grandparents, John and Ann Tieken (please see Dear Ann and John), suggested that I check out Midwestern Baptist College in Pontiac, Michigan — not far from where they lived and John owned and operated an aircraft engine repair shop. In the summer of 1976, I drove two and a half hours north to Pontiac to visit Midwestern. I quickly determined that Midwestern was the place for me. Cheap tuition, not too far from home. The only negative was the proximity of my hateful, judgmental, abusive Jesus-loving grandparents.
In August 1976, I packed up my meager belongings in my car and moved to Midwestern. I moved into the dormitory, thus beginning my journey towards becoming an IFB pastor. What happened during my three years at Midwestern will hopefully make for interesting reading, providing a careful inside look at Midwestern Baptist College, its founder Dr. Tom Malone, Emmanuel Baptist Church, meeting my wife, Polly, the daughter of a Midwestern graduate and an IFB preacher, and how my time at Midwestern deeply shaped the first half of my ministerial career.
Bruce Gerencser, 66, lives in rural Northwest Ohio with his wife of 45 years. He and his wife have six grown children and thirteen grandchildren. Bruce pastored Evangelical churches for twenty-five years in Ohio, Texas, and Michigan. Bruce left the ministry in 2005, and in 2008 he left Christianity. Bruce is now a humanist and an atheist.
Connect with me on social media:
Your comments are welcome and appreciated. All first-time comments are moderated. Please read the commenting rules before commenting.
You can email Bruce via the Contact Form.