Matt asked, In your IFB days did you ever encounter Peter Ruckman? If so what was/is your assessment of him?
For readers who are not familiar with Peter Ruckman, Wikipedia has this to say about him:
Peter Ruckman was an American Independent Baptist pastor and founder of Pensacola Bible Institute in Pensacola, Florida (not to be confused with Pensacola Christian College).

Ruckman was known for his position that the King James Version constituted "advanced revelation" and was the final, preserved word of God for English speakers.
Ruckman died in 2016 at the age of ninety-four. He was a graduate of Bob Jones University, and for many years the pastor of Bible Baptist Church in Pensacola, Florida. Bible Baptist's website describes Ruckman this way:
Dr. Peter S. Ruckman (November 19, 1921 – April 21, 2016) received his Bachelor of Arts degree from the University of Alabama and finished his formal education with six years of training at Bob Jones University (four full years and two accelerated summer sessions), completing requirements for the Master of Arts and Doctor of Philosophy degree.

Reading at a rate of seven hundred words per minute, Dr. Ruckman had managed to read about 6,500 books before receiving his doctorate at an average of a book each day.

Dr. Ruckman stood for the absolute authority of the Authorized Version and offered no apology to any recognized scholar anywhere for his stand. In addition to preaching the gospel and teaching the Bible, Dr. Ruckman produced a comprehensive collection of apologetic and polemic literature and resources supporting the authority of the Authorized Version of the Holy Scriptures.
The thrice-married Ruckman was either loved or hated by IFB preachers. He was a man known to engender strife, believing that rightness of belief was all that mattered (except, evidently, what the Bible said about divorce). Much like their mentor, his followers are known for their arrogance, nastiness, and argumentative spirit.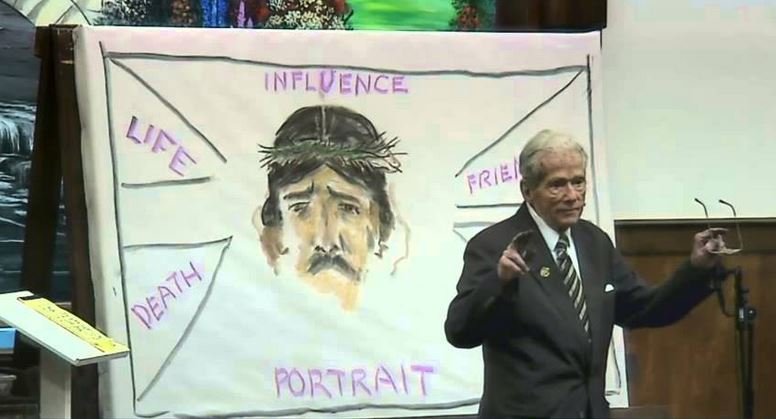 I first met Peter Ruckman at Camp Chautauqua in Miamisburg, Ohio — an IFB youth camp owned and operated at the time by the Ohio Baptist Bible Fellowship. I attended Camp Chautauqua two summers in the early 1970s. Attending camp was one of the highlights of my teenage years. Lots of fun, lots of girls, and yes, lots of preaching. One year, Ruckman was the featured speaker. I don't remember much about his sermons, but I vividly remember the chalk drawings he used to illustrate his sermons. Ruckman was a skillful, talented chalk artist, so he naturally used his art to "hook" people and reel them into his peculiar brand of IFB Christianity.
This would be the only time I heard Ruckman preach. I later would read some of his polemical books and commentaries and come into close contact with some of his followers. While I believed, at the time, as Ruckman did, that the King James Bible was the inspired, inerrant, infallible word of God and the only Bible for English-speaking people, I found his personality and ministerial approach (and that of his devotees) to be so caustic and abrasive that I wanted nothing to do with him.
I would later learn that King James-Onlyism was not only irrational and anti-intellectual, but in its extreme forms, it was a cult. I know a few pastors who are still devoted followers of Ruckman's teachings. They are, in every way, small men whose lives have been ruined by arrogance and certainty of belief. The only cure I know for this disease is books written by men such as Dr. Bart Ehrman. Until they can at least consider the possibility that they might be wrong, there is no hope for them.
In 2005, I candidated at a Southern Baptist church in Weston, West Virginia. The church was very interested in me becoming their next pastor. One problem — I had preached my trial sermons from the English Standard Version (ESV) of the Bible. One of the core families was a follower of Peter Ruckman. The pulpit committee asked if, out of deference to this family, I would only preach from the KJV. I told them that I couldn't (and wouldn't) make such a promise. The church decided I wasn't the man for them. Such is the pernicious effect of Ruckmanism; causing controversy and division wherever it is found.
Bruce Gerencser, 66, lives in rural Northwest Ohio with his wife of 45 years. He and his wife have six grown children and thirteen grandchildren. Bruce pastored Evangelical churches for twenty-five years in Ohio, Texas, and Michigan. Bruce left the ministry in 2005, and in 2008 he left Christianity. Bruce is now a humanist and an atheist.
Connect with me on social media:
Your comments are welcome and appreciated. All first-time comments are moderated. Please read the commenting rules before commenting.
You can email Bruce via the Contact Form.